Management already said on the concall held 2 days back. The fraud amount was 3.9 crores and fully provided.
When he said, on CNBC there was a bit of panic, but the selling was immediately absorbed.
As per Can bank management as well as Mr.Girish, these are issues in the normal course.
That's good to know. Just curious if Canfin MD mentioned the following things in the con-call?
Whistle-blower complaint as mentioned by Canara Bank MD in today's call with CNBC TV18?

Details of the fraud like the amount, provisions etc ? (As per his interview to CNBC, his comment was no fraud was deducted by Canara Bank/ NHB investigation)
Hit LC all off a sudden on some news that RBI will probe Canfin books.
Canfin MD clarifies…
Why is the stock falling after the clarification from the management? Is there something which is still not clear?
The Q4 results were the best in the history of the company yet the stock is falling because of such a small issue.
Disc: Invested.
It's a bear market. Fear is there. What else can you expect. Sit tight. It will be available at lower valuation. Wait for few quarters to see improvement in fundamentals. it will be good buy, not a great though. High debt to equity ratio will require raising equity for further growth in next 2-3 years.
It's always wise not to sell based on some unofficial news. While the poor retail shareholders panicked due to news of RBI might look into the books of Can Fin Homes, DIIs happily bought from retailers at cheap valuation. The share price is on a path of recovery and at the same time institutions bought from retailers.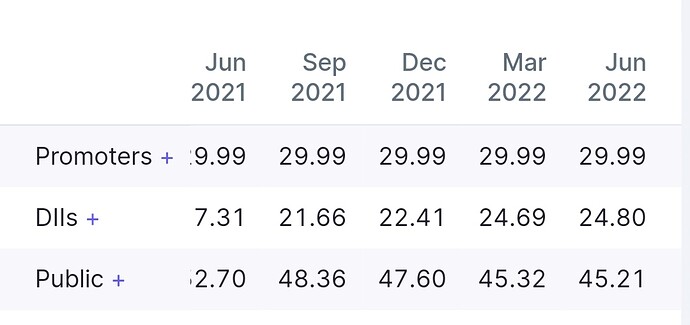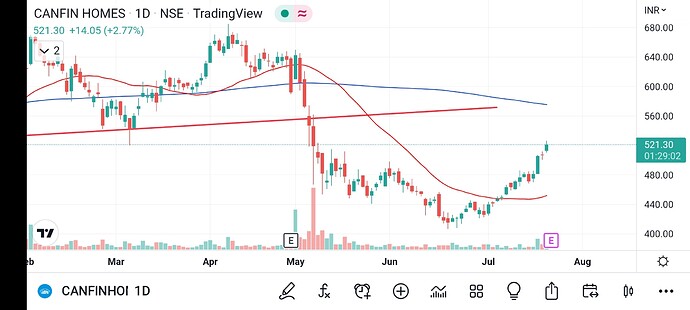 Disclosure: Invested.
CEO resigns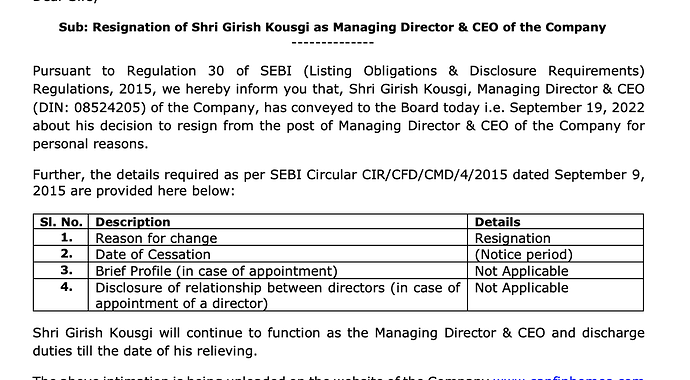 There is no smoke without fire, looks like this is an extension to the recent developments at the company. Could be wrong.
stock price was down by 7% with huge volume even before the announcement to the exchange came.
The board has given a go ahead to recruit the MD/CEO from market.
In May itself MD had confirmed he will complete his term which was till 2024, and now he resigns. Wondering what changed, and should we as minority/retail investors be worried about it.
When I go through the news I noticed he has frequently changed his job in the last few years (from 2017). Before that he was with icici group for 7 years I believe. Could be a normal job change?
Found this report by mnclgroup.
Can Fin Homes|CMP: Rs.617l MCap: Rs82.1bnl Fair Value: Rs.780
Findings after the audit has been concluded by Mr. L.V. Prabhakar - MD & CEO, Canara Bank Ltd:(Concall Jul 2022)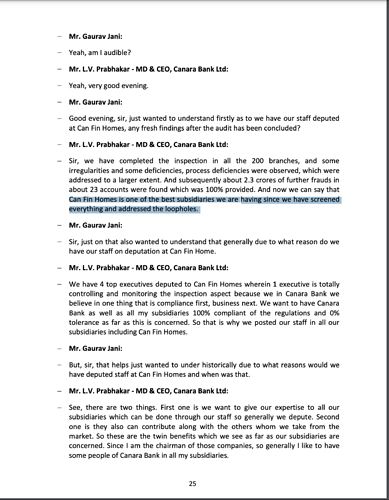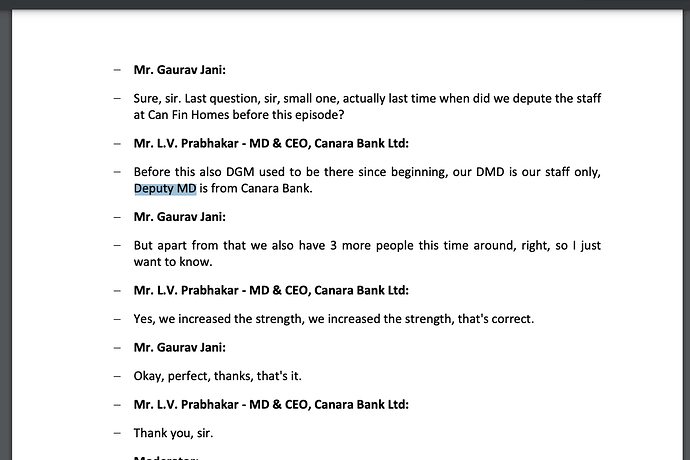 qoq huge jump in provision. is it due to restructured loans slipping into NPA or something else which has connection to recent MD resignation?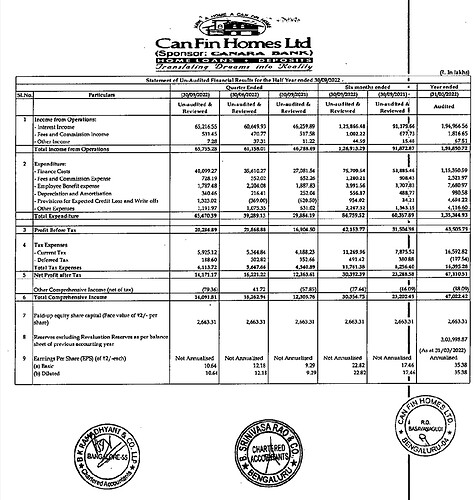 Disclosure: Exited post news of md resignation.
Can Fin home Concall FY Q2 2023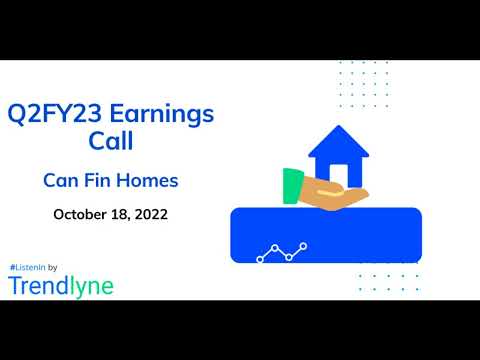 Participants:
Dhaval Gada: DSP Mutual Fund
Harsh Shah: L&T Mutual Fund
Punit Mittal: Global Core Capital HK Limited
Shreepal Doshi: Equirus
Ratik Gupta: Guardian Asset Management
Rishab Duga: CD Equisearch
Ankit Shah: White Equity.
Mahek Talati: YellowJersey Investment Advisors
Sakshi Goenka: Sohum Asset Manager
Punit Bahlani: Nomura
Dhruvish Pujara: Mirabilis Investment.
Jigar Jani: Edelweiss.
Umang Shah: Kotak Mahindra AMC.
Gaurav Jani: Prabhudas Lilladher
Bhuvnesh Garg: Investec Capital.
Chirag Sureka: UTI Mutual Fund
Varun Basrur: Julius Baer Wealth Advisors.
Increase in FII holdings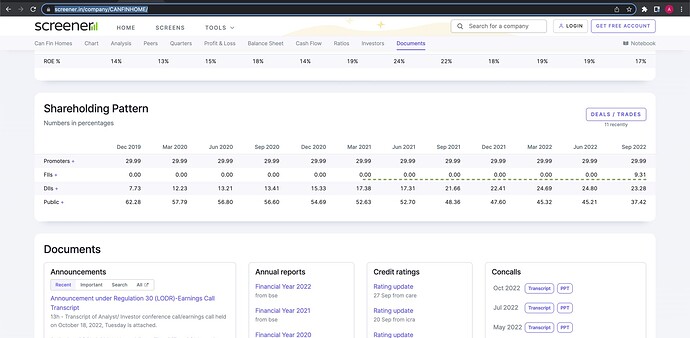 Looks like Girish Khousgi has joined PNB Housing Finance. Clearly looks like some tussle between him and Canara Bank board or top management. Under Girish, the loan book expanded much faster than ever before. That could have been a cause of concern
https://www.screener.in/results/latest/#:~:text=Can%20Fin%20Homes,₹ 8.69
Dec'22 Sept'22 Dec'21
Sales ⇡40% 710 657 508
Op profit ⇡45% 661 607 454
Net profit ⇡31% 151 142 116
EPS ⇡31% ₹ 11.38 ₹ 10.64 ₹ 8.69
Now, what I don't understand is how the anchors on CNBC TV18 were calling it a bad result. The management also looked guilty, and mentioned rising cost of funds.
To me these look like excellent results, 45% rise in operating profit should be what the dreams are made of. With the rising housing sector, it should gain. Need inputs from more experienced investors.
Invested a small sum today.
Majority of concern is over the spread compression. Even though you see operating profit increases this quarter, this spread compression will reflect in next quarter. Same was asked extensively in concall and management's have valid response to same. Their entire floating rate borrowing book will get adjusted immediately or max in quarterly manner, but their loan book adjusts on yearly basis. If someone borrowed loan from them on august, any interest rate change will happen only in august of every year. Currently 70% of book is not repriced to new interest rate which bring back the spread/nim to regular case, but there will be a lag.
Other than this there are some overhangs about things happened during the tenure of old CEO, any probable occurrence of RBI/NHB audit, New CEO appointment.
Some of the concerns raised in CNBC interview is laughable, they called 20% loan growth is slow down which is little higher than their historical growth, on average they grown their book by 18% in past.