Ok got my coffee - Now tell me what are these folks upto ?
Company is engaged in manufacturing and selling of Light Emitting Diode (LED) and related electronic products for domestic and industrial applications. The operations of the company can be broadly classified as Electronics Manufacturing Services (EMS) wherein it undertakes manufacturing of any electronic component and supplies to Other Equipment Manufacturers (OEMs) and Original Design & Manufacturing (ODM) wherein the company carries end-to-end activity including designing for the lighting product.
Some History never harms anyone
Calcom has always led the way to produce Electronics such as Calculators, Televisions,Home Appliances and is now a well-known and reputed LED Lighting Manufacturer.
Calcom is a 46-year-old Electronics Manufacturing Service Provider with a rich history in the Electronics space.
Products and portfolio
Company has shifted its business from developing Niche products to Mass Volume products like Low Wattage Bulbs. [3]
a) LED bulbs (All wattages)
b) LED Battens (Emergency battens and Industrial battens)
c) LED Downlighters, Panels, Floodlights and Street-lights
d) LED Drivers and Strip Light
e) PLL Lamp and Ceiling Lights
Strip light, flood light, emergency light, battons etc for it's key clients like Panasonic, Bajaj, Walmart, Usha, HPL, Surya, Havells etc to name !
Have a 13000sqm manufacturing facility at Greater Noida.
+
Client and customers
Company is an approved manufacturer for Panasonic and other leading brands such as Bajaj, Osram, Ledvance, Great White, C&S, USHA, Havells, etc.
Energy efficiency as Rerating ops
Company's strategy is to focus on the future of Energy efficient electronics. It is developing products such as Smart Bulbs, Smart Plugs, Smart Poles, Home Automation products and other IoT based products . In addition, it is also diversifying the product portfolio by developing solutions for Brush Less Direct Current (BLDC) fans and drivers .
Few things from current AGM
In FY22 the promoters sold 6% of their personal holding in the open market by way of an Offer
For Sale ("OFS"), to comply with the MPS (Minimum Public Shareholding) guideline of SEBI.
The OFS was a big success and got oversubscribed 5 times.
This seems to be a great sign as of now that everyone is gung ho.
This initiated a chain of positive events for our growth. We received an initial seed investment by marquee investors - MIT and Old Bridge Capital. This allowed us to invest further in capital expenditure and helped build our working capital reserves.
Kenneth Angrade manages Old Bridge Capital. Great indian fund manager.
Let's talk if they got PLI coz they are into manufacturing dude.
In FY 22, Calcom was also chosen as one of the recipients of the Production Linked Incentive
(PLI) Scheme. The PLI Scheme was conceptualized to boost Domestic Manufacturing while
attracting foreign investments in the Electronics Industry. In keeping with this, Calcom has
been constantly investing towards capacity expansion automation and upgradation.
— The 'Make in India' initiative backed by the Robust 'PLI Scheme' and EMC2.0
(Electronics Manufacturing Clusters)' are a stepping stone to not only creating a
complete manufacturing Ecosystem in India but also to make India a Global
Manufacturing hub in the years to come. Serving to achieve economic development
goals of the country, Calcom is at the forefront of the Make in India initiative.
---- The introduction of the Dedicated Freight Corridor (DFC) will also connect the entire
country and enable India to save time and resources to ultimately become a big force
in global manufacturing
management is obviously optimistic with these policies.
They have great focus on mass manufacturing of LED Bulbs and LED Batten. Cost reduction is the key here , dedicated automation team has also helped here.
Some of the biggest names in the Lighting Industry have now become our esteemed
clients. Our Company has tied up with new customers such as Great White, Opple Lighting
and Ledvance for the production of LED Bulbs and Battens. We are in discussion with several
new customers to increase the clientele with a healthy order book. Automated key processes including Laser Marking and Packaging, improving overall Quality and Productivity
Now the new kid on the block for CALCOM vision. Coz dude we need to look what is "coming soon"
With regards to our BLDC project, I would like to update you that we have successfully
developed a range of BLDC Drivers and are now looking for a Technical Collaboration for the
BLDC Motor. I am confident that we will be able to secure such collaboration in the coming
months and will be able to start manufacturing the same in FY23 itself.
Lightning Business Ecosystem

• The lighting business has a seasonality factor with 60% sales in Q3 & Q4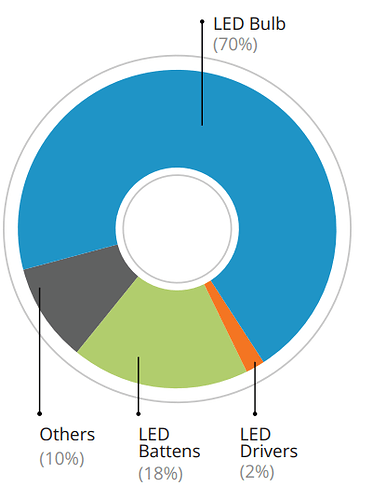 Lot of things they worked upon
Automated key processes including Laser Marking and Packaging improving Quality and Productivity
Forayed into Outdoor Segment with Initial trials completed for Flood Lights, Street Lights etc.
Increased Capacities of LED Bulb Production
Setting up an In-House Plastic Extrusion Plant (In Process)
Started manufacturing LED Smart Bulbs
Risk Analysis:
Margins are something worth tracking.
New investments or segments under electronic manufacturing don't work as planned then it could realy supress the margin profile for CALCOM.
PLIs might not work at all and india decides to get rid of the PLI for electronic manufacturing in india.
Some big players decide to enter this market. Or some disruptions come along via China re-entry in the Manufacturing sector.
It is a microcap and that comes with its own baggage. So always beware of the allocation here.
D: I am not an advisor of any sorts. I have a small investment in CALCOM as of now. Have been there in the market for around 8-9 Years. Learning and sharing on the go.