A GEM FROM THE HOUSE OF WADIA'S…
The Bombay Burmah Trading Corp. Ltd. (BBTCL) is a part of the prestigious "WADIA Group" with a legacy of more than One and Half Centuries, having business interests in Plantations, Foods, Laminates, Electronics and Light engineering, Health care, Real Estate and Horticulture and is the HOLDING COMPANY of the Group.
After immense success in the business of Teak, BBTCL diversified its interests in Tea, Coffee, Dental Products and Formica Laminates, the Company owns large Tea, Coffee and Rubber plantations, the controlling holding in the group listed arms Britannia Industries and substantial holdings in the Flagship Bombay Dyeing & Manufacturing Company.
BBTCL through its step down subsidiaries holds 50.65% in the Biscuit Major - Britannia Industries, a BSE and NSE listed Company with a Market Capitalization of Rs. 82,971 Crs.
BBTCL which has a tiny Equity Share Capital of Rs. 13.95 Crs. (Face Value Rs. 2) holds huge treasure in terms of Wadia Group Shares with an aggregated Market Capitalization of around Rs. 69,000 Crs. – THE MARKET VALUE OF BBTCL HOLDING AT A WHOPPING RS. 41,485 CRS.
BBTCL intrinsic value of shares is pegged at Rs. 4,977 per share as against its CMP of only Rs. 1,078 per share… AN INCREDIBLE DISCOUNT OF OVER 70%.
What it means is that you can indirectly buy Britannia Industries and Bombay Dyeing and Manufacturing Company shares which are currently quoting at Rs. 3,450 and Rs. 57 per Share at 70% discount.
WADIA GROUP – A GLORIOUS PARENTAGE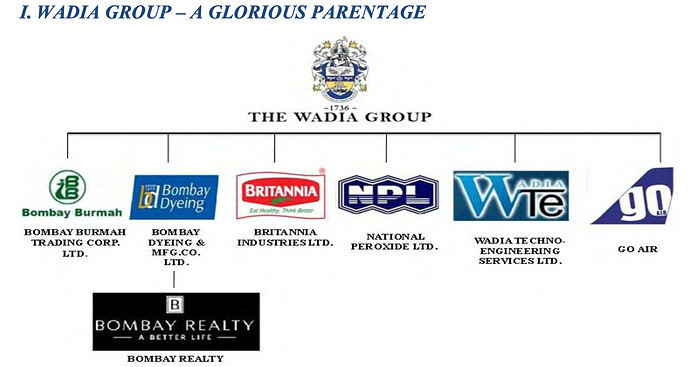 Wadia Group founded by Lovji Nusserwanjee Wadia in 1736 is One of the Oldest Conglomerate in India. Wadia Group with over 280 years at the forefront of Industry in India is today broadly diversified in several growth industries that covers Textiles, Chemicals, Plantations, Foods, Electronics, Light engineering, Health, Laminates, Real estate and Consultancy. Consistently, the group companies have emerged as market leaders in the field they have entered and over the years the group has developed an enviable record of successfully managing diverse technologies.
The Group has come to be known for its Sound and Prudent Financial track record. Building Strong Fundamentals forms the basis of Growth in each company, making them top pick of Indian bourses. Two of the Group's publicly listed Companies - Bombay Dyeing & Manufacturing Company Ltd and Bombay Burmah Trading Corp. Ltd have consistently rewarded its shareholders with consistent dividend payouts for over a hundred years, despite several recession in the Industry.
BBTCL, the Leading Wadia Group Company is the Second Oldest Publicly Listed Company in India Listed in 1863 followed by Britannia Industries Ltd. which is the Fifth Oldest Company to List in India in 1892.
Wadia Group through its Flagship Company Bombay Dyeing & Manufacturing Company Ltd. is carving a niche in the Realty Sector with rapid expansion plans. Wadia Group has access to over 10,000 acres of historically acquired land at rock bottom prices belonging to Britannia Industries Ltd., National Peroxide Ltd., Bombay Burmah Trading Corp. Ltd., Bombay Dyeing & Manufacturing Company and the Wadia Trust. Even if one excludes the agricultural land belonging to Bombay Burmah Trading Corp. Ltd., a mammoth land bank available with the Group at some of the Premium and affluent locations across Mumbai, Thane, Bengaluru and other cities.
BBTCL – THE COMPANY PROFILE
BBTCL is One of the Oldest Company of Pre - Independence Era, still flourishing with its core values, ethics and above all, the competency in trade. After immense success in the business of teak, the company has diversified its interests in Tea, Coffee and Dental Products.
The 150 years old BBTCL entered the plantation business in 1913. Today its plantations in the hills of South India cover 2,822 hectares under tea plantations (around 7,000 acres). These plantations are located in prime plantation areas, producing around 5 Million Kgs of Tea annually. BBTCL hold the distinction of being amongst most eminent and reputed manufacturers and exporters of naturally grown " Organic Tea". The Organic Tea which is manufactured at their Oothu Facility is appreciated across the globe and is also certified by "
BBTCL"s group of eight estates are situated in the district of 'Kodagu' (Coorg) in Karnataka State, South India covering an area of approximately 4,105 sq.kms. (1585 sq. miles) covering Coffee and Pepper plantations.