Appears Bata India battered down for entry huge volumes in nse mutual fund holding up appears entry point at 520-500
One should visit Bata Showrooms to look at the changing designs and quality of products. Power's sport shoes are at par in terms of design, material and comfort with Skechers and at half the price.
The ladies segment too has some really nice design.
Company has started keeping accessories like Belts, Ladies Bags, Socks and Polish.
Some really good changes happening at Bata.
Negative : The brand has taken a beating over the years, since it is assumed to be Cheap
I visited the Bata showroom 15 days back just to check what changed… A lot of good changes in the products design and colour has been made…
My notes from FY18 AR
Footwear industry - 1.1 million workers - top employment generator. Annual production of 22 billion pairs (globally) of which India is 9.6% of total global annual output. India is second largest producer after China and third largest consumer after China and USA. 90% of total footwear manufactured in consumed locally. India is also top 10 exporters gaining market share.
Men's footwear is 58% of total market. Mens footwear projected to grow at 10% CAGR. Women's footwear at 20% CAGR. Casual footwear is largest segment with 67% of total market.
Bata has reworked brand image to focus on youth, beauty and sports themes and transformed itself into a vibrant and modern lifestyle brand.
Bata brands - Bata, Hush Puppies, Power, Scholl, Weinbrenner, Bubblegummers, Marie Claire, Naturalizer, North Star, Footin, Comfit
Stores re-designed in-line with 'red angela store concept' (red and white theme) to give an upmarket, european feel
Fresh new www.bata.in online presence that focuses on UI/UX and fashion quotient.
Home delivery launched in Delhi and NCR
Presence in more than 1375 stores across the country.

Focusing on "Product is king" and "Wow pricing" strategies.
Wide portfolio of products launched focusing on Women and kids
Power is projected as the sports lifestyle brand. Several new lines launched under Power brand. Focusing on youth and teens. First Power branded store opened.
Impressive growth coming from tier-2 and tier-3 cities.
Deeper partnerships with e-commerce players like amazon, flipkart and myntra has helped growth.
bata fashion event was organised and various formats and mediums were used to garner influence on social media using facebook live, instagram stories, live tweets etc.
Added 100 new retail stories, 31 franchisee stores and renovated 90 stores in FY18
Sold 8.9 lac pairs of footwear through online channels
market expansion through brand presence in tatacliq, shopclues, gofynd and limeroad
Hush puppies, the premium lifestyle brand now has presence in 90 exclusive stores and 60 shop-in-shops in premium departmental stores.
Bubblegummers, the childrens footwear brand has several new designs and first bubblegummers store opened in bangalore. 18% of country's population under 10 years so this is a large category.
Bubblegummers is associated with Walt Disney company with designers from Disney creating collection of casual shoes, canvas shoes, ballerinas and sandals and chappals which are highlighted in Disney Corners in some key retail stores.
Non-retail business (wholesale) was impacted due to GST. Efforts are made to increase market share in wholesale footwear business.
Several customer care initiatives undertaken - toll free number, loyalty programme, NPS through feedback
Established leadership position and is the most trusted brand in footwear and accessories.
Continuing my research on Bata today, I found this interview with the Bata global CEO back in Jan about Bata and its brand image and what it was doing to grow its business worldwide.
It looks like the plan is to focus on growing its business in Asia. India contributes to 16% of Bata's worldwide revenues and is second only to Italy. Looks like the parent has taken upon itself to grow the business here.
Same could be seen with top management's visit to India earlier this year
India will probably be the most important market going forward
The brand revamp, store design revamp, employing brand ambassadors, digital marketing and fresh products all seem to be going in the right direction. The effort put in by the company on social media can be seen by looking at bata india's instagram.
There aren't many posts pre 2017 and in the recent months, they seem to be gaining a lot of traction and it looks like they have a social media plan to build their brand image.
Am curious to see if Bata can do a Jockey in terms of brand value. Margins going forward will tell if these efforts are successful or not.
Difficult for Bata to do a Jockey. Bata was an aspirational brand two decades back like Jockey is today. But much water has flown under the bridge in last two decades. Buyers are buying more niche and less mainstream. In the sports shoes segment, Nike and Adidas are dominant players who continuously spend a lot in brand building and sponsorship. In hiking/trail running shoes, global leaders like Salomon, The North Face, Merrell etc have entered. Moreover in informal outoor footwear/sports footwear segment, Decathlon has sports specific footwear. In the formal shoe market, it faces severe competition from the likes of Woodland, Red Tape etc. Younger generation generally buys global brands, both online and offline. So it would a bit too much for us to expect market dominance like it had couple of decades back.
On the bright side, the pie is big enough for multiple serious players. Bata just needs to develop couple of niche markets to thrive and prosper. Moreover, if the company just runs efficiently like any other dull and boring business, it won't get so much buyer mindshare, but it would be consistently rewarding for investors, IMHO. A business that's dull, boring and not in limelight is a good one to own as it faces less competition and is more profitable in the long run for investors, in general.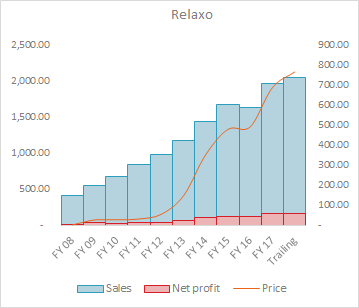 It seems Relaxo fares better than BATA from footwear stock pick perspective.
Disclosure: No positions in either of them, interested.
Pretty good performance for a seasonally weak quarter

Gross Margins almost same but OPM has grown probably due to renegotiation of rents, right-sizing of shops and better operations. Revenues have grown 15% and PBT 34%, while PAT has grown 30% keeping in line with the growth in the last 3 quarters.
https://www.bseindia.com/xml-data/corpfiling/AttachLive/d8ef6503-0f9c-499c-be6f-8fe7b40d924f.pdf
Advertisement cost to Sales Ratio will be key to watch. Traditionally Bata has not spent on ads and that is changing
Solid numbers. 16% topline and 50% bottomline growth. Gross margins have seen an improvement as well by 350 bps.
Good results from Bata 69% bottomline and 7% topline growth.
If last year's AR was showing signs of optimism and intent, this year's is bursting forth with results and a look at all that was done to rejuvenate the brands, re-think channels and stores, running aggressive campaigns online and offline and improving the offering and collections. Some of the initiatives that were being talking about last October made me sit up and take notice and its nice to see a lot of it paying off so soon.
Anyone tracking this? In Q1, the cost of raw material reduced by almost 50% ( 377 vs 730 cr YoY) . And it has gone up for relaxo ( 244 vs 205 cr). What explains it?. They have a better bargaining power with the suppliers?
Also, rental expense down by 90%. 107 vs 910 cr YoY. Does it mean they now own a lot of stores?
That's due to Ind-AS116 impact. Clearly given in Quarterly report.

Quarterly results provided table for Comparable results. It is clear that there is not much difference between reported and comparable results.

Good results in a weak economy.
I have been reading about Bata over the last 15-20 days or so. I have gone through the last 3 years' ARs.
I noticed that the number of pairs sold has been the same for the last 3 years ~ about 4.7 crore. However the revenues and EBIDTA margins have increased. This means that selling prices have increased, which points to higher share of premium brands like Hush Puppies. According to a press article from 2015, Hush Puppies contributes to 15% of the topline. Does anyone know how that has changed in 2019?
I have created a semi-automated peer comparison sheet for most of the companies in the industry.
Footwear Industry Data.xlsx (241.8 KB)
You can find comparisons of more industries here:
Back of the envelop attempt to assess the lockdown impact on Bata India
The yearly target of opening 100 new stores might take a hit. This was expected to be a growth driver.
For the quarter ending March, assuming one month of sales is wiped out, one can arrive at a sales loss of 250 Cr which would roughly translate into an EPS loss of Rs. 2.5
Quarter ending June is usually peak season (assuming this is because of schools reopening) and if lockdown continues for an extended period then the peak season sales can get badly impacted. Not sure if markets are pricing this correctly. This can potentially wipe out anywhere between 5 to 6 rupees of earnings per share.**
The projected EPS for FY20 can end up somewhere between 22 to 25, which at current multiples of 42 will be at a price range of 924 to 1050.
If #3 does not play out, then Bata looks like a good buy at current prices