Q2FY22-23 Results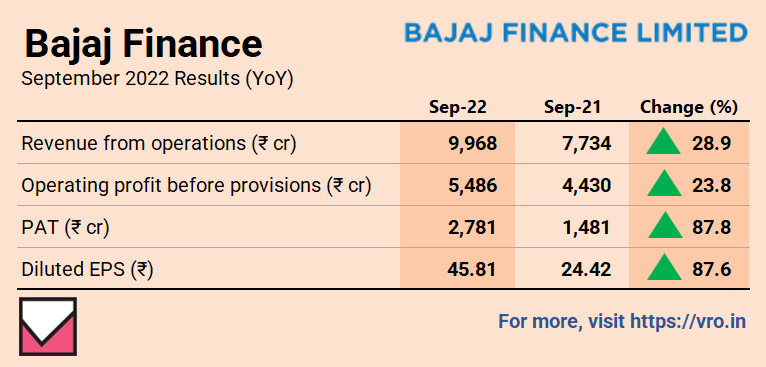 Conference Call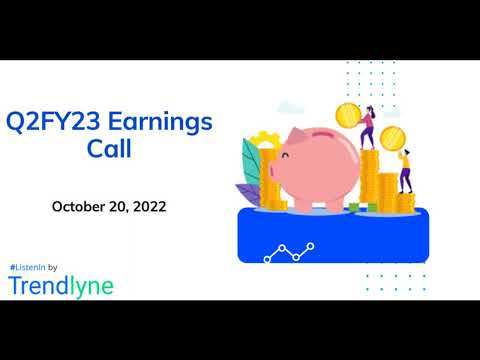 Call Transcript
https://cms-assets.bajajfinserv.in/is/content/bajajfinance/bajaj-finance-q2-conference-call-transcriptpdf-2?scl=1&fmt=pdf
Presentation
Financials
Bajaj Finance Q2FY23 performance has reaffirmed that the already big, strong Bajaj Finance has turned even mightier after the pandemic. Over the past 15 years, it has grown its loan book at a compounded annual growth rate (CAGR) of 37% and profit at a CAGR of 51%, with an average ROE of 17%. The lender showed improvement across loan growth, profitability and asset quality. Robust growth in assets, better asset quality and fall in provisions/credit costs underlined performance even as operating expenses increased during the quarter. Through digital transformation, Bajaj finance intends to not only double its existing customer base but also mine the wallet share of its existing customers in a cost-effective manner. Asset quality trended better, with NPAs reducing further.
Parth as you have mentioned, Bajaj Finance scored high marks in its Q2, 2023 results. Even its its gross NPA and net NPA as of September-end stood at 0.24% and 0.11% respectively, against 0.39% and 0.24% in the year-ago period.
Also, Bajaj Finance's loan losses and provisions for Q2 stood at Rs 734 crore against Rs 1,300 crore.
I am not going more into its details as you all are familiar with the results. What I want to juxtapose it is with the share's performance post the results.
This is disheartening for a novice investor like me. To my thinking I invested in it based on its past performance. Obviously, the market also expected it to keep up.
While one understands initial profit taking by some traders who invest in anticipation of good results and trade in their shares for ready money, its continuous fall, as the screenshot from screener would show, its continuous fall from September is unnerving. Let me put it more simply- if people made investment in it before the results in anticipation of good performance, to my eyes nothing has gone wrong during these months.
Sometimes there are fears that the market knows something we do not. My question to the community is- how do we, the long term investors, deal with such situations?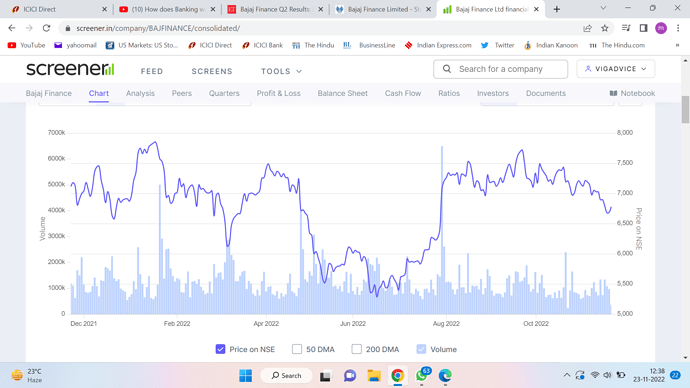 meekinvestor
This is why markets are called the great humiliator. Markets are by nature random and past performance are no way guarantee of what may unfold in future. Keep your horizon for well managed companies with good runaway for growth for atleast 2-4 years. Also such cases will help you appreciate the term "margin of safety" or reverse dcf. asset allocation and diversifying also helps as there will always be some laggards and some super movers. Keep investing by tracking the business and industry outlook. Patience is generally rewarded.
Best
Divyansh
Valuations. In the past, BF was growing at 30-35% and others were growing at 12-15%, so valuation gap made sense. In last few years, BF has slowed down while competition is growing faster. When the growth delta is not so high, valuations catch up (either price or time correction).
Today, Bajaj finance is growing at 25% and is valued at 8x book value, ICICI is growing at 20-25% valued at 3x. Valuation Gap is huge. Most banks are today available at less than half the value of Bajaj finance with similar growing potential in mid term. In such a scenario, these valuations will keep the share price suppressed.
Reliance's entry in Financial services is another recent headwind and still to show in the share price.
Disclosure: was invested, recently sold off after Q3 results and moved to other players in BFSI space. Hence, Biased.
sir… if BF business continues to outperform then price will catch up over time… it's richly valued so you can't expect price to always go up… it will undergo some time correction… you are saying that you are a long-term investor but you are worrying about last 3 months performance? just focus on results and valuation…
Sanjeev, Which another company seems to be more valuable ?
As I said above, for a similar risk profile, private banks and some second rung nbfcs provide better value. In a credit growth cycle, all boats will be lifted, but the ones available at cheaper valuation will get a higher lift.
It is a bit strange that BAF did not participate in the current bull run in NIFTY 50 stocks despite results being stellar and no threat whatsoever from any slowdown. It seems some major FII's are exiting or exited towards other sectors/scrips which we will come to know in weeks to come. If the Co continues to deliver, no reason to believe it will not bounce back. However in the last 11/12 years every year it has given positive return with 2022 being an exception. As retail investors-do we have any other choice but to wait?