They can track across all connected devices (TV, Phone, Laptop) - given same OS/ Email ids/ cookies etc.
Nothing new here (in terms of content which is not already covered on this thread) but just a quick recap of the growth of the company in the last 4 years.
Things to remember:
Growth of the company (both revenues and PAT) have been outstanding but they were majorly a result of good acquisitions (inorganic growth), which is not necessarily a bad thing.
Very high ROE and ROCEs have been normalized now (declining YoY)
Benefits of the strategic investments and acquisitions made in the EFGH sectors i.e. The E(e-commerce, entertainment, EdTech), F(Fintech, Foodtech, FMCG), G(gaming, groceries and government) and H(heathtech and hospitality & travel), will accrue in the coming years
| Fiscal Year | Operating Revenue | Net Profit |
| --- | --- | --- |
| 2022 | 1082 | 215 |
| 2021 | 517 | 135 |
| 2020 | 334 | 66 |
| 2019 | 249 | 49 |
| Fiscal Year | EBITDA Margin |
| --- | --- |
| 2022 | 19.57 |
| 2021 | 25.07 |
| 2020 | 25.95 |
| 2019 | 28.19 |
| Fiscal Year | RoE | RoCE |
| --- | --- | --- |
| 2022 | 27.2 | 18.5 |
| 2021 | 37.6 | 19.7 |
| 2020 | 28.6 | 27.7 |
| 2019 | 67.4 | 74.7 |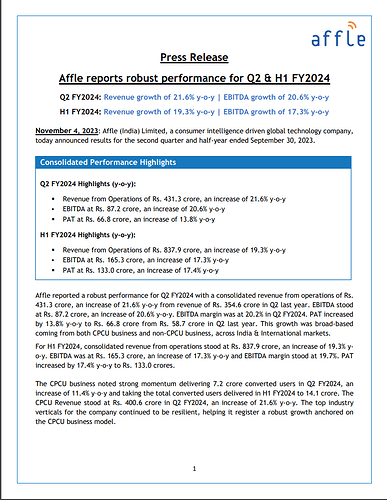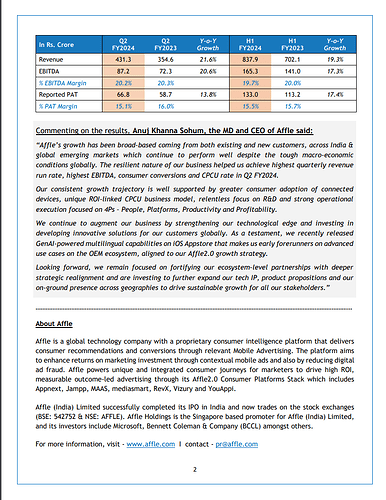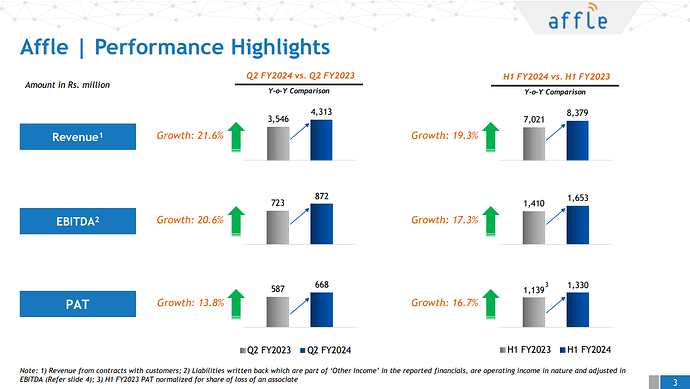 Affle (India) Limited has reported robust financial results for the second quarter (Q2) and half-year (H1). Here are the detailed highlights:
Q2 FY2024 Performance:
Revenue Growth: Affle achieved a consolidated revenue from operations of INR 431.3 crore, marking a significant 21.6% year-on-year (y-o-y) increase compared to INR 354.6 crore in Q2 of the previous year. This indicates strong revenue growth.
EBITDA Growth: The Earnings Before Interest, Taxes, Depreciation, and Amortization (EBITDA) for Q2 was INR 87.2 crore, showing a 20.6% y-o-y increase. The EBITDA margin was 20.2% in Q2 FY2024.
Profit Increase: The Profit After Tax (PAT) increased by 13.8% y-o-y to INR 66.8 crore, up from INR 58.7 crore in Q2 of the previous year. This growth was driven by both CPCU business and non-CPCU business activities, spanning across India and international markets.
H1 FY2024 Highlights:
Revenue Growth: For the first half of FY2024, consolidated revenue from operations amounted to INR 837.9 crore, indicating a 19.3% y-o-y increase. This demonstrates continued revenue growth.
EBITDA Growth: EBITDA for H1 was INR 165.3 crore, marking a 17.3% y-o-y increase, with an EBITDA margin of 19.7%.
Profit Increase: PAT for H1 increased by 17.4% y-o-y to INR 133.0 crore.
CPCU Business Momentum:
The CPCU business showed strong momentum in Q2 FY2024, delivering 7.2 crore converted users, representing an 11.4% y-o-y increase. In H1 FY2024, the total converted users delivered reached 14.1 crore.
The CPCU Revenue for Q2 FY2024 was INR 400.6 crore, an increase of 21.6% y-o-y. The company's top industry verticals remained resilient, contributing to robust growth driven by the CPCU business model.
CEO's Comments: Anuj Khanna Sohum, the MD and CEO of Affle, highlighted the company's broad-based growth from both existing and new customers, both in India and global emerging markets, despite challenging global macro-economic conditions. He emphasized the company's commitment to technological innovation, strengthening partnerships, and enhancing customer solutions to drive sustainable growth.
In summary, Affle (India) Limited has delivered strong financial performance in Q2 and H1 FY2024, with significant revenue and profit growth, driven by its CPCU business and a resilient business model. The company's focus on innovation and expansion positions it for continued growth.
Any idea why the Stock price is not reflecting the good result and the strong guidance for FY24 and onwards?
Affle - Q2 FY'24
Affle's Q2 numbers are out, this post is my take on the results. I would love to hear all of your opinions on the same.
AdTech industry prospects (India):
India's consumer market ranks among the world's fastest growing.

According to Statista, the Indian adTech market is growing at a 15% CAGR over the next 3-5 years. Mobile ads account for the largest share of the Indian AdTech market. The share of ad spends on mobile devices across India is around 75-78% of the total digital media expenditure by 2023.

As of 2023, India boasts over 1.2 billion internet users, securing its position as the second-largest online market globally, trailing only China.

Programmatic Advertising - By 2024, an estimated 90 percent of all online ad expenditure will be channelled into programmatic advertising. This meteoric rise underscores advertisers' growing confidence in programmatic strategies to effectively connect with their target audiences.

The advent of widespread 5G networks will unlock fresh avenues for immersive advertising experiences, characterized by seamless connectivity and accelerated data speeds.

Globally, the AdTech market is expected to grow at a 14% CAGR over the next 7 years. The mobile advertising segment is anticipated to progress at the fastest CAGR of 15.7%.
Sectoral conclusion:
Affle is very well placed in a growth focused sector. An important point to note: Affle is highly focused on the fastest growing markets globally. Although several of the numbers I have spoken above are primarily for India, it is important to note that India accounts for about 30% of Affle's revenue. Remaining 70% of revenue comes from other international markets (Southeast Asia (SEA), Middle East and Africa (MEA), North America, Latin America (LATAM), Europe, Japan, Korea and Australia). Only half the world is online with US/UK at ~80% smartphone penetration and Emerging Markets trailing with much lower levels of smartphone penetration. That's perfect!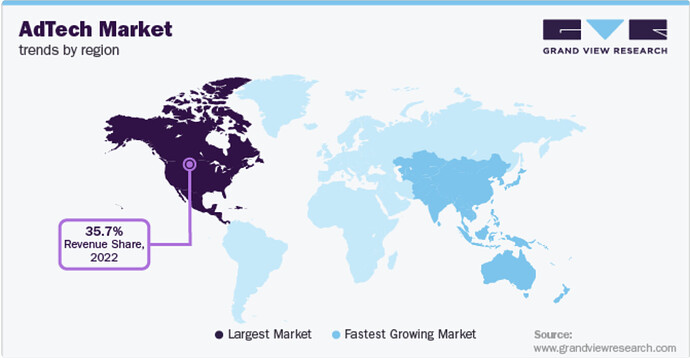 Results - Q2 FY'24
Summary (consolidated):
Sales: 431Cr (+21% YoY)

Net profit: 69Cr (+13.5% YoY)

OPM: 20% (Stable margins)

Shareholding pattern changes:
FII: -0.3%
Public: -0.4%
DII: +0.7%
On the face of it, the results look stable. Why isn't the price reacting? Let's dig in slightly deeper:
CPCu statistics: For those who are new, a "Converted User" is someone who will see an ad but they also take some decisive action like a purchase, an app download or an app launch. Affle generates 90 per cent of its revenues through cost per converted user (CPCu) model in which the company charges for an advertisement only if the user gets converted. Hence 400Cr out of the 431Cr in revenue is from the CPCU model this quarter. Here is what's interesting: the growth in the number of converted users has slowed down in FY'24. Q2 FY'22 to Q2 FY'23 saw a growth of 33% but Q2 FY'23 to Q2'FY24 saw a growth of only 13% (Probably due to global slowdown in international economies). Despite this, they were able to maintain a revenue growth of 21% YoY! How? The key is the Average CPCU. It has increased by 9% YoY from last year to Rs 55.6. This might look very subtle but this is probably the most overlooked characteristic of a consistent performer - pricing power! Affle is constantly moving closer to premium segment customers. They defend their pricing by offering more premium products to their clients

PAT growth: PAT growth is around 14% YOY, although management has always guided for 20% bottom line growth. Some of the underlying reasons are listed below. But whatever said, this is not at par with the guidance, and I'll discuss the impact in the valuation section below.

Gaming sector pullback: There was a pullback of about Rs 11Cr this quarter due to regulatory changes towards applicability of GST within the online gaming industry in India. Gaming is one of the verticals under their 'EFGH categories'. However the management seems to be confident that they can offset this pullback from the other high growth categories. A notable point here is that gaming has been a positive vertical for the company in the international markets. The Indian gaming sector is what has taken a slight hit, and we will need to wait for the coming quarters to hear the management's updates on the matter. The management calls this a "one-off" event and should ease out in the next quarters. Some people might have questions about one of their acquisitions: YouAppi, a gaming focused programmatic mobile app marketing platform, works with mobile gaming app companies across the globe. Please note that YouAppi is primarily contributing to top line numbers from developed markets and not much in India.

Fintech sector slowdown: Another 14Cr of pullback from the Fintech vertical primarily due to high interest rates in the economy. Since interest rates are cyclical this should improve in the coming quarters with inflation coming under control and quantitative easing taking presence.

Fundraiser details: Affle recently raised Rs 750Cr by the allocation of preferential shares. Preference shares allow an investor to own a stake at the issuing company with a condition that whenever the company decides to pay dividends, the holders of the preference shares will be the first to be paid. But the question to ask is what will we do with the 750Cr coming in + 500Cr already in cash balance. The management aims to use this on AI development. They plan to utilise this capital over the next 4 years. Hence, adjusted ROCE won't improve/deteriorate anytime soon. That's not very encouraging in my opinion.

Increase in other expenses: Management has clarified this to be for the acquisition of YouAppi and increase marketing activities around the festive season.

Other important timelines: Samsung India development and integration Phase-3 to be completed within this year itself.
Valuation:
If you're reading this post then you probably also know that Affle is definitely an expensive performer. Today, it commands a PE of around 50, which used to be a whopping 150+ a couple years back. So let's all agree that there has been a PE re-rating for the company. But why? It all has to do with the growth numbers in the snippet below. Back when it commanded a 150+ PE, Affle was experiencing unsustainable revenue growth rates of 100%+ YoY. But the growth rates have now reached a sustainable range of around 15-20% YoY with the management guiding for around 20% PAT growth rate. With this information, here are a few numbers that paint a false picture:
Don't look at 5 year compounded growth rates
Don't look at 5 year median PE
Don't look at 5 year ROCE and ROE
Affle's management themselves don't guide for such growth rates anymore, and as retail investors, don't blindly look at historical returns!


What about its overall financial performance? I'd call it a solid stable performance. The Piotroski score agrees with the numbers as well assigning a 8/9 score for Affle which is outstanding.

So what's a reasonable PE multiple to assign with an expectation of 20% PAT growth? I like to use PEG as a good measure for this. In my opinion, being as conservative as possible, on the lower end I would assign a PE of 35 and on the higher end a PE of 50 (PEG ratio 1.5 - 2.5). Hence, in my opinion I would not consider Affle to be undervalued as of now. I would say it's somewhat fairly valued, but there can still be room for correction if the numbers continue to miss the guidance. These numbers are backed up with some calculations in the next point.

Why is the price falling? Well, look a couple quarters forward. The management is guiding for Rs 1800 Cr in revenue. If we assume a stable 20% EBIDTA margin, Affle should end the year with about Rs 300 Cr in net profit. Divide that with the number of outstanding shares, that should give us an EPS of around Rs 22.5. As discussed earlier, assuming a fair PE of around 45, an approximate fair price would be 45 X 22.5 = Rs 1012. It suggests that the market is assigning a fair PE of around 45 based on the management's guidance, which is not tough to expect.
I hope this helps, I would love to hear everyone's opinions on the same.
Thanks for the post. I think you have summed up the updates from the concall perfectly. I mostly agree with your analysis and on the short term there may be consolidation. However on a long term there is a strong chance for Affle to do well because its a niche company and most of their business is CPCU (RoI) based. Also the preferential shares issued to the Gamnat Pte (Govt of Singapore) are at a higher price. The company has confirmed that this won't change despite the recent correction in the market price. I think this is a good pivot for small investors like us.
Disc : Invested at higher level and hence biased
I had written a blog predicting good results for Affle about 1 month back on October 8

: AffleBlog
Disclosure: Invested about 1 month back
If anyone can share in terms of its competitors (Pure play in CPCU model) in India and Globally ?
How do one know that Affle's CPCU model continue to be competitive than others in the business?
Let's talk patents!
Affle India has announced that they have filed the following patents in India. This post will try and breakdown what these patents could potentially bring to the company.
NOTE: This is just my understanding of the patents.
What is an AI agent?
For those with a non-CS background: In artificial intelligence, an agent is a computer program or system that is designed to perceive its environment, make decisions and take actions to achieve a specific goal or set of goals. An example of a Gaming Agent is a computer program to play chess with a human opponent. For the context of Affle, these agents that they are talking about are designed to analyze data, make decisions, and optimize various aspects of the advertising process.
New Patent list
Systems and methods for ownership and biometric based authentication through Artificial Intelligent (AI) agent.
It looks like the system that is mentioned provides a secure and convenient way to assign ownership to data. Those who are authorised to access this data, can use biometric authentication to verify their identity ensuring that only authorized individuals can access this digital information.
Type: Security

Systems and methods for managing a secure cloud based enclave without breach of user privacy.
The enclave is a secure environment within the cloud that is isolated from the rest of the cloud environment. This isolation helps to protect user data from unauthorized access. The patent also describes methods for managing the enclave, such as provisioning, monitoring, and revoking access.
Type: Security, New services

Systems and methods for categorizing personal information into relevant categories corresponding to social engagement AI agents in a privacy and ad sensitive manner.
The system uses natural language processing (NLP) and machine learning (ML) to extract and categorize personal information from social media posts, emails, and other online sources. The system then uses this categorized information to create profiles of individuals, which can be used by social engagement AI agents to tailor their interactions with users.
Type: Security

Systems and methods for augmenting responses/recommendations and generating enhanced decisions through resource sharing between AI agents.
The system allows AI agents to share their knowledge and resources with each other, which can help to improve the quality of their responses and recommendations. The system also allows AI agents to learn from each other's mistakes, which can help to prevent them from making the same mistakes in the future.
Type: Optimzation

Collaborative AI agent systems with coordinators/recommendations for shared applications and methods thereof.
The system enables multiple AI agents to collaborate on tasks and problems, coordinating their efforts and sharing information to achieve common goals. The system also provides a mechanism for recommending actions or strategies to the AI agents based on their collective knowledge and experience.
Type: Optimization
Potential new revenue streams:
Subscription fees: The company could charge users a monthly or annual subscription fee to use the systems and enclaves.
Professional/Management services: The company could offer professional services to help customers deploy, manage, and secure their enclaves.
Licensing fees: The company could license the technology to other companies in the AdTech industry.
Data sales: The company could collect and sell data about user activity to advertisers and other businesses.
Partnerships: The company could partner with other cloud providers to offer the enclave as a managed service.
Summary:
The patents filed are focused on two primary aspects: security and optimization. What they would ultimately help in is improving margins and securing data. This is directly linked to the effective CPCu business model of Affle. It's important to note that the more they work on fine tuning their algorithms, it will trickle down to their OPM margins. The effective CPCu (cost per converted user) will increase, and customers will not mind paying a premium to tap into Affle's algorithms and consumer base. The security oriented patents might not correlate directly to revenue, but what they will help in is building trust among its customers and consumers on ethical data handling. It's too early to comment on any new revenue streams that these patents would allow for, hopefully the company addresses these patents in a discussion or presentation.
Please note that these patents have only been filed and have not yet been granted. Let's hope that all/most of them are granted to add to the impressive patent count and the R&D culture of the company.
Has company rights to sell data to other companies legally?
Really depends to be honest. Based on region, the amount/type of data you share can be restricted/not allowed at all (eg. CCPA, GDPR). The main idea still remains that users can choose to be 'somewhat' anonymous, and that nowadays is largely followed by Anonymization of PII (Personal Identifiable Information). The laws in India for this are almost Non-existent (Bajaj Finance and countless banks offering you loans will attest to this), but this will be a challenge in US/EU.
Also, a company like Affle might not just sell the data directly (due to possible legal complication, and the fact that this data is what makes the company more valuable), but can use this same data to augment its own offering and/or sell it as SaaS. What happens is if you're the First Party Owner of the data, even though you don't/can't have PII data with you, the data is still very meaningful once anonymized, as it can still help you with segmenting and profiling cohorts of your users behavior.
For eg., you'll not be in violation of the laws if you can make the data anonymized, but you can still use the very same data.
"THE PRINCIPLES OF DATA PROTECTION SHOULD THEREFORE NOT APPLY TO ANONYMOUS INFORMATION, NAMELY, INFORMATION WHICH DOES NOT RELATE TO AN IDENTIFIED OR IDENTIFIABLE NATURAL PERSON OR TO PERSONAL DATA RENDERED ANONYMOUS IN SUCH A MANNER THAT THE DATA SUBJECT IS NOT OR NO LONGER IDENTIFIABLE".
Most of the digital advertising works with cookies, which is actually how advertisers can track you. They can actually track and target you, without actually knowing you (Unless you voluntarily give them data, by something like Lead Generation).
(Also see Cookie Sync if interested in the technical implementation details).
PS. - My first post on ValuePickr, open to feedback

Also, invested and biased.
Curious to know, if all these patents will get approved or Will there be any challenges in approvals? and What is typically the impact of the Approved Patent on the revenues in future.
Stock is on my watchlist. Looks marginally overvalued hence only on Watch List.
Pretty sure Affle's tech doesn't use cookies, I remember they have mentioned this multiple times that the have almost nil dependence on cookies. They instead rely on the collaborations with the OEMs to track the journey of a user. Please check the below snapshot from their earlier concall in which Anuj has highlighted the same.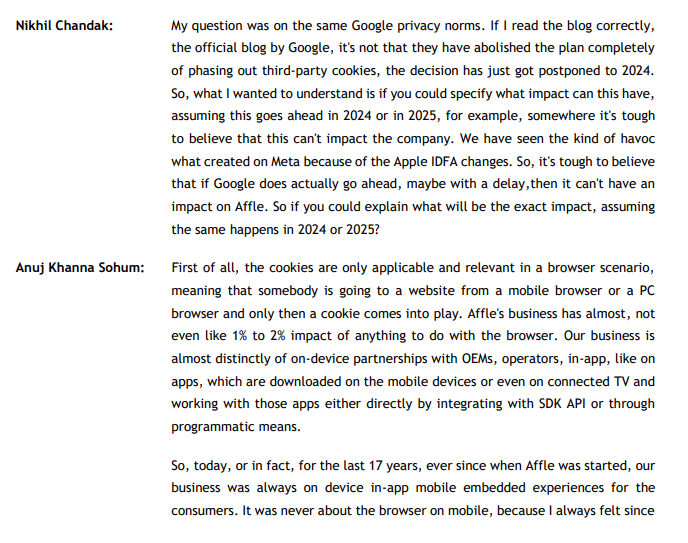 Source : Earnings transcript, Q1FY23
Thanks for mentioning this! I think I could've worded it better.
What I meant was, most of the times, companies may track you without really knowing it's you, with the ultimate goal being a "conversion". (for eg. by cookie syncing). Affle may or may not be able to legally sell user data, but it's probably not in their best interest to do so given the value and importance of first party user data to their own platform.
Affle has phenomenal sales growth over last 5 years or so. Around 55% CAGR. This in my view isn't sustainable and that too on 25% EBIT margin. Any one who has valued this company using DCF, what's the future sales growth potential you have taken and rationale for the same?