This was an interesting prospect for investment for me but I decided against it at this time. I thought I'd share my views on what made me want to avoid investment at this time.
Company has been (of late) losing market share in the LPG segment due to various factors such as loss of BPCL at Haldia, medium size LPG carrier availability affecting Pipavav operations. This will take longer than expected to resolve and their aspirations of 25% market share will be difficult to achieve.

Sharp increase in the Contingent Liabilities yoy on account of 142cr NGT order with regards to the Air pollution issue at Mumbai. Contingent Liabilities now stands at 243cr (12.5% of networth) FY21 AR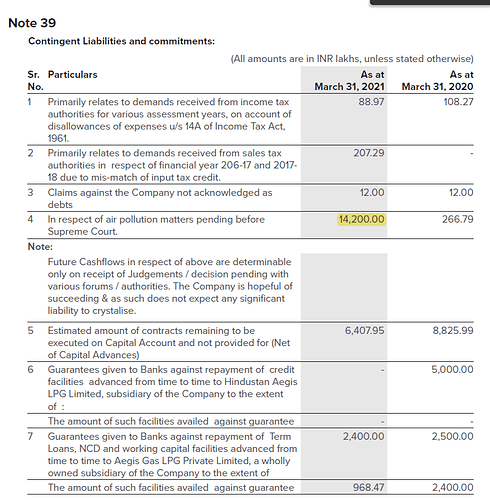 The air pollution issue just highlights the exponential threat associated with the nature of this business what accidents/fire/pollution can wipe out years of profitability.
LPG domestic segment demand is linked to government policy (subsidy etc) and its cost relation to alternatives such as PNG etc

An unknown element of risk with the BPCL - Adani stake acquisition (if that were to materialize)
Please note this is just my opinion and I am open to learning and understanding the business better. Contrary arguments would be greatly appreciated as I may be wrong in my analysis.