To explain it better, I am including chart of growth in gross profits (on a seasonally adjusted rate basis).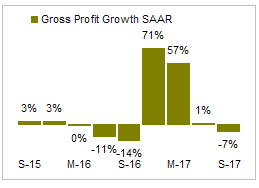 Source: Capitaline
Posting Sales growth chart from previous post.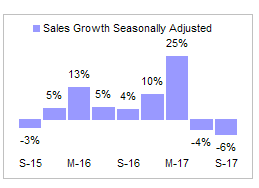 Source: Capitaline
Comparing sales growth and gross profit growth (on SA basis) shows that finished goods prices started rising in December 2016 quarter (as gross profit was rising faster than sales) and continued until June 2017. In Sept 2017 quarter, sales have dropped marginally and gross profits have dropped along with sales by about same % points indicating prices peaked sometime around June quarter and have remained around those levels in Sept quarter. Operating leverage kicked in March quarter as EBITDA grew much faster than gross profit (again on a SA basis). In Sept EBITA declined along with Sales indicating full impact of operating leverage is already in the accounts at current level of sales.
Combined effect of sales growth and change in margins can be seen in (seasonally adjusted) bottom line shown below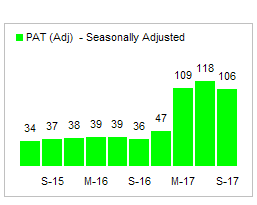 Source: Capitaline
Profits peaked in June quarter and moved slightly lower in Sept quarter although still substantially higher than historical levels.