Need your critical evaluation and remarks
Dear Forum members and VP's
I am new to stock investing and hardly 6 months old in the field of active investment in the share securities I need your help to reconsturct my Portfolio
Most of the companies in my current portfolio are well documented and researched by the VP's in this plateform and i don't think they need any new rational and are not hidden gems .
My biggest problem is that i have book profits and exit very soon in the past 6 months i have purchase the following stocks but not able to stick to the stocks This leads to lots of churning of the portfolio
Past holding from which exited fully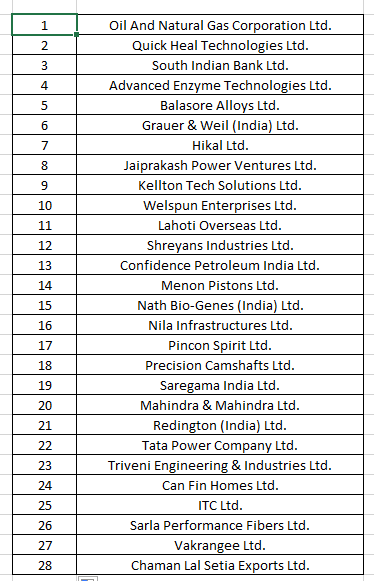 My specific question is : Do I need to restructure the current portfolio ? for the next two years
My Current portfolio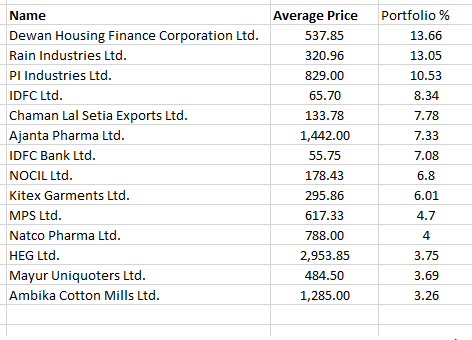 DHFL : leading Housing Finace gaint with stong mangment and inovative sales teams having potential to cater niche sectors and targeting middle and low income quality clients with strong evaluation process in place
Rain industries : One of the Best in it's own class ,It is a market leader in both pet coke calcining and coal tar distilling, which are best described as oligopolistic.
PI Industry,Ajanta Pharma ,Ambika Cotton ,Mayur Uni do not require any introduction
MPS is my speculators bet for the turnaround
NATCO : is the pharmacy on the move to create the complex formulations with global presence and the the pructs are in the tube at the final stage .This company is also doing the job work for the leafding pharam companies around the global
Kitex Garments "; The world is growing and populaion is growing Every Parents want the best products perticularlly for the infants They are ready to pay the price i am Very Very LONG for the company .Except a few political problems but that will be over (i am not Jyotishi but speculating )
HEG is also leads the team Graphide and will hold the front runner batton for atleast next two years
IDFC Ltd and IDFC Bank "i am long on these newbeeies the merger with capital First strengthen its
Network and the new mangment will be making super moves However i am 19% minus and 12% minus in these accounts
The Best in my opinion and i am stronglly bulish for the company is the Chaman lal setia : Low cost Rice trader turned a major exporter from North .The product mix is unique However the global lower prices of Rice will impact the margions .recenttly they have opened a packing facility in gujrat lowering the transportation cost 'It can be FuTuRE KRBL"
DIs: These are not stock recomendation Please do your own research before investing