What a few weeks! Market has been on a tear. Portfolio has performed really well up >10% over the last month. Most of the performance has been due to Faze Three, which is up >50% in the last month. Was surprised and happy to see Ashish Kacholia pick up a decent stake in the company in the last few days. Some minor weight changes and 1 new entrant in the PF:
Added Century Textiles: Dont go by the name, this is actually a real estate company and I am happy to continue adding to the residential real estate basket. Company is sitting on a large land bank in Mumbai (Worli and Kalyan) which they are developing starting this year. In addition they have started signing JDAs to increase the size of the portfolio. Given the consolidation in the real estate state, I think Century with the Birla brand name is poised to capitalize due to brand trust and access to capital. They have also built a solid team from Godrej, Prestige, Indiabulls, etc. At our entry price, we felt that we were pretty much getting the paper and textiles business for free.

Some shifting of weights. Sold small stakes in Faze Three after the monster upmove. It was getting too large a position. Also sold some small stakes in Sunteck and Jamna to reallocate to other names. Increased weight in Arvind Fashions, Century & Godrej.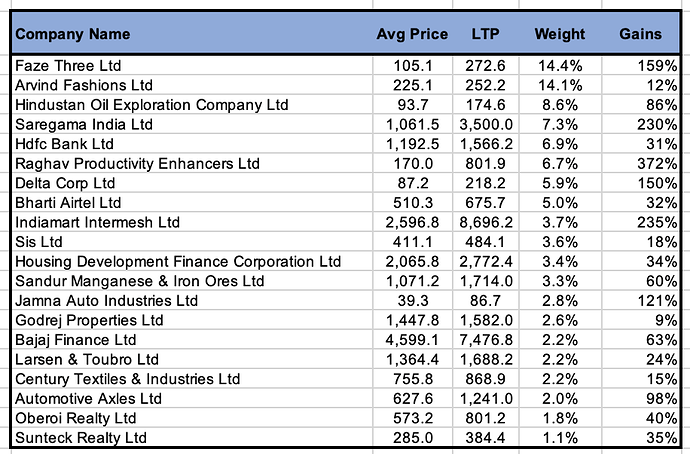 Other Thoughts:
I have now reached the point where good ideas are at a premium. Dont really have too many ideas that I am excited about so if the market continues like this, I would expect some sales and cash levels to start increasing. A number of the portfolio companies are now at the point where I think valuations are stretched: Raghav Productivity, Bajaj Finance, Indiamart and maybe Saregama as well.
Watchlist:
Doing some work on the General Insurance and Life Insurance Space. Also looking at Olectra Greentech for a possible EV play and P&G Hygiene and Health. As mentioned, I dont have too many companies that I am even excited about researching after these 3.