WPIL is in the business of water pumps
The company is engaged in the business of fluid handling – from supply of pumps to turnkey project execution. It supplies a comprehensive range of pumps to the Industrial, municipal, irrigation and power sector. The company also has a strong project division which undertakes water management contracts in the above sectors.
Promoter holding increased from 66% to 68.8% on Mar-2018 to Jun-2018
About 33% of revenues come from Pumps and 66% come from spares & accessories. About 60% of revenues come from overseas subsidiaries / clients outside India
WPIL has ~20% market share in domestic conventional/engineered pumps in power, irrigation, city and industrial segments. It is the only dominant player in sewage and slurry pump (Government projects like Namami Ganga and clean Narmada in addition to most of municipal corporations going for sewerage treatment plants).
The co has 3 main divisions and strong international operations
Engineered Pump Division
Offers specialized water handling solution to conventional power generation, nuclear power solutions and industrial sector.
In FY18, supply of firewater pump package to ONGC, large axial flow submersibles to Thailand, metallic volute pumps to Telengana Irrigation was done
Conventional Pump Division
Standard pumps, largely utilized in the irrigation and water treatment systems
In FY18, execution of a major package for Telangana Water Grid, large order for Royal irrigation Dept., large number of high horsepower Submersibles for irrigation and water supply was done.
Infrastructure Division
Revenues of 170 cr in FY18
In FY18, execution on large water distribution projects in Madhya Pradesh and Rajasthan and an Irrigation system in Africa was done
International Operations
Company closed its operations at Mathers UK in July 2017 due to the continued downturn in the offshore oil market. The consolidated operations results were significantly affected by these onetime closure costs.
The co has many subsidiaries across geographies

Subsidiaries are key to operating performance and margins

Mathers Foundry has been closed down, so FY19 will see losses removed from it
Strong performance from Grouppo Aturia is expected to continue
Operations show improvement
Sales, margins and profits are on an uptick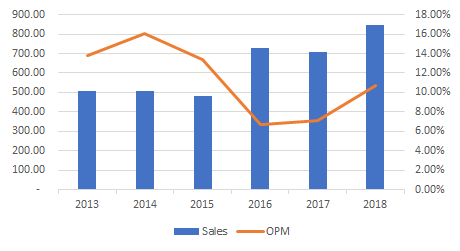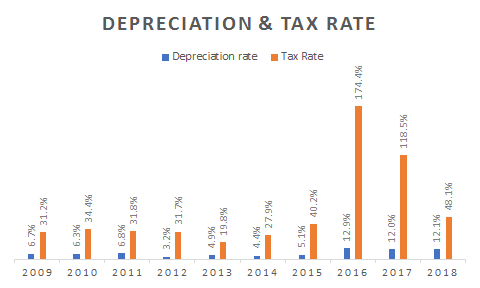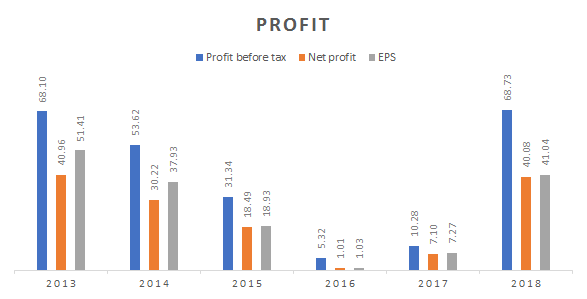 Receivables & Debt seem to be a significant problem
Debt has reduced significantly from the past, but continues to be very high.
Receivables % is down to historical average levels, though still quite high on an absolute basis
Receivables % is down to historical average levels, though still quite high on an absolute basis
In 2018, receivables > 1 year has jumped nearly 3x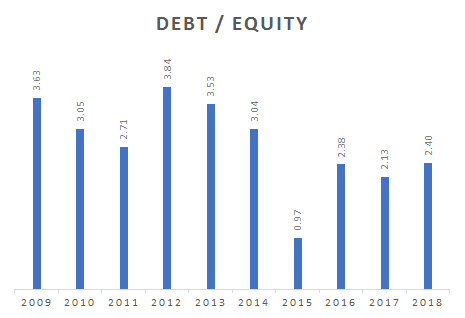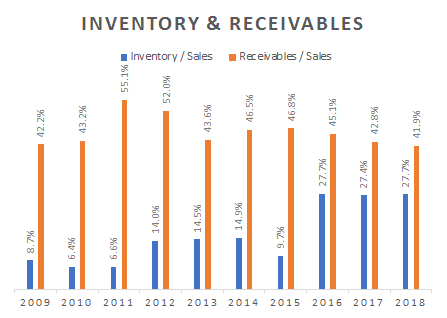 All return ratios are improving; current ROE is less than half 2009-2010 ROE

Recent ROE improvement on the back of increasing margins

Risks & Issues
Company has very high debt.
Company has about 19% of receivables which are pending for more than 1 year.
Performance of the company depends on infrastructure spending. Any reduction can impact the prospects.
Since the performance is linked to infrastructure there is cyclicality in results. The company works across geographies to minimize such risk.
Currency fluctuations can alter revenues and profits as a large proportion comes for subsidiaries
As the company operates across many countries, political & currency stability is important for the company.
Company operates in a space where expenditure by clients is mainly discretionary. During down cycles, demand can shrink drastically.
The company does not publish consolidated results on a quarterly results. It is difficult to understand & track operations across subsidiaries.
Long term price chart shows a new high

Financial details

Disclosure - Details of Financial Interest in the Subject Company:
I currently do not hold the stock of the company discussed above in my personal portfolio. I am studying the business. Please consult your financial advisors before taking any buy/sell/hold decision. I may change my opinion post publication of this note and may not be able to update because of time constraints. The post is for educational purposes only. It is NOT a buy/sell recommendation.