The Vintage Coffee & Beverages
https://www.vcbl.coffee is a loss making company. It is into export of coffee. The 20-21 Annual Report of the Company says, "Vintage Coffee has over the last four years established itself as a supplier to several companies in key markets such as Russia, Latvia, Turkmenistan in East Europe and central Asia, Noukchat, Mali and Nigeria in West Africa, Mayanmar ,Malaysia and China in S.E.Asia and Australia in far east, UK and Spain in Europe.
Your company is now getting ready to enter markets in India and exciting forays can be
awaited in the coming months in several segments."
The Tatis, Balakrishna Tati and others acquired this company in June 2021 at ₹20 per share. At that time, upto 93% of the equity was held by the public. Before its acquisition, it was known as Spaceage.
The company entered the instant coffee segment at around that time. In fact, Vintage Coffee Private Limited and Delecto Foods Private Limited have become the subsidiaries of the Co. w.e.f. 12th July 2021. One of its subsidiaries, Delecto foods specializes in exporting instant chicory and 'has a solid and consistent customer base to consume its output. The company sells its output in Russia, Ukraine, and Turkey'. The company also has been selling chicory-based coffee products in value-added packaging in West African markets.
The Trigger
In recent times, the company has been in the news for having secured orders from several countries. For example, https://www.aninews.in/news/business/business/vintage-coffee-and-beverages-bags-rs-21-crore-export-orders20221110185804
Vintage Coffee & Beverages wins order worth Rs 17.60 cr from South East Asia
The results-wise, it seems to be doing well recently:
If there are any expectations from this stock, they hinge on these orders and hopes of a turn around.
We do not have much data to go by.
This is what the Screener shows: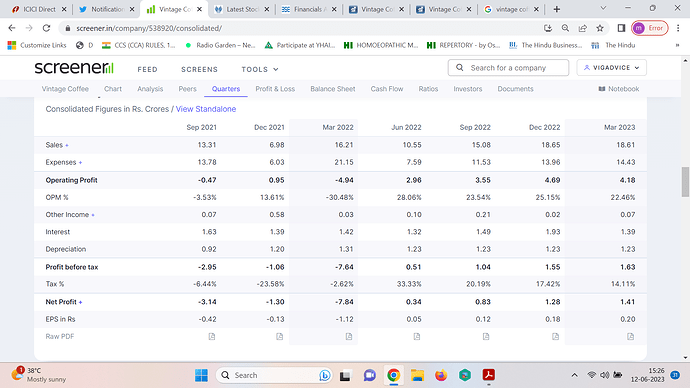 https://www.bseindia.com/bseplus/AnnualReport/538920/74337538920.pdf
I am aware that the search for a multibagger is always lonely. Quite often one gives up just when on the cusp of a breakout. And it could be a chimera too, one may keep running for that delusional mirage.
All the views are welcome. Arguments that it is a dud are also more than welcome because they save an investor from further loss.
Disclaimer: invested in it.