Vikas Ecotech is a chemicals company.
History
Earlier known as Vikas Globalone. It was an NBFC listd in BSE in mid-1990. The company started as agent to Reliance, SRF, Nirma, Arkema etc in North India. Company backward integrated into manufacturing in 2003.
---
Products
According to 14-15 Annual report main product of the company is
Thermoplastic Rubber Compounds which form 31% of turnover of company.
Thermoplastic Rubber (TPR) Compounds are formulated using Styrene-Butadiene-Styrene (SBS) or Styrene-Ethylene/Butylene-Styrene (SEBS) block co-polymers. Most of TRP formulations are 100% recyclable.
Some typical applications of TPR compounds are footwear products, gaskets, cable jacketing, toys, automotive applications, soft touch over-molding and general purpose molded goods. These compounds can be formulated to provide weather resistance, ozone resistance, low temperature flexibility as well as excellent resistance to many chemicals. They are light weight and can be colored to meet your
requirements.
Other products
Methyltin Mercaptide
Tin Tetrachloride
Epoxidised soya bean oil
EVA compounds
PET compounds
PVC compounds
---
Raw Material
Tin Alloy
2-Ethylhexyl Thiogycolate
Tinmate
PVC compound
TPR compound
Hydrogen Peroxide
RSO Refined Soyabean Oil
Styrene Butadiene Copolymer
Thermal Plastic Elastomer
Methyl Chloride (Gas)
---
Customers
SRF
Escorts
Cables - RR Kabel, KEI industries, Havells India
Shoes - Relaxo, Liberty
Plastic Furniture - Supreme Industries
---
Plant Locations
I. Jammu & Kashmir, Dist. - Samba
II. Rajasthan - Shahjahanpur, Dist. - Alwar
III. Uttrakhand, Dist. - Udham Singh Nagar
IV. Delhi, Bawana Industrial Complex
V. Gujarat - Dahej - Under construction
---
Subsidiary
As of 31-Mar-15 company does not have subsidiary.
---
Financial
Profit and Loss (Source- Screener.in)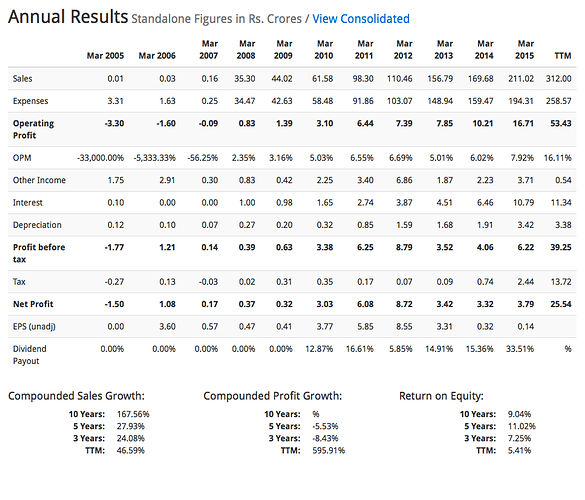 Balance sheet (Source - Screener.in)
---
Recent Management Guidance
On a recent interview on CNBC here the MD of the company Mr. Vikas Garg said the following about the company.
I. Specialty chemical manufacturer and products are not manufactured in India.
II. Will grow at CAGR of 35-40% for next 3 years.
III. Maintain a margin of 22%.
IV. Margin expanded due to - Doubling of exports in Fy16, in-house R & D.
V. Manufacturing to trading ratio 80:20
---
Key Risk/Concerns
I. Management inflating guidance - In an interview to Inc500 in 2011, MD guided for 800cr revenue in next five years but revenue in 2016 is 312cr.
II. Low promoter holding - Promoter holding is less than 50% with Vikas himself holding only 23.xx%
III. Very high trade receivables - Trade receivables are high. As percentage of revenue close to 45% this year.
IV. Cash flow from Operation not matching Net profit over 10 years period - Summation of Cash flow from operation from 2005-15 is -27.5cr whereas same for net profit is 28.8cr
V. Company is working capital negative.
VI. Unexplained forex outflow - Forex inflow/ outflow of 76cr/51cr respectively. What are they importing?
VII. Plant in sensitive area - Company has a plant in Samba - J & K. Army camp in Samba was attached by terrorist in recent past.
---
Other points
I. Merrill Lynch Capital bought 1.9m shares at Rs. 20.25 in Feb-16.
II. Shares are trading today at lower circuit at Rs. 11.
III. Company is growing at scorching pace, revenue growth this year is 46%. Net profit grew at 571%
Interview of MD by Business India (360.1 KB)
Disclosure
Not Invested. Opinions Invited.