Hey,
How do you compare portfolio returns to a benchmark? Are there any tools available for this?
I developed a excel based tool to do this. Its not very difficult. If you are interested and need it than let me know. I will share it. Thanks for your time.
Dear VK
I really enjoyed reading the entire thread.
I too have realized (over long period of time) that PSUs are a loosing investment
If you keep monitoring too closely, FOMO effect does creep in (difficult to just watch and do nothing)
The "coffee can" PMS so far has been my best effort. Find companies with and sit tight
No debt (for non financial cos)
ROIC greater than 25% for last 5 years or more
Growing the revenues at rate greater than GDP growth
Clean management
Astute allocation of capital
To me in Indian markets, in the long term investment scenario, finding " clean management"
is of prime importance
Minority investors need a clean management (specially for long term value investors) not to be short changed during this period
Here is the asked tool for common reference for those who may need it.
Thanks.
The Sensex Return!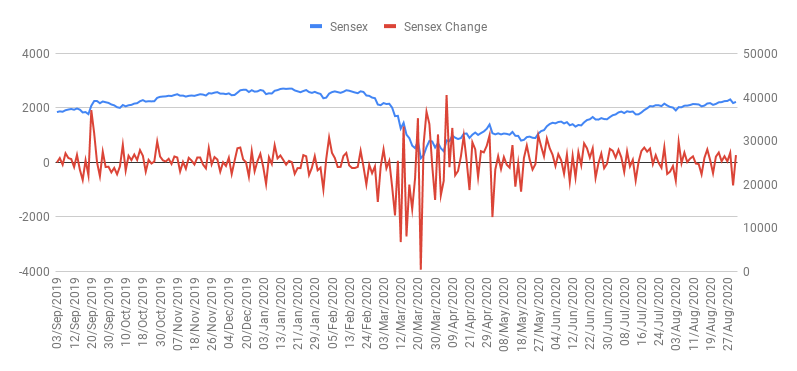 The above chart is from my analysis desk. The last one year pattern of sensex is really very amazing. From the chart we can see that in the first 6 months (Sep-Mar) market seems to be very confused but in latter half (Mar-Sep) market is not willing to give up and inching higher month on month post pandemic fall with high confidence.
I think that market has entered into a strong bull run and in 15-18 months there would be no surprise if market hit the range of 45000-50000.
Any reflections will be appreciated.
PF Stock Update as on 30.09.2020
Top 20 Holdings: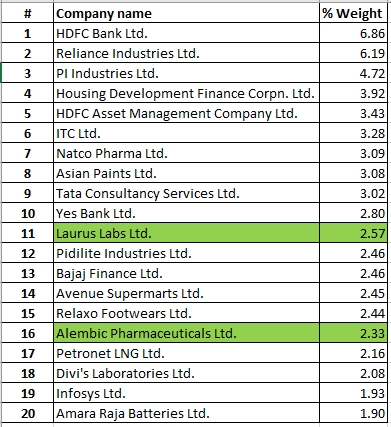 Two new stocks in the portfolio from Pharma sector - Laurus and Alembic. Incremental capital allocated to HDFC pack, ITC and PI in the month of September during fall.
Hi Vijay,
How do you pull/fetch the data to compare both the benchmark and your PF return in excel?
You are holding several solid businesses, could you share the average buy price?
Your top 20 constitutes ~60% of portfolio. Whats your portfolio size? Are you considering cash as a component of portfolio?
Can you please share the approach you follow to buy at the fair price ?
@naquib_alam Since Nov 2018, I am maintaining daily record of my PF value on a closing basis. I even note down the Sensex closing value in my PF tracker. Comparing is not difficult once you have the data points. In the earlier post I shared the draft approach for comparison against benchmark.
@sivaramtvl

very tough question to answer on public platform.
In brief, well I can segregate the stocks of my portfolio based on holding period which which will give the fair idea about the acquisition price.
Holding since 2004 - Reliance, Petronet, ITC, TCS, Infosys,

Holding since 2016 through 2018 - HDFC Bank, HDFC, PI, HDFC AMC, Natco, Asian Paints, Pidilite, Yes Bank, Bajaj Finance, Avenue Supermart, Relaxo, Divis, Amara Raja

Holding in 2020 - Alembic, Laurus
I follow the Asset allocation ratio of 60%:40% between Equity and Debt. The Debt includes PPF, EPF, NPS, Gold, Bonds, Cash. The PF is being developed for retirement corpus plus child education and is currently 10-12 times of my annual expense. I do lots of fundamental and statistical analysis of various data points of my PF. At PF level I focus on RRR (Reward-Risk Ratio) and every attempt is made to minimize the risk to my portfolio. My PF RRR as on yesterday stands out to be 16.96 which means for every unit of Risk my PF Reward is close 17 times.
Hope this helps. Happy Investing.
VK.
@Rafi_Syed My buy approach is simple and many times I tend to buy stock at high price if I liked it. I follow staggered approach of building the stock allocation. I always buy very small and keep on buying till my desired level is reached and then I stop buying. Averaging down is done only on significant fall as per my statistical analysis. Stock inclusion in PF is never done on price consideration. Business understanding and long term accrual benefit is the only criteria.
I follow Peter Lynch and Graham approach. I am a firm believer in diversification
Hope this helps.
Thanks for answering. You are owning few gems for really long time

How to calculate RRR Reward-Risk Ratio? - I googled, but it seems to be widely used in trading. Trying to understand how you use it for long term investments. I personally use XIRR to compare my MF returns, IND stock returns, US stock returns with benchmarks. But it don't account the risk I'm taking as yours.
@sivaramtvl I appreciate your keenness and attention to detail. I would recommend you to read a book Stock for the long run by Jermey Siegel. He explained the RRR concepts. I took that understanding from him. He applied that on individual stocks for selection. I am applying the concepts at PF level to monitor my RRR and hence initiating Risk management when required as per my investment strategy.
To simplify let me explain what I do. I defined RRR for my PF = (Average Return/ Standard deviation) over a period of time being monitored closely i.e. monthly, quarterly, yearly basis.
Illustration 1:- Please refer my first post above.
For date ending 09/Apr/2020 (from Nov 2018)
a) RRR for Sensex = 10.87 (=108.7/10)
b) RRR for PF = 16.37 (=114.59/7)
Illustration 2:- Please refer my another post above.
For date ending 28/Aug/2020 (from Nov 2018)
a) RRR for Sensex = 9.99 (=105.17/10.52)
b) RRR for PF = 17.65 (=114.26/6.47)
If you compare the above illustrations, the PF RRR has been improved i.e. reward per unit of risk has improved. But that is not the point. Reward can be improved significantly by having more allocation to equity but so is the increment in Risk as well with more equity allocation. IMO, balance approach would help me sail well by protecting the PF downside with proper Debt: Equity allocation as per my current Risk profile. I greyed my hair too early by chasing return

as a novice and amateur investor. Now I stand with important life time savings and therefore do not want to take unnecessary risk.
Hope this helps. Happy investing.
VK
That's a very nice way you put up the concept. Thanks. I have one point, don't you think that the incremental risk with equity depends on the type of equity you hold? For eg. I see you hold RIL, TCS, ITC since long and these solid businesses over long term can be safer than many debts? PPF, EPF and NPS are backed by government but other than these all other debts are risky. I agree chances are less for capital to erode in debt and some may point out that even ITC is down 40% with capital eroded over long term…5-7 years…but is that not a good time to add more, which you already did. My idea is not to discuss ITC or any stock specific but the concept that equity is risky…does it not depends if you hold large chunk in a Colgate, HUL or any other risky momentum plays? And if you hold such solid plays, do you still need significant debt? Thanks
@Investor_No_1
Wow! what a question? A great investor dilemma as always.
I will try to address that mental conflict through my own understanding and experiences.
(A). Undoubtedly equity class generate much better return than debt over a long period of time say 15 to 20 years onward. This is the motherhood statement and can't be challenged so easily in all probability.
But let us deep dive more to extract the real weaknesses.
a) For an equity investment I mean direct stock investment, a beginner had almost around 10,000 companies to chose and invest whereas for a beginner to invest in Debt instrument he has 8-10 options available except debt funds. (Please note that IMO Debt funds are more riskier than equities.)

b) Now the probability that beginner is able to choose good stocks I mean consistent compounder or multi-bagger or real growth companies from the basket of 10,000 companies is remotely small and in my experience would be less than 10%. So chances that a beginner will spoil his capital is very high and make losses 90% of the time. And by the time he realizes this he would have wasted 7 to 10 years of his precious investing time which would have significantly dented his long term annualized return.
His long term compounding return including his follies would be in the range of 1 to 5% which will put his head in permanent regret and remorse. And then in order to compensate his loss/return he would take bigger risks inviting more troubles for himself. Therefore you would have heard that bulls make money, bears make money but pigs get slaughtered. And the majority of Retail investors fall into the category of pigs

as far as stock returns are concerned.
Anecdotal story for reference: Once upon a time during early years of 2000's the stocks like ONGC was such a hot potato with great business and excellent dividend yield that it had attracted Buffet to make investment in India when GOI brought IPO and further FPO, OFS blah blah. And later as on today ONGC turned out to be a great wealth destroyer of all time having experienced it first hand :). My investment in ONGC was six times of annual fresher salary of that time! I am amazed to see how many fund houses still holding such laggards at the expense of hard earned money of innocent investors.
c) Now lets take a scenario a beginner makes a choice of Debt investment like PPF then in 8 to 10 years he would have made consistent return of 7-8% plus tax saving of 30% if falls under high tax bracket. And his capital would have swollen at least two times without any iota of risk.
So for me a beginner must start with Debt allocation before jumping or graduating to equity. For equity investment one need to develop sound study habits, deeper research and significant time able to invest in reading, researching, analyzing various stocks, sectors and general economy.
(B). Personally for me Debt allocation is important because I foresee my key expenditure of large amount in coming years of 3, 5, 7 years so I can't take unnecessary risks of putting those sums in equity. So it all depends upon individual situation, risk profile, need and financial goals. If you don't need money back from equity for say next 40 years than surely one can put all his money in equity. But the big question is where (which stocks or basket of stocks) to put money in equities for such a long term?
I am sharing my understanding, learning and experiences and I have every right to be proven wrong. But one thing I realized that equity investing is not that plain vanilla exercise that any Tom, Dick and Harry can do and make fortune out of it in quick succession as propounded by govt., media and its agents. It's a tough and very complicated exercise for novice and beginners. I advise extreme caution to beginners in direct stock investment without proper and systematic study.
Hope this helps. Happy investing.
VK
Your portfolio approach and thread is very informative. Thanks for sharing…
I have a minor nitpick in your comparison excel - Are you comparing against Sensex or Sensex TRI? If it is the former, then you are ignoring the dividends given by Sensex companies… Over time, this tends to compound…
One other way to track is to compare against a ETF. That would include the dividends…
Thanks for sharing your experience in details. If you were significant investor in ONGC back in 2000 then you are lot experienced than many else in this forum… As a matter of fact one of my own first investment in equities was energy/resources companies…RIL and ONGC somewhere back in 2010. Then I was really lucky that one of my small investment based on brokerage report went bankrupt and I lost full capital. That was the turning point and after lot self analysis of temperament as investor and companies for long term, realized there is nothing better than well managed FMCG firms…look at 100 year charts of top US FMCG firms and you will get the answer. I have gradually added Retail and life insurance to that list with caution…but if any investor needs to build a coffee can for really long term, listed FMCG firms are a blessing, specially on dips. I would chose them over any debt other than government backed EPF/PPF in terms of safety as well.
Disc. Not a buy/sell recommendation. Invested almost 65% portfolio in FMCG firms hence biased
@Isubs
Thanks for your suggestion.
Actually, I am comparing against Sensex only. I record my dividends separately and in last many years it was around 1.2% to 1.6%. And Sensex dividends too have similar returns, therefore, it doesn't impact the overall return understanding in a significant way.
@Investor_No_1 Great. I reckon your view and completely agree on FMCG line of thinking and investing. In fact if you can refer my second post above I do have formulated the same rule on FMCG style of investing.
Only suggestion at this point would be to keep monitoring the sectoral concentration risks going forward. Every ingredients has its own importance in full course meal