Vascon is small EPC and Real Estate company based out of Pune. It has several marquee projects in Pune that are well known for their building quality in real estate circles. It has constructed the beautiful Suzlon One Earth building near Magarpatta, Pune.
It is more of an EPC company rather than a real estate developer in the traditional sense of the word. All along ( until recently ), the real estate division contained a small number of employees ( 7 to be precise ).
It also has a business in which it is a majority shareholder called GMP Technical Solutions which contributed to a majority of its revenues in 2017 ( 52% ). GMP is into the business of clean room partitioning systems and has two divisions – manufacturing and services. The Services division was sold recently for 18cr in a slump sale with the management opting to focus on the manufacturing division and bagged its first order from Tata Steel for Doors recently ((https://www.bseindia.com/xml-data/corpfiling/AttachHis/3747b82a-f4d4-4c6e-9a54-27ea21845d7d.pdf)
Following is the Revenue breakup of all the three revenue streams over the years
| Division | 2017 | 2016 | 2015 |
| --- | --- | --- | --- |
| EPC | 40% | 47% | 37% |
| Real Estate | 7% | 12% | 25% |
| GMP | 53% | 41% | 38% |
It announced its foray into affordable value homes with the launch of Goodlife in Katvi, Talegaon on 10th May. It holds a fully paid landbank of 30.9 million sqft of which 16.2 million square feet is Vascons share distributed as follows.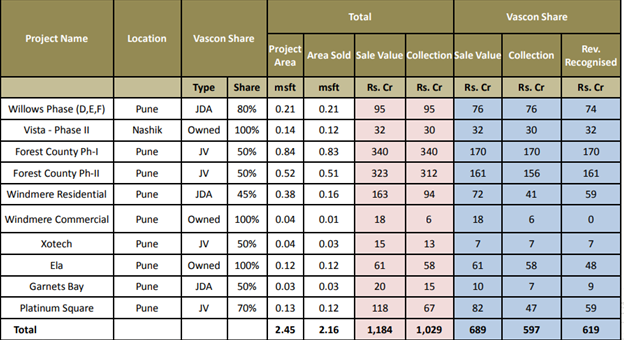 Out of this 30.9 million sqft 2.45 million is currently under development (excluding Katvi which is recently launched). Out of this 2.45 million under development 2.16 million is sold out which brings the total sellout ratio to 88%.
As can be seen clearly, there is not much additional revenue recognition that is pending from the current portfolio which brings me to the current land bank which is as follows :-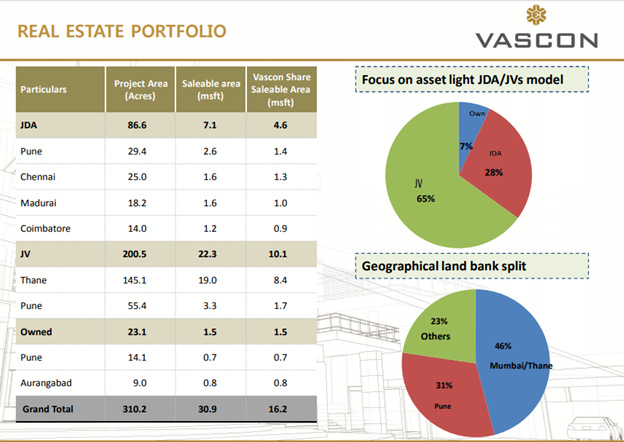 The Thane parcel clearly accounts for a Lions share and the management has no plans to monetize it as of now so we can exclude it from the calculations.
The Thane parcel was the subject and central to the deal that was recently called off between Lodha and Vascon but Vascon wanted to monetize Pune first while Vascon wanted to do Thane. There was a difference of opinion and the deal did not progress as expected leading to a steep fall in Vascons share price.
The Aurangabad parcel is something they are looking to dispose of as it forms a part of the non core assets that they are selling so that will happen when it does. Thus, there is visibility of 7 million sqft Vascon share that they intend to monetize going forward in the affordable housing space.
Applying a Realization of Rs 2500 psf gives us an asset value of 1750Cr and the TEV is 837 cr
As far as the EPC portfolio goes, it has been seeing resurgence in the business lately.
It has been awarded of total of new third party orders of 670.53 crores in the past 9 months ( including the latest one of 70.53 cr from PWD Chennai on 15/5/2018)
https://www.bseindia.com/xml-data/corpfiling/AttachHis/604023a7-f0c0-46b6-b0f4-2cd227b21cab.pdf
The EPC portfolio is the mainstay of the company and it has an order book as on Feb-2018 (excluding the new orders) of 668 cr Third party orders and 233 cr of internal orders
What has changed?
The business hit a peak in 2011 and post that the EPC , Real Estate business faced a lot of headwinds due to a general slowdown in the market. The company had taken on debt at an expensive cost which it has been paying down. It also diversified at its peak into the Hospitality business by picking up stake in some hotel properties. As a result it accumulated a bunch of non - operating assets related to its overall business. Vascon like all other developers was into premium projects and it launched Windermere in 2011-2012 at Punes most expensive location, Koregaon Park. Windermere recently got its completion certificate but it's far from being sold.
The governments affordable housing push has however opened up a new business plan and it now finds itself uniquely placed as an EPC player with a fully paid for land bank in Pune and other areas. Thus it focus has changed to value homes in the sub 25L segment. Unlike mumbai which is landlocked , Pune is not - so one can expand on all sides. Pune real estate is still relatively affordable and it also offers decent job opportunities . It is my opinion that within Maharashtra, Pune has all the necessary conditions to do affordable housing.
It is selling off its non-operating assets ( like the GMP services division, Hospitality stake, Mumbai office) and has netted 87 cr in 9MFY18 and also plans to realize another 100 cr going forward. This is in addition to 100 cr generated through a rights issue which was mostly used to pay its Debt and finance ongoing projects as follows :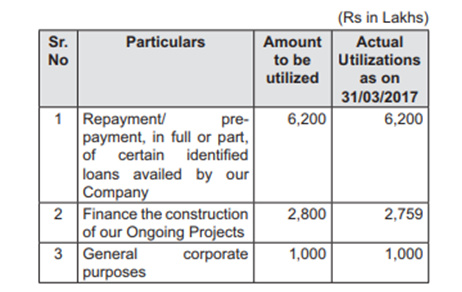 The big change however has come in the real estate division where employee strength has improved from 7 employees to 50 employees. Clearly, they are on a hiring spree and it is now headed by Rajesh Mhatre ( ex Lodha ) - https://www.linkedin.com/in/rajesh-mhatre-41b5763/
RISKS
Constructing Value homes is a low margin business and getting the product right is critical
There is a greater risk of collection delinquencies due to the nature of the clientele
The working capital requirements are high
The EPC business is cyclical in nature
There is a small default on the books with respect of dues to Saraswat Bank
The debt cost is high compared to other companies
High amount of Contingent liabilities
Related party transactions
Do let me know if you find further red flags or concerns
The investor presentation contains a lot of additional details - https://www.bseindia.com/xml-data/corpfiling/AttachHis/2f27d447-1924-4892-8b5e-c01a891a9f18.pdf
Disc- Have taken a starting position.