What value does business Deliver .
Can we classify industries basis value delivered rather than traditional methods like real estate , Auto , industrials etc … Interesting view …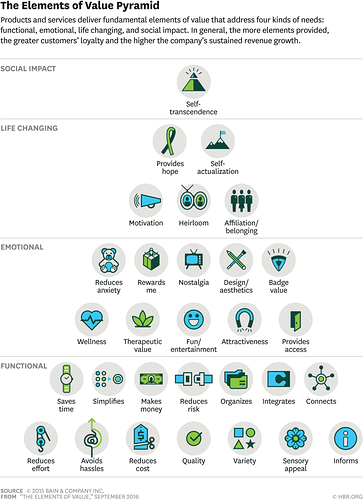 Which Elements Are Most Important?
What customers value in products varies by industry. Here are the top five elements influencing loyalty for DIFF SETS of businesses.
APPAREL RETAIL : QUALITY, VARIETY, AVOIDS HASSLES ,DESIGN/AESTHETICS, SAVES TIME
TV SERVICE PROVIDERS : QUALITY , VARIETY, REDUCES COST , DESIGN/AESTHETICS, FUN/ENTERTAINMENT
CONSUMER BANKING : QUALITY, PROVIDES ACCESS, HEIRLOOM ( A GOOD INVESTMENT FOR FUTURE GENERATION ) , AVOIDS HASSES, REDUCES ANXIETY
GROCERY : QUALITY, VARIETY, SENSORY APPEAL , REDUCES COST , REWARDS ME
BROKERAGE : QUALITY ,MAKES MONEY , HEIRLOOM ,VARIETY , PROVIDES ACCESS
FOOD AND BEVERAGES
QUALITY
SENSORY APPEAL
VARIETY
DESIGN/AESTHETICS
THERAPEUTIC VALUE
AUTO INSURANCE
QUALITY
REDUCES ANXIETY
REDUCES COST
PROVIDES ACCESS
VARIETY
SMARTPHONES
QUALITY
REDUCES EFFORT
VARIETY
ORGANIZES
CONNECTS
CREDIT CARDS
QUALITY
REWARDS ME
HEIRLOOM
AVOIDS HASSLES
PROVIDES ACCES