I still had a slight inkling of doubt about the offices and after doing some digging I've found the missing offices. So ugro has 9 main offices… The main one is in Mumbai and the others are in Bangalore, Delhi, Ahmedabad, Chennai, Hyderabad, Jaipur, Kolkata and pune. Now almost all of the offices can be found on Google maps on their website here: Contact Us | U GRO Capital – Sector specific loans to power India's SME growth or on Google maps in general by typing directly… . Except for Delhi, Hyderabad and Kolkata.
After a lot of digging I found images of the offices in
Delhi:

And hyderabad: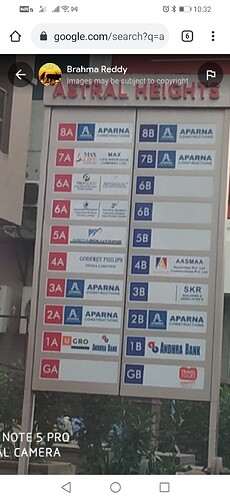 I haven't found Kolkata but I found the building and the likes of HSBC Bank and TCS occupy offices there too and considering all the others do exist I've no reason to doubt. Found some staff from that office online too so I don't doubt it's real : https://www.linkedin.com/in/mohan-singh-2811b34b?originalSubdomain=in and https://www.linkedin.com/in/dinesh-kumar-somani-64124017?originalSubdomain=in
Expect the remaining 25 offices on Google soon as per the CS. I've personally opened an office recently and Google took 2 months to send me my Google business code to my doorstep so the fact the new ones aren't visible should not be an issue since they were only recently opened and I've seen instances of even more delays due to the pandemic. That being said why the older offices like Kolkata are not up I really don't know. At least I'm satisfied their assets are real now and can put this to bed. Actually seeing their logos on buildings has made this very tangible now and was worth the search(they've taken up offices in buildings with other banks too which is nice to see)

Also, After the news of credit rating and fund raising was digested the volume has finally settled back down again with selling pressure only at higher levels and the rise today along with highs was actually meaningful with a good number of shares being traded near 110 and above with good demand and not a few errant ones due to lack of limits being applied.
Disc: Invested. Not a sebi advisor