Very interesting, more companies should follow this practice:

Any updates on the company, as the stock is technically strong even in the recent fall. Trading at a 52 week high of 250. Normally such strong stocks gives good up move when market resume its upward journey post correction.
Stock is hitting high maybe on hopes
Balaji telefilms better
Publishing web based series n movies during lockdown
Tips Industries is demerging and seperately listing the film business
This is in-line with their Jan announcement when they first declared their intent to demerge both entities.The film production business was clearly dragging the consol. numbers as is very evident from the Covid constrained FY21 quarters.The audio product division is absolutely fantastic and generates amazing cash flows on it's revenue run-rate(31 cr. OCF with 31 cr. revenue in H1Fy21) Given the overall low penetration of audio product IP monetization in India and strong growth in the segment,personally feel re-rating will continue alongwith occassional corrections.
Disc.: Invested.Views are biased.
Music Streaming is going to be Big and there is a lot of value discovery waiting to happen in the Indian Music Companies.
Have they announced a record date for the demerger?
Dmerger Date : April 01, 2021
Great insights Ankush ! Kudos ! I have a query though on Shemaroo…all the triggers that you mentioned wrt excellent content availability and streaming platforms opportunity were also there in case of Shemaroo. But it started faltering somewhere and as you know, the share price dived from 400+ levels to current 70-90 levels. Could you pls explain what happened in Shemaroo and if there a possibility of such things happening with Tips and Saregama? Thanking you in anticipation.
Any insights on how the content of Tips is relevant viz-a-viz a Saregama?
There is a detailed analysis done by a CA (in local telugu language though). The music industry and its transformation is explained to very detail.
Have not looked at Shemaroo specifically, so not very sure on what has changed in the narrative here, they have reported steady numbers on the face of it. Few things that could have altered the narrative here is that they ventured into some restaurant & merchandise business and also the fact that emergence of so many OTT players all of whom have their own original content means the value of old content is going down.
Typically change in narrative is known in the hindsight only, ITC is a good example, the company has done well, but the stock has derated quite a lot over last few years, coz the narrative here now is that of ESG, Capital allocation etc. I don't think anything changed in ITC, these factors where there 3-4 years back as well, but nobody cared that time. Market has its own ways.
Similarly, Shemaroo has also witnessed big derating.
When it comes to music companies like TIPS & Saregama; see Music is a totally different content than Films. Music is consumed regularly whereas one might see a movie only a few times max if not only ones. So the monetization is totally different here, it is largely one time fixed fee licensing business model. So it is not that profitable a business and this visible from the metrics like margins and ROCE etc of Shemaroo.
Plus, Streaming platforms like Spotify is good for music companies whereas, Netflix is a competitor for someone like Shemaroo.
See this slide below, I think this is a big negative, most people do not view movie 2nd time and Shemaroo says that they participates in 2nd and beyond phase of monetization whereas 95% of a film's monetization happens in 1st phase.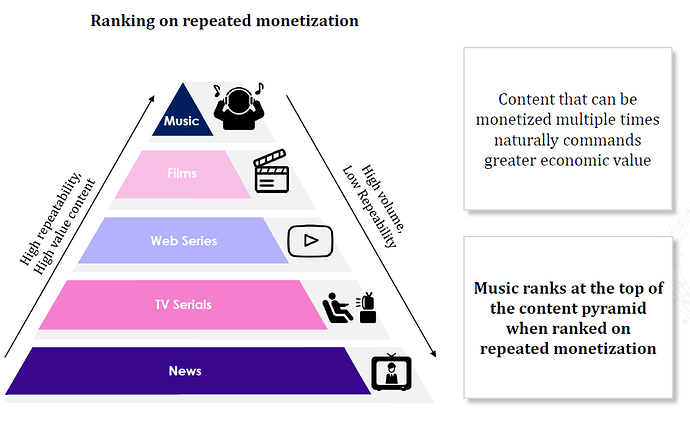 So the business model is different for shemaroo?? They have own OTT services??Is that how they become competitors to say netflix???
No, content is where the competition is. All OTT players like Netflix are making their own content and Shemaroo being owner of old content has to compete with content of such OTT players.
Whereas in Music, Spotify etc do not create music of their own.
Great thread folks - Any insights on why the Films revenue for FY20 is negative?
Wat's the source of this?? Can you plz share?? As far as I know, the demerger was discussed in Jan
Board Decision on demerger announced on BSE
@Sundeepp : - Yes I went thru the board meeting & other docs filed since Jan announcement. The record date hasn't been announced yet. Below is the stmt in that board meeting outcome filing : -

If I may have missed out, can you please point to exact filing text where the record date is mentioned.
Per my understanding so far, the decision to demerge and demerger ratio has been approved, Record date is to be announced.
In isolation, the demerger announcement is not anything to be excited about. As it is, the film production business has not been generating any revenues - which is good because this business had mounting losses. Now the overhang goes and any value attributed to the films vertical is a further upside.
Great article @ankush12495
The business model is terrific. Seems like one of those "even idiots can run" businesses.
I have a concern around th importance of new content aquisition though. Is there any information on the rate at which new content gets added to the streaming platforms globally? I ask because Tips with 29,000 songs will form a small fraction of total songs on any platform, and if the rate of increase of songs on the platforms is higher than the rate at which Tips aquires new content (which seems intuitively likely), the % share of the pie for Tips will keep reducing. Do you think that is a big risk. especially at these valuations where there is very little margin of safety?