Tiger logistics is a small Third Party Logistics player ( 3PL ). The main business of the company is facilitating the movement of goods by co-ordinating with various agencies across the world. It does not own anything of its own and most of investments are in working capital.
Most of its business (~55%) comes from its multimodal operations ( the movement of goods through multiple modes of transport under a single contract). It has a Multimodal Transport Operator license, an Authorized Economic Operator license and a Custom House Agent License (these 3 are the main licenses required to service customer requirements )
It has three divisions
Multimodal (54% of revenue in FY16)
Transportation (26% revenue)
CHA i.e Custom Clearance (20% revenue)
From handling 10,000 TEUs in 2006 it clocked 73185 TEUs in 2016.
From its top 5 customers contributing to ~50% of its revenue in 2013, the share of the top 5 has dropped to 29% in 2016 ( in 2017 its expected to be 20%). Besides the obvious fact that its business is more diversified now than it was earlier it also means that it is able to attract business from new customers and is able to retain existing ones. It has recently opened offices in Singapore and Dubai. It services 7 verticals
Projects & Heavy Lifts
Automotive ( 2W and 4W)
Yarn & Textiles
Rice & Wheat
Consumer Durables ( LG, Samsung etc)
Cold Chain logistics
Defense
Right now it seems to be concentrated in export logistics ( ~90% of revenue , South America and South Africa) so there is a significant amount of untapped growth in import logistics ( which is higher margin ) , domestic logistics where it doesn't have a major presence currently. Even in export logistics there is a lot of scope of expansion ( for e.g. US where it doesn't have a presence). It recently announced its intent to enter into Defence Logistics which is a high margin business. Currently its overall operating margins are hovering around ~5%.
It is important to note that while the overall commodity exports have been coming down since 2014 – Tiger logistics has been increasing its revenue YoY.

Overall growth in container traffic at major ports is also slowing down
http://www.containersindia.in/../INDIAN CONTAINER MARKET REPORT-2016.pdf
This also gives us an estimate about the size of opportunity in export logistics where currently Tiger seems to be focused. Logistics forms roughly about 10% of the value ( US its 8.5%, China its 18% and India its 13% of GDP). At a total of 16L crores of commodity exports , 10% would be 1.6L crores. The size of opportunity is massive even under a declining export value situation. Tiger Logistics has a miniscule market cap of 227 crores.
Risks
It may be overvalued at a PE of ~24 ( When the issue was launched in 2013 the average industry PE was taken as 10.48)
GST while being a game changer for the overall logistics space can also limit the need for 3PL players as ease of transportation becomes easier.
Commodity export in crores has been coming down since the last few years – there is sluggish global demand.
As with all companies in the space, the business has no long lasting competitive advantage which will even become lesser with the rollout of GST as warehouses will be located at logistic friendly locations and not tax friendly locations
A multi modal contract is risky as the freight forwarder bears the final responsibility for transportation
The business is working capital intensive and will always be under pressure for cash flows. Expect high short term debt in the future as the company grows.
The 2016 Annual report page 72 has imprest given and received of 32L to Mr Malhotra and Beny Malhotra. Imprest as I understand is petty cash. I don't know why petty cash of 32L has been given or received
In 2013 it came out with a small issue of 7.52cr mostly to fund its expected working capital requirements of 6.40 cr. Unlike other big players in the industry TGL is a pure service provider and facilitates the movement of goods under a multimodal contract (a single contract across multiple forms of transport) by coordinating with various agencies. Thus it is an asset light player with very attractive return ratios. From its issue price of Rs66 per share its share price has reached 210 levels currently. On 25/04/2017 it announced its intention to get into defence logistics.
http://corporates.bseindia.com/xml-data/corpfiling/AttachHis/567d9ffe-4a2d-4ab0-988f-cea8427e784a.pdf
There are a couple of positives that caught my attention.
The business was started by an IIFT graduate ( Harpreet Singh Malhotra) who initially partnered with someone but failed. Then he started this business and grew it to 100 crores+ from 2000 to 2013.

The business has almost doubled its topline in the last 4 years from 147 cr to a TTM of 283 odd crores.

The PAT has more than doubled in the 4 years.

The last 2 quarters have been good and have shown a good QonQ increase

Very comfortable debt position

There is no institutional ownership whatsoever as per 2016AR
From a technical point of view it has recently witnessed high volume at lows which often leads to base formation patterns like double bottoms , flat bases and cup formations. As correctly pointed out by @manish962 it is not a good practice to predict any patterns before they have formed so i would keep a watch out for those.
On 27th it announced that officials of the company will be attending an investors conference organised by motilal oswal. As per the 2016AR the stock had no insitutional ownership with only 250 odd shareholders. So the high volumes could be a outcome of some institutional endorsement.
http://corporates.bseindia.com/xml-data/corpfiling/AttachHis/5acdefc1-9509-41c4-885d-cea679c55f78.pdf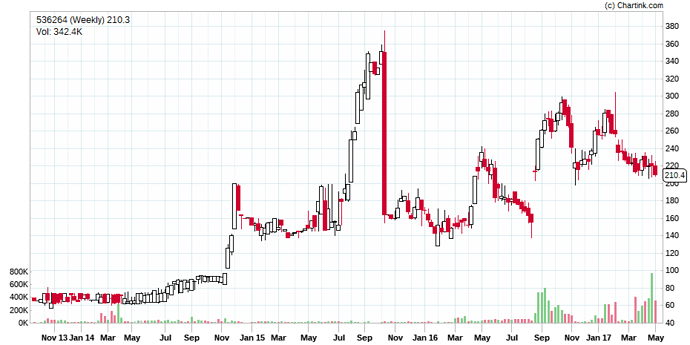 Views invited
Disc - invested
Best
Bheeshma