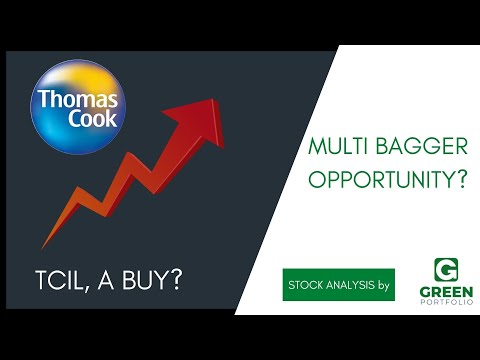 A coverage on Thomas Cook from early 2021, gives good perspective as to where they have come now, and how has the progress of the company been so far.
Feel free to drop your thoughts the progress of the business so far.
Investment Thesis:
There are four segments:
Financial Services
Travel and Related
Resort and Vacation ownership
DIGI Photo
Let us take the simple ones 1) Resorts and 2) DIGI Photo which are similar to any
Sidecar investing: Sterling Resorts which feels has turned the corner with an EBIT margin of 32% and a revenue of Rs.100crs+. Similar to Quess Corp investment by Thomas Cook India; demerger candidate? Next steps would be to understand how it compares with Mahindra Holidays(MH). The data sets are quite patchy and inconsistent disclosure. However, Occupancy rates have gone up from 40% at 3Q 21 to 73% at 1Q23 and ARR from 4524 to 6904 for a similar period. The Member additions and Cumulative Member outstanding data lacks the MH granularity.
DIGI Photo:
Simple business with a very high ROIC. Net capital employed in the business at Rs.218crs with an annualized EBIT of Rs.40crs giving a yield of 18% and not all business are up and running as yet. Therefore interesting road map. The digitization and analytics usage can move the yield up. Will it continue to generate incremental returns? Management needs to explain this well to investors.
Financial services: I guess they are developing a wider moat with time. Competing with cashless tools is something they are shaping well. Again Management should it dwell on the competitive position would help investors.
Travel and related business: My sense this remains an enigma for any investor (atleast for me it is). It has inbound/outbound/SOTC/TCI/DMS. It has products and geographical and seasonal spread. They need to possibly create an 3d matrix to explain it once for all how the seasons play out in each geography. What are the drivers in each product and each geography; what is the footfall/subscriber (equivalent) ARPU equivalent or travel spend by each customer/family or group. How does the contribution margin play out - what are the fixed costs and variable costs? All in all a black box which acts as a gravity for the stock price.
Control: Fairfax Holding a la Prem Watsa company so Governance is all clear
Support from shareholders is solid. They should explain why did the SH put in 425+ crs in the business in 2021?
Capital Allocation: Managment has failed to articulate this in any presentation. It almost feels that they dodge this question on con calls.
Cash flows/cash trapped: Quite a few questions: With the number of subsidiaries that the company has - where does the cash sit ? Is it at Top co? Is there any trapped cash? Is all the Rs.850crs of cash available for distribution or paying towards the Debt of Rs.370crs? Would the surplus cash be used to buyback? Or is there a dividend distribution? What is the dividend distribution policy?
Management:
Stuck around from some time and particularly turned the business during and post COVID.
Cost Leadership under demonstration
Understands the business intricacies and complexity
IMHO takes does not take the pain to demystify the business complex nature for the Investor. The Con calls are not data supported. A similar business of CAMS brings in Business Heads taking through their Verticals in detail and keep answering the questions supported by Data.
They brought in Accenture for cost rationalisation. There is very little information to understand on the deliverables of Accenture.
The Company disclosures or lack of acts as a gravity to the price. The business lost around Rs.680 crs (gross EBIT) over the last 9 Qtrs and has the ability to generate an EBIT of Rs.500crs in one stable year i.e. pre-covid status. And most of it is FCF given there is little Capex in the business and going by what Managment says the Costs are going to down to 63% of pre-Covid levels.
My brief attempt to simplify the business and lay out questions which I could answer.
Disclosure: Invested
Thomas cook is my long term portfolio script and accumulating this since 28 levels. I am very bullish on business which is robust and monopolistic kinda after demise of cocks & kings. There are immense growth opportunities. Will hold for longer term let markets decide its valuations.
can u compare international travel house with thomas cook which is available at very low valuation and an itc company
Thomas Cook (India) Ltd Q1 FY23 Result Update!

@Cshar; you have executed what an old wise man once said" buy a wonderful company at a fair price"; Agree it enjoys monopolistic position in Corporate Travel where they made two interesting acquisition a) Tata Corporate Travel services and b) DNATA (Emirates group). There is a very interesting peer American Express Corporate Travel Services (not sure if got listed vide a SPAC route) but a recollect having read their DRHP equivalent from the SEC site. @jigneshsuhani unfortunately not sure if one can compare Thomas Cook as a company but part of Corporate Travel at TC can surely be compared. Additionally, Balmer Laurie also has a corporate travel division which services the PSUs.
The Digiphoto thesis might play out very differently over time due to social media presence. This segment did not exist before the advent of social media. The Tiktok and Reels crowd would be using this Digiphoto route in times to come - my limited assessment.
The issue that I see is one cannot understand Unit Economics in Thomas Cook they way they disclose data. E.g. Digi: pricing/location/spreads/input costs/ nothing. It is a black hole; same issue with Sterling or Travel&Related vertical. They virtually run 4 companies in one and therefore need to go granular with the data for markets to understand.
The AGM is on September 28; and would encourage shareholders to attend and ask Management for understanding of unit economics.
'Trade, Hotels, Transport, Communication & Services related to Broadcasting' (25.7%) and 'Public Administration, Defence & Other Services' (26.3%)
This is per the Ministry of Statistics for Q12023 GDP nos and the subsection related to Service economy. Bodes well for Travel and Hotels therefore Thomas Cook. Awaiting the Annual report.
Thomas Cook AR 2021-22 Notes!!
Indian Tourism Industry expected to return to pre-pandemic levels in FY23.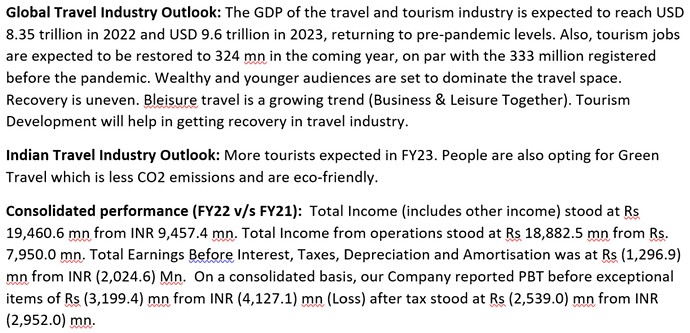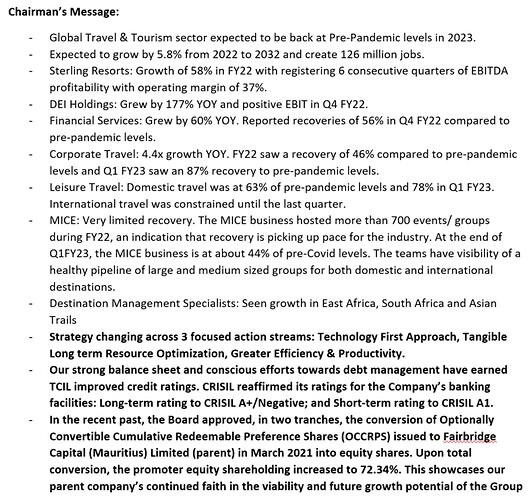 Interesting comments on the Resorts and Holidays space by MHIL MD Kalvinder Singh as of this morning on CNBC. Al though the capacity utilisation for the resorts are down in Q2 (80%) over Q1(89%) by around 9%. Strong Member sales in Q2. We need to look out as to what Sterling is going to perform as this is the most critical vertical of the four which holds up the investment thesis for the moment.
Increased ticket prices are not a good sign for tourism or Thomas Cook as a larger share of customer spend goes away in tickets (leaving a less of spare cash) which otherwise could have presented a different opportunity for Tour operator to capture in their products.