thanks a ton vikas ji . learning a lot from your thread


Hi @vikas_sinha Regarding the chart of Krsnna, I couldn't help but notice that the stock has come down from 1099 to 490, and now it is around 600. Does the market not give it a good multiple , or was it just healthy correction after the IPO euphoria (even though it's been quite a while since the ipo)?
Disc: I have just started adding some position, since I felt that should have a good potential in our economy/ since overall the market will increase exponentially in next few years…
@SamBiala Good to find bargains like Krsnaa, and bargains are by definition contrarian to an extent!

It seems to have followed the weak diagnostics trend after its IPO, also not valued like private focused players, but then again it seems too cheap given strong growth. Yes, I too think public healthcare spending may rise, gaining attention after covid crisis, better insurance etc. After good level of loss booking my average buy is indeed 496

(though my initial entry was at current price)
PF snapshot from yesterday market close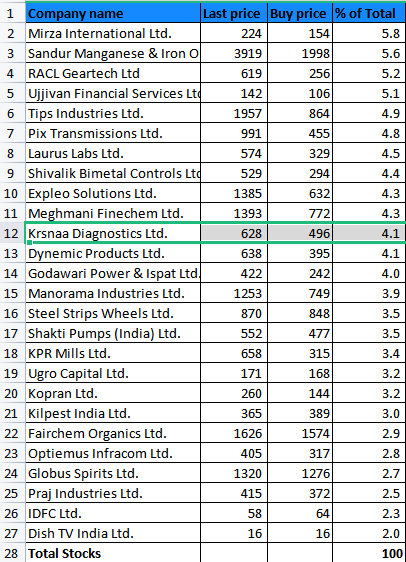 Last 2-3 days of march were used for pure loss booking trades, with zero re-jig of holdings.
DISCLAIMER : this is not investment advice, I am not a sebi registered investment advisor
please do your due diligence before investing
Hi @vikas_sinha
What does it make the krsnaa as a bargain pick. The low PE maneifested from chunk of other income. price/sales 5 times for a ppp company, do you think it is available at bargain rather than fair price?
Note, the query is just to understand the valuation perspective.
Thanks
Yes, have seen the chunk of other-income. Well, no, I have prudently only looked at quarterly EPS figures and picking Q3 FY22 figure gives a PE in range of 25-30, quite reasonable for PPP player. For the rest, I do say this is being contrarian, so we have to agree to dis-agree here.

It was more like bargain at 490 levels from where it bounced back, now it is priced indeed more like fair-value. Growth rate, steady income/cash flows, management ability, these among various valuation factors, I may be more positive about them than the current consensus outlook.
Hi Vikas. I have been tracking this forum from a long time. I wanted to ask you -
• Is holding more than 10 stocks worth it? Does it affect favourably in the long term? I am sure there must be situations when a stock you invested in has given 10x returns but the allocation has been either low/ not big enough and vice versa as well with the bad choices.
A few big winners , some still stuck at the same levels and remaining in the red.
How's the overall experience been like for you? If comfortable , Please share your cagr as well from the time you started investing this way.
( I currently hold a 3 stock portfolio and curious to know your perspective )
My portfolio is my daily bread and butter, it is not for fancy long term savings post compulsory retirement in a mixed/hedged portfolio of other asset classes. Stocks are all I have as investment and they provide my only source of income. Nobody will advise a less than 10 stock portfolio. Since I do not give too much of a damn both ways (growth or decline, since portfolio is of quite big size), the choice is to err on the side of caution i.e. capital preservation by (over) diversification. Yes, more than 20 stocks is a bit too much. I habitually over diversify and then trim down, once or twice a year. You can see this pattern reading through the thread. I simply do not care that much to put effort any more, so the garden does need some weeding indeed.

The right size depends on your circumstance.
The portfolio size currently is 90x my yearly expenditure.
I am hedged in a way that the HUF to which I belong believes in 100% non-stock ownership, so property, fixed deposits, insurance, gold etc. They are a bit poorer than me though.
Hi @vikas_sinha ji! Hope you doing good!
1.Just wanted to ask your views on market and are you averaging your stocks in this correction!
2. Your views on intellect design arena
3. Views on equitas holdco! And your thesis of choosing idfc and ujjivan over equitas!
4 lastly are you adding some stocks in this fall?!
Thankyou!
Hats off to your conviction on yourself! I hope i do the same
Dear Vikas ji,
Thanks for providing regular updates on your thread.
What's your view on Kilpest? Do you foresee the triggers playing out in the next 9 - 12 months? What will make you exit Kilpest?
Regards
Hello Vikas Ji,
In this blood bath, have you started investing in the watchlist that you had or adding more position to the existing ones? Any Guidance?
No, just sitting tight.
I used to follow Intellect Design but gave up after too much price rise while tracking, generally wary of IT esp. the focus on banking software, but seems current price for mid-caps is quite attractive and Intellect has shown good performance.
Ujjivan and IDFC both have a performance overhang, one was struggling with management overhaul to the extent retired promotors had to come back and the other has always flattered to deceive. I am banking on a strong turnaround in both cases.
same as 1.
Kilpest has demonstrated expertise in molecular diagnostics at almost an internationally recognized level. So, the hope is that the covid kit popularity was not a flash in the pan. They have shown strong growth all along even in covid times, of the non-covid related parts of the biz. There is cash to invest, the trick is in scaling a small biz, that too with international focus as their intent seems. I will give them 1-2 years, and see if the growth in post-covid numbers is in region of 25% on average, then I will keep holding.
Only one change done today.
Arbitrage between IDFC ltd and IDFC first bank has been tricky to figure, and then there is an indefinite timeline for the share swap to actually happen.
So, I sold IDFC ltd and bought IDFC first bank, while also booking some losses.
Next quarter may look better since we had a terrible 2nd wave, the market phase seems to be changing and better to go into SIP mode since there may be several dips for a while.
FII selling is making mid-cap IT space quite reasonably priced, I have no personal preference here though. Some banks and financials are also at a decent position, though leveraged lending itself is a risky sector.
Asking out of curiosity… as you are sitting tight, are you predicting the market to fall further


If so, what are the stocks in your watchlist?
I find this a good time to churn, lose some weak ones, book losses and pick some oversold better bets. Though there are no fresh ideas yet.


I think smaller caps are falling more and we are close to bottom, though fall of 1k more in nifty is possible from here on.
Sold off Shakti pumps, added big chunk to IDFC first bank and to Kilpest, Krsnaa and tiny bit to Dish TV.
Reasoning:
Govt tenders are slow and low margin, whole idea of solar pumps is quite slow to take-off, even if entire KUSUM tender does happen, it may only last 2-3 years, not enough to push up stock.
Although reverse merger will take time, I feel IDFC Ltd is a better way to play the IDFCFB story. If you subtract 4250 cr from IDFC Mcap, you will get 36% stake of IDFCFB for 3750 cr. You have a 40-50% upside even at these depressed valuations for IDFCFB. That's just my two cents.
IDFC: 8000 cr mcap. It holds 100% of IDFC AMC and 36% stake in IDFCFB.
100% IDFC AMC recently sold to Bandhan Bank consortium for 4500 Cr. Assume 10% tax outgo at 450 Cr. Net value: 4050 Cr
36% IDFCFB stake valued at 8000 cr even at these depressed valuation. I don't think IDFCFB deserves this valuation for such great fundamentals.
8000 Cr + 4050 Cr = 12050 Cr.
Reverse merger expected in 1 year. 50% upside even in worst case. If IDFCFB delivers as per guidance, IDFCFB also will be re-rated. This will be a bonus.
Invested and biased. This is only a crude calculation. I know there a lot more technicalities involved.
UPDATE:
Exited Fairchem and Dish tv, bought RBL bank, thinking that FII sell-off is impacting financials more, a bet on turnaround for private banks. Valuation wise looked better than IDFCF, was on watchlist post results and trigger was entry by Hitesh bhai who usually avoids financials entirely. Fairchem promises 50% increase in topline in 2-3 years, just about fair value while oil-seed inflation may make margins thinner. Dish is very speculative, can't trust our top-class courts etc. Banks may just compound effortlessly if macros are right and rates uptick trend sustains.
DISCLAIMER : this is not investment advice, I am not a sebi registered investment advisor
please do your due diligence before investing