THINGS TODO
The crux of the matter is to establish 3-4 things -
Quality of Tejas's products vs competition like Huawei, Nokia, Ericsson, Ciena etc. Are the products completely non-starter or at least are they at par for latest - 1 generation products with cost advantages?

With Huawei forced to exit Indian and RoW markets, how much business can Tejas win realistically?

Given Macro tailwinds and most of the Telco stress getting sorted out, can implementation/fiberization pick up pace over next 3 years?

Understanding level of indigenous tech as claimed by JIO. Is JIO going to make optical products on its own?
PRODUCTS
To put it simply - Tejas makes optical products (switches) that are used in networks. The products are broadly categorised into 3 categories -
Access (switches at the edge of the network where users access the network)
Metro (Backhaul capacity building)
Long Haul
Following simple diagram gives pictorial view of network and products -
MACRO TAILWINDS
FTTH: There are < 10mn households in India that have fibre to the home (FTTH) connections in the India. Some reports from DoT/TRAI project aggressive targets of 100mn households etc. in next 3 years. The capex spend for telcos per customer is around 20-30$ per connection. Even if 10mn FTTH connections are to be added, that opens market opportunity of 1500-2000 crore. Fibre ARPU is 600 Rs vs ~150 Rs for mobile data and hence it probably makes sense for Telcos to invest in FTTH. Also to use 4G/5G, you need devices that have modem to use 4G/5G. Many devices like smart TVs/Laptops do not have modem and Wi-Fi (with fibre connection to tower) remains the easiest way to consume data.

4G/5G: Only 20-25% of the towers in India have fibre in them, rest use the old copper/coaxial cables. With rising data consumption, old copper cables can not support increased bandwidth requirement. So these towers would need to move to fibre which presents an opportunity. In India, even 4G (LTE) itself has not been used to its potential and 4G itself would require massive fiberization.
5G technology is few years away in India as most telcos do not make enough money in 4G itself. As and when 5G comes, it will result in network densification e.g. to provide 5G coverage over same area 10x more towers than 4G will be needed. All these additional towers would require optical products. Also to support 5G products, backhaul speeds need to be increased multifold from 100G → 400G → 800G. So as and when 5G catches on, it will result in massive requirements of optical products.

Huawei: This is probably more near term and most important potential tailwind. Huawei had 36% market share (As per Tejas DRHP) in the Indian optical network market and with all the issues with China, Huawei is forced to vacate the market. Can a decent chunk of this business come to Tejas?
Indian spending on optical equipment is projected to be 1bn$ per year. Even Ciena (world leader) talks about India in its conf calls and it is important parameter for them to deliver on growth guidance.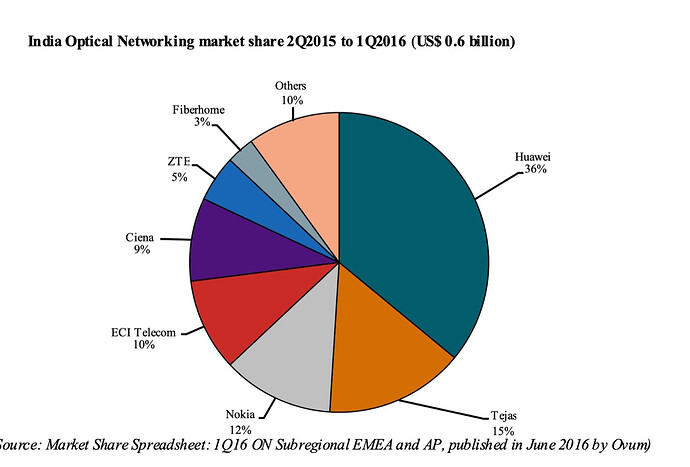 These are the things I really want to take to industry expert and start conversation.
A few things about Tejas business in itself -
It had large dependence on government (B2G) orders (BharatNet, RailTel etc.) for its revenues. Given the lumpy nature of these orders (+ Telco stress - AGR being latest one after JIO pricing war), Tejas really suffered in receivables and also in P&L in last 2 years. As investor, I can wish that they do not do the government business at all - but government business is what made Tejas to the company it is today. So, we will have to deal with it.
I do really hope that International reaches 50% of sales as per management's ambition over next 3 years as it is better DSO and margin business. Also Telcos will start spending monies in a little bit more consistent fashion as no new shock (other than 5G auctions) is on horizon.
In terms of value addition/IP, the business in itself is much higher up in value chain (vs say Dixon/Ambers of the world) as company is designing its own chips.
If the tailwinds lifts the Tejas boat, the operating leverage can be quite strong as employee costs and R&D costs will not scale proportionately.
Order book of 680cr, growth in international business, products wins with Airtel/JIO are encouraging signs in recent past.