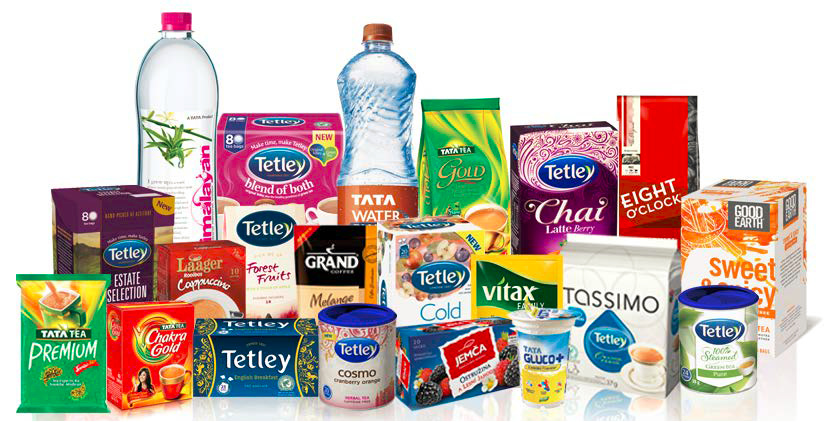 NOTES FROM AR 2017
Tata Global Beverages (TGB) is a natural beverages company with brand presence in over 40countries. As the second largest tea company in the world, with a growing interest in coffee and water, TGB is home to a stable of innovative global and regional brands, including: Tata Tea, Tetley, Himalayan natural mineral water, Tata Gluco+, Good Earth tea, and Eight O'clock coffee.
• 2nd Largest player in branded tea in the world
• 20,000+ SKUs produced across tea, coffee and water
• 40+ Countries with significant brand presence
BRANDS
• Tata Tea - Premium, Elaichi Chai, Chakra Gold, Gold, Teaveda, Kanan devan, Gemini, Agni
• Tetley - Presence in UK, France, US, Canada, India, Australia, Middle East, Poland
• Good Earth, Jemca, Vitax, Teapigs, Joekels
• Coffee - Eight O'Clock, MAP, Grand Coffee, Tata Coffee Grand
• Water - Tata Water Plus, Tata Gluco Plus, Himalayan
• Company has entered the new Asian markets of Singapore, Malaysia and China, which are large tea consuming markets. The company has entered a tie-up in the e-commerce channel in China to focus on the business-to-consumer (B2C) category.
• Co has undertaken a multi-year extension of its partnership with Kuerig in US, for the manufacturing, sales, licensing and distribution of the EOC coffee and Tetley tea brands in K-Cup pods for use in Keurig brewers
• Tata Coffee Limited, a subsidiary which operates in the non-branded business, announced the setting up of a state-of-the-art Freeze Dried Instant Coffee plant in Vietnam with an installed capacity of 5000 MT per annum.
• Tata Starbucks our 50% JV had opened 91 stores; performed very well in the current year with double digit growth
Continued focus on health and wellness
• Expanded portfolio of green teas and fruit & herbal teas, in line with this trend. Tetley Super Green Tea (fortified with vitamins). Tata Tea Teaveda and Tetley Balance two product ranges inspired by Ayurveda and containing herbal ingredients - were launched in India and Canada
• Eight O'Clock coffee in the USA launched a new line called Infusions
Premiumisation
• Tetley Indulgence launched in the UK is a range of black teas in indulgent flavour twists such as cookies & cream, chocolate mint, gingerbread, and spiced apple.
• TGB collaborated with Starbucks to create a signature innovation, India Spice Majesty Blend especially for the Starbucks Teavana™ portfolio in India
• Himalayan natural mineral water - launched a sparkling variant in select channels and also piloted 'Orchard Pure' flavoured water
• Tetley now outperforms the herbal tea category's growth- Tetley +19% vs Category +6% (as per Nielsen study)
• Promoter shareholding is 34.4%
• Institutional shareholding is 33.64%
• In the process of divesting the Instant tea business in China. The decision to divest was taken mainly due to the marginal nature of the business and under-performances as compared to plans.
Q1FY18 Analyst Presentation
5th consecutive quarter of operating profit growth despite higher spends behind brands and competitive intensity in developed markets
• Improvement in tea volumes whilst softer volumes in coffee
○ Improvement in India despite impact of GST transition in India
• Good improvement in Profit before exceptional and tax despite higher advertisement
○ Effective management of commodity costs
○ Good cost management
• Commodity costs
○ Softness in India tea prices
○ International tea prices hardening further impacted due to Brexit
○ Coffee Costs – showing a hardening trend
• Volatile currency markets
○ Brexit leading to GBP depreciation
• Increased focus on under performing businesses
○ Exit from China Business
○ Exit from the Russian business
India Business: - India business grew by ~4%-5% which was impacted by GST transition
• Gluco-D have witnessed steady acceptance from the consumers
• 50% tea consumed and sold in India is branded tea.
• Tata Tea Elaichi growing at robust pace
• Tata Coffee Grand gain shares with new variants
• Launched Fruski on a pilot basis - a tea based RTD.
• Starbucks currently operates in 95 stores which will be start generating EBITDA profit in next ~1-2 years
UK business:- Strong performance in UK driven by growth in market share across major categories despite sustained decline in overall tea market and continued competitive intensity. Green tea continue to grow well. Teapig the super premium brand posted good growth
Bangladesh has witnessed robust growth in Q1 FY18 with record profits in Q1 FY18.
USA - Promotional phasing and higher commodity costs impacted performance of EOC business in US during the quarter. Tetley green tea reflects modest growth despite decline in category.
Russia was a loss making unit which have been restructured, going ahead performance from international business will improve.
Non branded - Topline declined due to reduction in sales volumes of instant coffee and plantation products (impacted due to lower crop and lower export realization due to stronger INR).
Tata Coffee infused in aggregate an amount of US$6 million (mn) on greenfield freeze dried instant coffee facility in Vietnam
Canada witnessed an improvement in the topline. The company continued its value and volume leadership in the country. It also launched Tetley RTD in three flavours - Lemon Ginger, Peach mango and Pomegranate Berry
In order to drive its performance, the company has come up with strategic priorities, which include base business rejuvenation, investment for growth and driving operational efficiency.
The company intends to invest in incubatory businesses - Starbucks and Nourischo to drive future growth. Under Nourishco, the company has launched variants of Tata Gluco Plus, Himalayan flavoured & sparkling water. Nourischo has witnessed traction in the operating profit.
What is Changing?
Continuous debt reduction
Focus on higher margin products to increase margins
Getting out of loss making or non-performing geographies like Russia signals management intent on turnaround
As per media reports, Tata Global Beverages may sell its stake in various Tata group's listed companies to its parent, Tata Sons, in the coming months. TGBL currently owns 725 crore worth of stake in other Tata group firms, viz. Tata Chemical and Tata Investment Corporation. TGBL has a 4.39% stake in Tata Chemicals and 0.29% stake in Tata Investment Corporation. The company may utilise the funds towards a) brand building activities or b) payoff of the debt or c) dividend payout, or a combination of these
RISKS
Business is dependent on bulk tea & coffee prices
Exchange rate fluctuations
Gradual move of taste from tea to coffee and other drinks
FINANCIALS


DISCLOSURE
I am invested. My views may therefore be biased. Please do your own due diligence before investing.