Any further news on company's progress? I am seeing heavy sell off over the last one month.
partnership with true caller being big in terms of global credibility is understandable but this could be just addition of one other channel to their current offerings. Positive revenue impact would be seen only if they onboard enterprises using truecaller.
Tanla's business is doing great, stock is not. If you are a long term investor, always a good idea to follow the business more and the stock less.
Global CpaaS industry is slated to grow at more than 15% annually for several years. Indian players are likely to grow faster due to lower penetration. Tanla should grow even faster as its already the market leader in India and now through Wisely, its set to grow in global markets as well where it was not present until now. Incremental revenues from Vodafone Wisely partnership should start reflecting from March onwards.
I expect Tanla to end the year with an EPS of 40-41/share. At current prices, that's a PE of 34x. Considering modest EPS growth of 20%, stock is trading at 28x FY23E EPS. I see this as great value. Which other platform company is available at these valuations?
In summary, I see no business risk or fundamental risk. Maybe market doesn't trust the Tanla CPaaS story yet. Maybe it needs to see 2-4 more quarters of similar performance to get convinced that past issues remain in the past and the company is now on a different growth path. I don't know when market will change its view. But I am very comfortable as long as business fundamentals remain robust.
All said and done, the key monitorable is the detail of the revenue sharing deal with Microsoft since it is a co-sell partnership and Microsoft is a bigger fish between the two.
Hi,
From March 12-14 till 25th almost every other day director's close relative or 2 employees are continuously selling shares. They have sold Rs. 61 crore worth of shares. Does anyone have more knowledge on this ?
Their is cosell agreement, but Tanla do not share Wisely revenue with Microsoft. 100% is Tanla's share. Microsoft gets opportunity to pitch their own products while promoting Wisely.
Came across mention of a recent AIRTEL presentation having mention of Woking & capabilities in CPAAS .was wondering if it can be compared to tanla's wisely vodafone tieup or otherwise I.e. a CPAAS competitor to tanla or irrelevant?
Yes, some employees and relatives have been selling. But if you look at the data, apart from one person (Kavita Goyal), others have sold only small portions of their held shares.
Reason? Its impossible to speculate about reasons for employees selling. Maybe these were RSU grants and they need to sell to cover tax expenses or maybe they are selling to generate cash for large expenses like buying a house etc.
Promoter hasn't sold a single share though. That's the most important stakeholder to track here. I don't think this signals much unless promoter starts selling which I find very unlikely. Promoter has been very bullish about the business and has hinted at more buybacks in last Qtr presentation.
Disclaimer: Heavily biased as Tanla is a large allocation in my portfolio.
Below excerpts from q3 fy22 concall on Tanla - Microsoft partnership - refer highlighted line
Balaji Subramanian: Hi, Uday, congrats on a good set of numbers. And thanks for taking my questions. I have a couple of questions. The first one is what has changed the Wisely international rollout strategy, because last time you had mentioned that you are engaging a top consulting firm to advise on the international GTM, but now you just mentioned that the Vodafone, Idea case study would be pitched and that would be used to kind of build out the international rollout of Wisely overtime. So what timeframe are you looking before you rollout Wisely internationally?
My second question is more on what is the typical gross margin that you make on non-SMS channels, especially WhatsApp Messenger. So, you did mentioned that you're aspiring to reach 50% plus gross margin that many global platform players report. So, how will something like WhatsApp enable you to kind of make that journey? So that's largely from my side. Thank you.
Uday Kumar Reddy: Thanks, Balaji. The first point is, yes. We have appointed the consulting firm to advise us on Wisely GTM, which does include both India and outset in the global expansion. So they – we got the GTM plan from them last week. And so they have given us a complete GTM plan including proposition and pricing. So, and in fact, they are the ones who are helping us to even roll out with VIL as you speak. So, it's a part of the strategy.
This partnership needs to be understood well as pricing seems to be coming from Microsoft.
Some questions that need answers: -
Apart from the volume, what is in it for Microsoft? Remember Microsoft already has a huge marketshare as far as the developed world is concerned not only in Azure but also in other products - so getting its exisitng enterprises (customers) to use Wisely should not be a huge effort
If Microsoft was to only charge cloud hosting charges to Tanla, why should it become a GTM partner for Tanla
Wisely on Azure marketplace: -
https://azuremarketplace.microsoft.com/en-ca/marketplace/apps/tanlasolutionslimited1606199595566.wisely?tab=Overview
The consulting firm mentioned in the transcript has got nothing to do with Microsoft, it must be a strategy consulting firm like McK/Bain/Booz/AT Kearney which is advising Tanla on Wisely GTM.
As far as I understand, Microsoft only makes Azure related revenue from this partnership. As the preferred cloud partner, Wisely onboards new clients on Azure which contributes to MS revenues. Apart from this, as far as I understand, MS does not take a share of Wisely revenues. They are completely Tanla's.
Microsoft is cloud, technology and GTM partner for Tanla - refer any news article on internet.
Yes MS is the GTM partner for Wisely because Wisely is exclusive to MS's Azure. But the GTM strategy you quoted from Q3 notes is not regarding which cloud platform to use. It's much wider and concerns aspects like pricing in various markets, prospective customers and best way to approach them etc. For this they have hired a strategy consulting firm which is advising them.
Which is this consulting firm? Is there a name given?
Not publicly disclosed (firms rarely do that). I am aware that McK was consulting Tanla a few years ago, but this particular firm may or not be McK. Expect it to be one of the top global consulting firms as its a global assignment with big potential for Tanla.
True, promoter activities are more important. The volume of selling by insiders is significant hence wanted to know the reason. A clarification from the company on this matter would have been good especially if that related person is leaving the firm etc.
I have 2 questions regarding financials:
Cumulative PAT over last 10 years is -80Cr while the cumulative CFO over the same period of time is more than 1000Cr. Can anyone please explain?

The tax rate for every year is well below the corporate tax rate in India. Also, it has a wide variance. Is there an explanation?
Thanks.
I think it is mainly because of depreciation. Since it is a non-cash expense, it is added back in the cash flow statement since the cash never leaves the company. The company does a one time expense on a product and then shows it in parts through the years. It is legal and a way to save taxes. The cumulative depreciation amounts to quite a bit for Tanla.

Due to the high depreciation, the profit before tax turns negative or just positive, leading to either very low/nil tax in case of a loss or a very high percentage of tax when they just about break even and show a minor profit.
I agree all this is a bit sketchy, and the high Auditor costs are also peculiar, but the company's products are world class, and I say that without doubt.
Also all these sketchy things is why this stock remained under the radar for all these years, after turning profitable and the entry of renonwned FIIs and Azim Premji, I feel more comfortable holding this stock.(#disclaimer)
All that said, the future of communication is very bright. How this company manages the massive growth remains to be seen.
Thanks.
Thanks for your reply.
Couldn't get your 2nd point. The Profit Before Tax for Tanla for last few quarter has been substantially high. Yet, the tax rate is less than 20% for most of the quarters. The PBT for FY21 was 415 cr. The tax rate was 14%.
Please tell me if I'm missing something.
Hi,
Regarding taxes, please note below reconciliation from page #201 of FY21 AR.

There are 2 aspects which reduce the tax liability
Different tax rate for Singapore subsidiary : Currently Tanla has huge Deferred Tax Assets in the B/S of its Singapore subsidiary which are nullifying tax liabilities. So till such time the DTA exists, Singapore subsidiary will have 0 effective tax payments.
Below screenshot from the notes of Tanla's Singapore subsidiary's financial statements for FY21.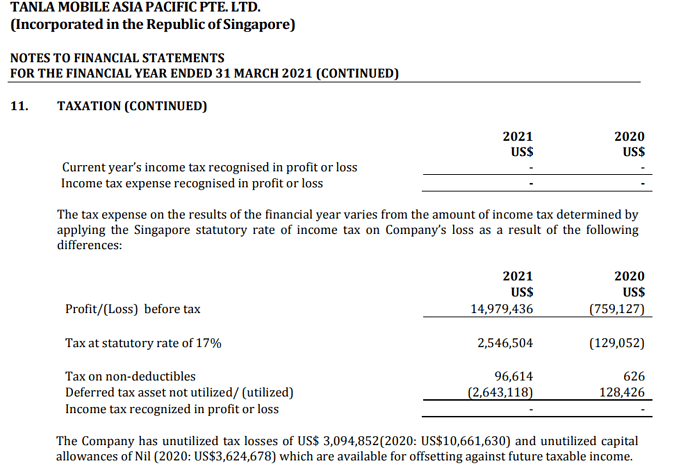 Depreciation expense which is deductible for calculating taxes but not for reporting P&L. I couldn't find any further details of this item in the AR, but its very common for taxable income to differ from PBT.
Singapore's statutory tax rate is 17%. So when the DTA gets exhausted, tax liabilities will increase to the tune of 17% of the subsidiary's PBT. For FY21 this amounted to ~28Cr which was ~7.5% of Tanla's FY21 PAT. So in future, when DTA gets exhausted, the impact on EPS should be to the tune of ~5-7%.
Already for 9M FY22, Tanla has paid taxes @ 20% of PBT, significantly higher than last FY's 14%.