Talbros automotive Components limited (TACL) is flagship company of the Talbros Group established in 1956. The Company initially started with manufacturing automotive and industrial gaskets in collaboration with Coopers payen limited, UK. The Company is headquartered in Gurgaon, with nine manufacturing facilities located in the vicinity of key OEMs.
Promoters are continuously increasing their shareholding as well the dividend payment over the last few years.

Company Product Portfolio
TACL started it's manufacturing with Gaskets division and over the last few years the product portfolio expanded to other auto components such as Forgings, Suspension systems, Anti-Vibration products and Hoses along with Gaskets. These products service the growing needs of customers across the two-wheeler, passenger car, commercial vehicle and farm equipment segments. TACL plans to add Heat Shields, Industrial Gaskets, Semi-Corner axle assembly, Engine Mounts to their product portfolio by 2017.
Existing and Proposed portfolio for 4 wheeler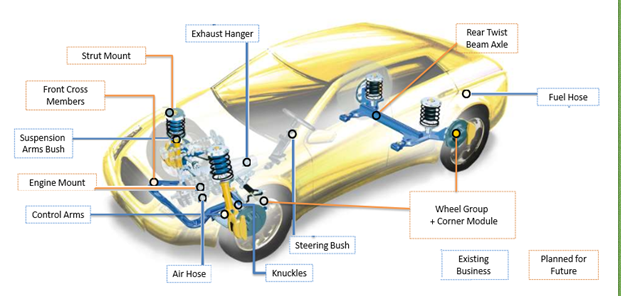 Gaskets and Forgings is part of standalone business where as Automotive Gaskets, Suspension systems and Anti-Vibration parts business is in the Form of JV's.

Joint Ventures:
The Company entered three joint ventures with global auto component leaders to create multiple growth engines.
**Nippon leakless Corporation (Japan):** With annual sales worth $200+ million, it is one of the largest global manufacturers of gaskets for four-wheelers, two-wheelers, power equipment and industrial uses. This is a 60:40 joint venture with Nippon leakless Corporation established in 2005 to manufacture non-asbestos automotive gaskets for honda and other Japanese OEMs.

The total turnover of the JV in fy15 stood at 10,269.98 lacs, increasing at a CAGR of 15% since fy10. This JV reported a net profit of 15.21 cr in 2015 (13.25 cr in 2014)
**Magneti Marelli s.p.a. (Italy):**  Part of the fiat Group, Magneti Marelli is a €6 billion company and its suspension business generates over €470 million in global revenues. 

A 50:50 partnership (2011) whose production commenced in April 2012 for manufacturing suspension systems for passenger vehicles and pick-up trucks. The joint venture also manufactures control arms, knuckles, front and rear axles. earlier, Talbros would manufacture only the control arm; following the joint venture, the Company possesses the capabilities to address entire chassis system-related needs.
This JV reported a revenue growth of 10% from 5,844.02 lacs in 2013-14 to 6,437.95 lacs in 2014-15. This JV reported a Net Loss of 3.07cr in 2015(-1.7cr in 2014)
Marugo rubber (Japan): a $300 million company and a global leader in the anti-vibration products and hose segments for OEMs. The 50:50 JV between Talbros and Marugo rubber was commissioned in 2013 to localise the production of rubber hoses for Maruti suzuki. The JV allowed the Company to directly cater to Maruti suzuki at its Manesar plant, reducing lead times.
The segment reported a revenue growth of 25% from 1,018.62 lacs in 2013-14 to 1,275.28 lacs in 2014-15 on account of increase in sales of mounting mufflers and hangers at Maruti suzuki. This JV reported a net loss of 0.8cr in 2015 (-1.78cr in 2014).
Furthermore, the company has also ventured into making heat shields in liaison with Sanwa Corporation (Japan), primarily used to insulate heat and sound in automobile engines, electric generators and exhaust pipes. This is expected to go main stream during FY17E for which they have already received orders from Volvo and this can be boosted further with their eminent passenger and commercial vehicle clientele to tap into new agreements.
Financials


Financial Notes:
Company incurred a cost of approximately Rs 1.9 crores towards the terminal benefits of the employees in the chennai plant during last quarter which forms a part of exceptional expenses for the year. In 2014, on account of sale of Chennai Land 8cr is added as exceptional income to Net Profit.
Two of the manufacturing units Sitarganj and Haridwar in Uttaranchal which last year have moved from 100% tax exemption to 30% tax exemption bracket during the year are increasing our tax outgo.
Considering these additional expenses and Tax Outgo Company performed well and reported better earnings in the last year and continue to maintain the good margins in the industry.
Strong Clientele:The Company's institutional clientele comprises prestigious OEMs like Ashok leyland, Bajaj auto, Cummins Group, eicher India, Volvo eicher Commercial Vehicles limited, Escorts Group, Force Motors, General Motors, Hero honda, Honda, Hyundai, John deere, Mahindra & Mahindra, Maruti suzuki, suzuki, Tafe, Tata Motors, Tata Cummins, simpsons, spicer Group, Musashi, ognibene, american axle among others.
Its international customers comprise Volvo powertrain, Carraro, Dana Corporation, KM pbrand, Maxi force and GKN driveline among others.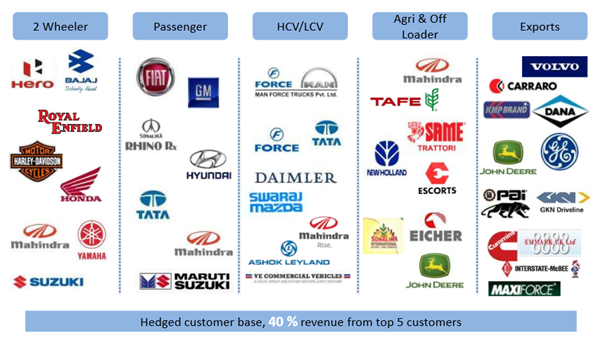 Value Factors
The Company is a market leader in the country's gasket segment; its 38% share is nearly three-fold its nearest competitor. The Company enjoys a near monopoly in the domestic two-wheeler industry (92% market share).

Single Source Supplier for 5 of the customers includes Hero MotoCorp, Honda Motorcycle and Scooters, Bajaj and Tata Cummins.

In 2014, Identity as a 100% asbestos-free Gasket player, making it possible to export to countries with some of the most stringent norms. The Company received its first order from Volvo to supply heat shields
in the US and Mexico. Besides, the Company is a single-source supplier to Cummins India and, following its asbestos-free status, has become eligible to supply products globally to Cummins.

In the current fiscal there are about 18 2-Wheeler launches by Hero, Honda and Bajaj. This should provide steady sales to company for next few years.


The Company introduced a new product line (steering knuckles) and commenced production of lower control arms for TATA Motors models (Zest and Bolt).

Set up a hose plant in Manesar to cater to the growing needs of Maruti Suzuki, Planning to carved out a larger share of Maruti suzuki's needs through our joint venture businesses. The Company launched a control arm for Maruti suzuki (NG alto K10), increasing its share of MSIL control arm sourcing from 40% to 50%.

The Company received its maiden suspension system order for the Bajaj RE60 quadricycle. The Company is optimistic of its prospects on the basis of bajaj RE60 quadricycle orders where the Company has designed the entire chassis spectrum (front-axles, semi-corners, control arms and knuckles). This product launch can potentially graduate this joint venture to the next level.

Expanded customer base to include MNCs like Ognibene and American axle.

The Company expects exports to account for 20% of the turnover from 13% currently, following its asbestos-free status. But this is a difficult target to achieve considering Euro growth concerns, and recent Volkswagen scandal.

The Company's plants were audited by international OEM giants, resulting in orders from Cummins, Daimler, Volvo and Harley davidson.

Closed its gaskets facility in Chennai to consolidate capacities and moderate costs.

With correction in Steel and Oil prices a revival witnessed in the recent auto sales data and new launches TACL poised to benefit in the coming quarters.

TACL entered into a technology arrangement with Sanwa Corporation (Japan) for heat-shields. The Company already supplies heat shields to several of its major gasket customers. With the use of heat shields expected to become the norm in the Indian passenger car market, the Company's dedicated heat shield line (expected to go on stream in 2015-16) is poised to benefit demand.

Currently the heat shield products are used in the manufacture of heavy and medium commercial vehicles in India, they are not used in passenger cars (except those that are exported). Management expects that as Indian automobile engines become increasingly compact and emission standards more demanding, the use of these products will become mandatory for Indian passenger cars as well.

TACL recently got international order from turkey's tractor manufacturer. Similarly discussions are going on with Iran manufacture as well.

Import of raw material currently happening from US manufacture, the same will happen from Europe facility (same manufacture) saving 1cr and reduce the delivery time from next quarter on wards.
Negatives:
Auto sector growth is directly linked to company's growth, As SIAM (Society of Indian Automobile Manufactures) expects 8-10% growth in Auto segment company should outperform the industry growth.

Euro depreciation or rupee appreciation will have certain level of impact on financials. But current scenario, Euro appreciation and Rupee depreciation is good for company.
Product export realization was low last quarter, if last year was Rs.80 per Euro, in Q1 quarter it was Rs.69 per euro.

Company had nearly 131cr debt on books, but certainly recent interest cuts will have positive impact on company financials. Monetization of Chennai property will be booster, management already have the plans to offload this property and waiting for correct price.
Disclosure : Currently the stock is trading @125 rs and this stock weighs 4% of my portfolio.