I was looking at Google Trends w.r.t Air Coolers in general and below are some charts that I found interesting
Air conditioners are also similar. But the fall is less sharp.
The search for Air Coolers is highest in India over the last 5 years. However, you can see Australia at number (5) which I believe is good news for Symphony. UAE, UK and US are all in 6 - 10 positions. Achal Bakeri told in one of his interviews that China is the 2nd largest Air Cooler Market in the world. You won't see it here probably because I searched for the term "Air cooler"
In India, Hyderabad, Secundrabad, Vizag and in Australia - Sydney and Melbourne seem to search for Air Coolers the most.

I compared the top brands in India - Symphony, Voltas, Bajaj, Orient, Crompton. Here are the search trends over 5 years. Clearly Symphony is still the Market leader. Interestingly in 2020, the search strength of Symphony has come down while for Bajaj has gone up. Does this translate in the results? It's some to watch for.
Top 5 cities where Symphony is searched the most. In Vadodara and Gurgaon, Symphony has a search strength of 85%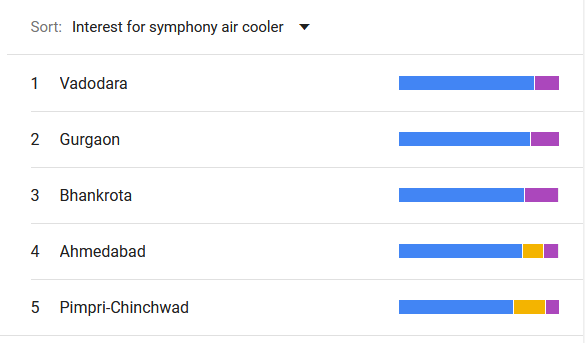 Bajaj Electricals has the second highest search share. Here is the list of cities sorted with Bajaj. For e.g in Kolkata, Bajaj has a search strength of 28% v/s Symphony's 53%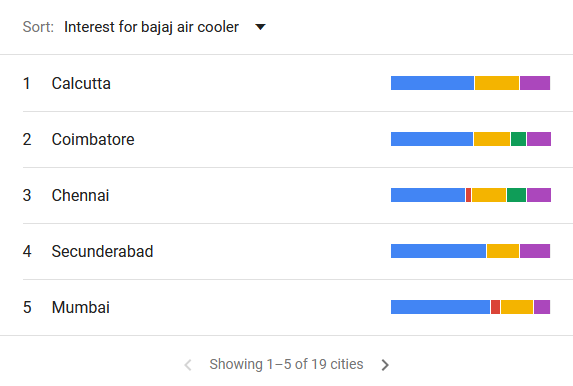 Coming to their CT acquisition, I searched for Bonaire and Celair coolers.
On Industrial Coolers, the search trends are relatively lumpy. Gujarat obviously has the highest number of searches in India. While globally, we have Pakistan, Australia, UK and US in the list
Overall, it seems there is some sort of a market for air coolers in dry regions. In India, clearly there are just 3 major players in the organized market with Symphony miles ahead of Bajaj and Voltas. How long can they hold onto the lead is anybody's guess. Can someone explain why air coolers are not popular outside India? Is it expensive to maintain? Is it just not worth the hassle?