I am trying to do a apple to apple comparison, this is what I see, why market is not giving multiples Dhanuka deserves vs Sumitomo getting such high multiple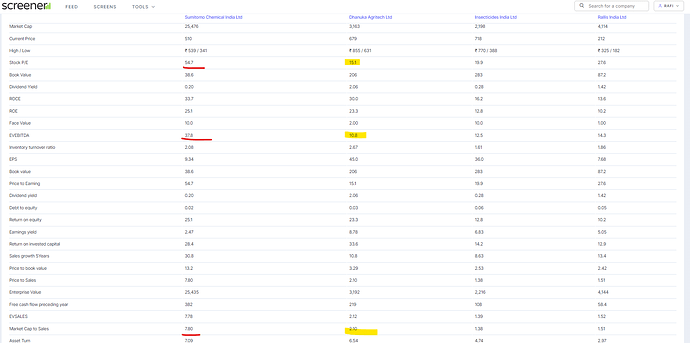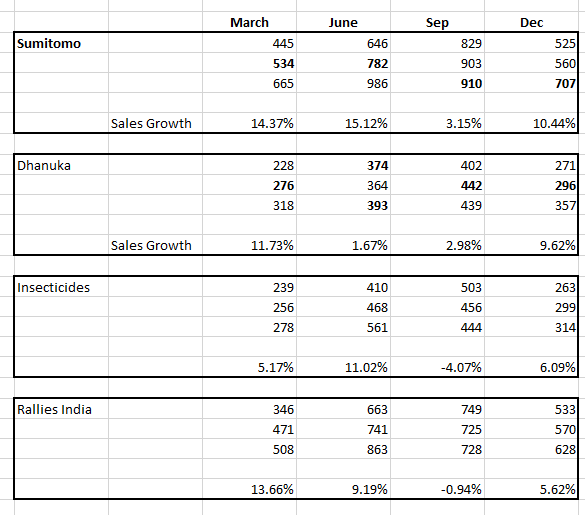 One get to see such anomalies or patterns across all sectors (E.g. HUL vs ITC, TCS vs HCL and so on) and the market discounts certain scrips for reasons which are not explicitly known to everybody
Few things I could think of
-Sumitomo being an MNC and access to formulations, R&D and other assets from the parent company (albeit paying a royalty)
-Access to global markets where Sumitomo Japan would like to leverage India manufacturing capability
-Credibility of the promoters considering Sumitomo a renowned name in Global markets
Disc: Invested in Sumitomo and hence biased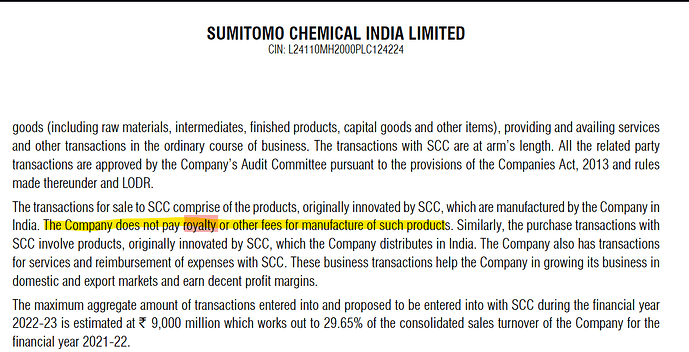 No ESOPs (No EPS dilution )

Japanese by nature are very very conservative , they always aim less and achieve more
Parent Revised Guidance
Question : Government moves to restrict use of glyphosate
Question : Direct Business transactions from Parent
Question : CMO
Question : Capacity Utilizations and Unique products
Question : Branded vs Bulk Sales
Question : Exports
Question : RM
Question : Margins and Growth
Bit of a negative news when the markets are in a rangebound move. But any knee jerk reaction by investors on this scrip can be looked at a good opportunity to add more.
disc: invested
true. this was already expected by market and the company.
This was already raised in the AGM and management brushed it off. Glsophate has major contribution (15% of revenue )
We have to wait and see how this is going to play out, we can ask in the upcoming call.
This overhang was there on the stock for far too long, that should now go away. The worst case is a loss of 15 % revenue, though actual might be lower if there are any exports. I also suspect it is a high volume low margin product, so loss of profits would be even lower. The ban may free up capacity which can be reused for something more valuable. So overall the company should be able to digest this easily.
FY23 Q2
Results
Investor Presentation
Concall Transcript
Note: This was a marathon call, spent 1:41 minutes, gave detailed explanation on Glyphosate and many new learnings about the industry
Weather/Industry Updates
2022 June - September 7% more rain than previous year (several regions received less than normal and others more than normal so monsoon spread was erratic)
Income of the farmer grown from 1.3 times to 1.7 times
Minimum support price (MSP) raised by 1.5 to 2.3 times
Higher placement of agrochemicals during the March and June quarter coupled with slower on ground activities led by uneven rainfalls resulted in lower liquidation of inventories, particularly in insecticide category
Sales of herbicides and fungicides are robust
Working capital for the industry is stretched due to high raw material costs
Business Updates
Top line growth of 23% (1122 crores) - aided by massive growth in herbicides along with growth in domestic and export markets
EBIDTA grown by 30% ( 278 crores) EBIDTA Margins at 24.8% (up by 121 basis points)
PAT grown by 31% ( 202 crores) margins at 18%
Successfully passed increased RM costs
Exports grown by 51% (H1 FY23 vs H1 FY22)
H1 FY22 LATM exports increased by 49%
Maintained lower inventory levels
CFO H1FY23 - 2131 crores vs 1875 crores (H1FY22)
Cash / Cash equivalents of 800 crores
200 Brands across the agro chemical value chain , 20 mega brands , 16,000 direct distributors, 60 depots all over the country
Most of the growth from India is from price increase
Sales in Latin America and African countries are pretty good
Herbicides, Bio Rational Products and PGR are the key products to drive the growth this will reduce the seasonality in the business
One 9(3) product is launched and it is doing well (Tarapur plant received approvals for Pyriproxyfen , Diafenthiuron , this product is technically equivalent but different combination of Ronfen of Best Agro, many other Indian players makes these insecticides )
Very clear message given to the dealers and passed on all the input costs almost instantly
HTBT cotton and GM Seeds falls under Environment and Forest Ministry, they in turn recommend to Ministry of Agriculture
Most of the export sales in dollar terms
Due to late rains, the upcoming rabi season looks favourable, enough water, and enough moisture in the soil
Capex / New Projects progress
One proprietary product for a global customer started production at Bhavnagar site , revenues will start coming from H2FY23
Tarapur - MPP (5 parent molecules) progressing well, production start from Q1 FY24 - 200 to 250 crores opportunity
Margins of these new projects / products are in-line with current margins
Discussion are on with parent to make more additional products and also discussing with global affiliates (more clarity will be shared in upcoming quarters about any additional Capex etc… )
Two land parcels available for additional Capex ( Expecting the demand for Tebuconazole will pick up that might trigger to do Capex to ramp up the production )
Very bullish on launching bio rational products with the strong backing from Valent USA (3 products are lined up on this segment for registration aim to launch in FY24 ),these are registered under fertilizer act (take less time to register )
Will be launching two products in Brazil in FY24 ( These are off patent , Registration already done by parent and supplied from India, this are in addition to the 5 proprietary products going to be sold in Brazil)
Aiming to double African market sales
Glyphyosate
India market size is 1200 crores
As per the new new notification Glyphosate can be sprayed only by pest control operators (PCO)
Volumes come down by 40% compared to last year in domestic market (this is mainly due to poor monsoon conditions, during monsoon shower germination of weeds start, during this time farmers apply herbicide, due to delay in rains this product was not picked up in Q1 but q2 the demand picked up) , the standardised mix is 85% domestic and 15% export
Exports increased by 451% (main contributor is Sudan) on low base
H1 is domestic market and H2 is for export market (every single year for the company H2 exports of Glyphosate are more )
We are considering this is an opportunity to offer the service of PCO to the farmer (not sure at the moment this is possible / allowed by the government )
This molecule is used since 40-50 years , recently Bayer won the case in US ( Bayer wins fourth Roundup weedkiller case in U.S. | Reuters )
Gross margins for this product is 25% (this year it is 27.5% mainly due to price increase)
Alternate product is available and being sold by us in the Indian market but it is very very expensive (name ? )
Mera 71 is the brand name of Glyphosate in Sudan market
Margins are better in domestic market than export market
Recent approval for GM Mustard (and proposed HTBT cotton seeds approval ) these crops have to use Glyphosate
Maharashtra and Gujrat are the states use highest % of Glyphosate
Glufosinate is not a like to like substitute
Domestic market share is 40%
Have registrations in Europe but not selling
Major export market is Africa (Sudan, Ethiopia, Nigeria)
Current volume of usage in entire India is 3 Million litres, with BT Mustard and Cotton this usage will go up by another 1/3 of this 3 million ( a wild calculated guess)
The Delhi High Court has stayed a Central government notification 'restricting' the use of controversial plant chemical glyphosate only through pest control operators (PCOs) for three months
Court also directed the Centre to review the decision with all stakeholders in the interim and come out with a solution, during which time the notification 'restricting' the use of glyphosate will remain non-operational.
Opinion from experts,
with this news will it be correct to assume price correction shall take a halt.
Thanks
4 Legs of Growth
Exclusive Supply to SCC Japan (Parent): To manufacture 5 proprietary technical grade products with a revenue potential of Rs.2,000-2,500 Mn p.a. Several other products are in pipeline. SCC Japan (Parent) has decided that no new * additional facility will come in Japan for technical grade manufacturing & India is the only technical grade manufacturing site outside Japan & older molecules are expected to shift gradually to India. Every year we expect 1-2 additional technical grade products to shift to India. (~Opportunity size over period : ~Rs.26,250 Mn || Assuming 1Bn US$ formulations sales requiring 35% technicals shifts to India)

Supply to Nufram Distribution Business: SCC Japan (Parent) has recently acquired Nufram's distribution in Latin America to gain leadership position in Latin America generics market.Current revenue to SCIL from Nufram for FY22 stands at ~Rs.3,000 Mn which is expected to grow at CAGR of 30%.Currently Nufram sources technicals worth ~400 Mn US$ from China but after SCC Japan gaining control of it,procurement of technicals is likely to shift to India ~Opportunity size over period : ~Rs.31,500 Mn || Assuming 1.2Bn US$ formulations sales requiring 35% technicals shifts to India)

We expect to grow at 15% CAGR on account of new product launches in 9(3) segment & several other products researched & developed by SCC Japan (Parent) which will be marketed & distributed in India.Speciality product contributed ~30% to overall sales in H1FY23. s speciality business has grown 20x from Rs.500 Mn to Rs.10,000 Mn in last 10-11 years.

Close to $4.1 Bn molecules are expected to go off-patent by 2026.SCIL has extensive manufacturing capabilities & wide distribution network across pan India which are the essential ingredients to harness this opportunity.
from ~Rs.8,000-10,000 Mn to ~Rs.20,000 Mn in last 5 years.

SCIL has 4 strong verticals which can help deliver healthy sales growth of 18% CAGR over FY22-25 mainly on account of increased export sales to LATAM (expected to grow at 30% CAGR), exclusive supply to SCC Japan (Parent) &
strong product pipeline in Indian generic & specialty market

Over the years Sumitomo Chemicals has realized to scale speciality portfolio one needs to have strong generic basket to cross sell speciality products along with robust distribution network from where farmer procures products on routine basis. Excel Crop care was largely a generic product company with wide distribution network & strong stickiness which was essential to market high end speciality products. Over the year SCIL has been able to expand margins by leveraging the generic distribution network of Excel Crop care & by selling high value speciality products. Excel crop was merged in FY19-20 with SCIL

On similar lines, SCC Japan (Parent) also bought the distribution network of Nufram in LATAM which is largely a generic distribution company. Before acquisition of Nufram distribution business in LATAM, Nufram had a revenue of close to 800 Mn US$ & Sumitomo LATAM with its speciality portfolio of ~10 products was doing a revenue close to 100 Mn US$ Post-acquisition of Nufram distribution business in LATAM, Sumitomo LATAM was able to double the sales of speciality from 100 Mn US$ to 200 Mn US$ clearly indicating combination of generic + speciality augurs well. Also during the same period generic sales rose from 800 Mn US$ to 1Bn US$ thereby having total sales of close to 1.2Bn US$ in LATAM.

SCIL has a diverse range of product basket reducing product concentration risk. Plant growth regulator(PGR) is a high margin segment for SCIL which ranges from 8-10% of overall revenue for SCIL vs industry having 5% of overall revenue. SCIL is expected to launch 3 new PGRs this year. SCIL has been instrumental in creating a new product market of PGRs in India. Sales of PGR is expected to grow drastically as Indian farmers start exporting their crops & PGR becomes essential to improve the product taste, size ,color, texture etc. Over the years herbicide contribution to overall revenue has increased from 17% in FY19 to 21% in FY22 mainly on account of new product launches in this
segement & rising glyphosate prices. Insecticide remains a large contributor to overall portfolio of SCIL as domestically insecticides has the largest mix of ~50%+ to overall agrochemical market. Greater focus is on high growth, stable & high profitable segments such as Herbicides, PGRs & Biorational products. SCIL has offerings for both Kharif and Rabi crops to reduce seasonality in the business. SCIL has one of the highest proportion of environmentally- friendly products in the Industry. For the next phase of growth SCIL has plans to introduce bio-rationales in Indian market by leveraging the technology & product basket of Valent Bio-sciences (recent acquisition by parent SCC Japan).
Key Learnings
Tebuconazole which is a combination product used with Indiflin (Patented molecule) by Nufram in LATAM had a manufacturing capacity of 700 tons by SCIL which got expanded to 1350 tons this year & SCIL is looking to add another 1500 tons in upcoming new site thereby doubling the overall capacity.
*SCIL has a plant growth regulator (PGR) by the name of PROGIBB (Technical Name : Gibberelic Acid) which it sells at 3x price of Chinese product in Indian market.
*SCIL manufactures key technicals in-house rather than out-sourcing it to other companies having full control of the value chain. Manufacturing technicals in-house helps to increase product life-cycle even after product going offpatent as the technology & R&D largely remains guarded
*Sumitomo Japan has close to 80% market share in OLED & LED related chemicals (This might be an opportunity in another 5 years time - wild guess )
SCIL Strengths
SCIL has created strong moat by building brand stickiness with farmers & this allows company to easily pass on prices in raw material inflationary scenario. SCIL has ~1,500 on-ground field workers with no sales target but just to educate farmers thereby building long term relationship & brand stickiness.

15% of EBITDA to be reinvested every year as Capex

Sumitomo Chemicals was issued 2,248 patents in crop protection segment between 2012-19 & generated a revenue of US$ 2,575 Mn whereas Bayer was issued 3,792 patents during same period & generated a revenue of US$ 12,600 Mn clearly indicating lack of commercialization in comparison to patents issued. This puts SCIL in a sweet spot

SCIL has a strong direct distributor network of 16,000+ & dealer network of 40,000+ which it leverages to sell its speciality & generic products across 23 states. SCIL has 1500+ on-ground field/market development officers with no sales target but to educate farmers about the products & usage which has led to strong stickiness with farmers creating a moat for the company. Also various digital initiatives has been instrumental in building farmer network of 4.4 Mn farmers.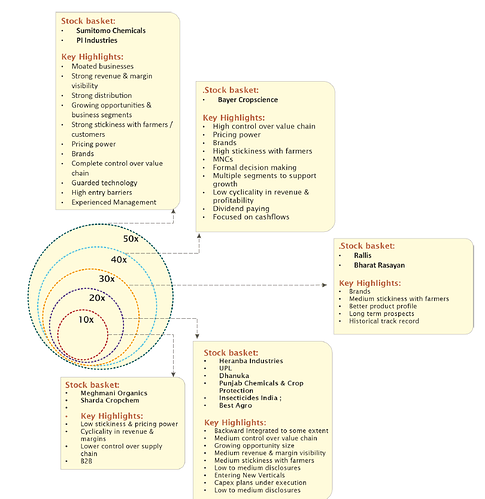 Source : Dalal & Broacha Report
The Delhi High Court has extended restricting use of Glyphosate for another four months and has determined 19th July, 2023 as the next date of hearing in the matter, says Sumitomo Chemical India Limited THE COURT HEARING WILL HAVE BIG IMPACT ON SCIL
I understand today the Delhi High Court has stayed the government notification "till further Orders". So looks like this proposal now goes into cold storage.