The company was incorporated as Stove Kraft Private Limited in 1999 and converted into a public limited company in 2018.
Industry Overview
The kitchen appliances market comprises instruments or devices designed for smooth functioning of kitchen activities. Kitchen appliances are used mainly for food preparation, cooking, storage and cleaning functions. The Global Kitchen Appliances Market is expected to touch $253.4 billion by 2020, registering a CAGR of 6.4% during the forecast period 2014-2020. The kitchen appliances market can be segmented based on product structure into two categories - 'Large/Major appliances' which include refrigerator, dishwasher, microwaves, cooktops, ovens, hobs, and kitchen chimneys; and 'Small/Minor appliances' which include food processors, mixer grinders, blenders and juicers, coffee machines, kettles, grills and fryers.
In India, the kitchen appliances industry has traditionally been skewed toward unorganized players while a handful of organized players have dominated major regions and key urban markets. Urban markets account for a major share of total revenues in the consumer durables sector in India whereas rural markets have only now begun to contribute recently. The key 'Large' and 'Small' cooking appliances categories, the current market value is estimated at about INR 148.5 billion, which is set to reach INR 238.0 billion by end 2022, growing at a CAGR of about 9.9%. Major players currently operating in the Indian kitchen appliances market include TTK Prestige, Stove Kraft Limited, Gandhimathi Appliances Ltd, Hawkins, Bajaj Electricals, Preethi Industries Ltd., Glen, Faber, Kaff Appliances, Inalsa, IFB, Panasonic, and Phillips, etc.
Business
Stove Kraft claims to be one of the leading brands for kitchen appliances in India, and one of the dominant players for pressure cookers and amongst the market leaders in the sale of free-standing hobs and cooktops. It is engaged in the manufacture and retail of a wide and diverse suite of kitchen solutions under Pigeon and Gilma brands, and proposes to commence manufacturing of kitchen solutions under the BLACK + DECKER brand (under brand licensing arrangement with Stanley Black & Decker Inc.), covering the entire range of value, semi-premium and premium kitchen solutions, respectively. Its kitchen solutions comprise of cookware and cooking appliances across our brands, and its home solutions comprise various household utilities, including consumer lighting, which not only enables it to be a one stop shop for kitchen and home solutions, but also offer products at different pricing points to meet diverse customer requirements and aspirations.
Key milestones in the company's journey are shown below:
The company has two manufacturing facilities, one at Bengaluru and one at Baddi in Himachal Pradesh. 80% of the products sold under the Pigeon & Gilma brands are manufactured in-house, with the rest being sourced from outside. Company has been gradually increasing the share of in-house production and this number is expected to go up even further in future. Both the manufacturing facilities are ISO 9001:2015 certified. The facilities also have a high level of backward integration, with ability to manufacture bakelite handles, critical components, and mould & die in-house. The Bengaluru facility is larger of the two with almost 2/3rd of it available for future expansion. It is an integrated facility comprising of 12 manufacturing units, tailored to manufacture cookware, cooktops, pressure cookers, mixer grinders, non-stick cookware, LED bulbs, floor mops, handy vegetable chopper, IR thermometer and induction cooktops. The installed capacities for each of the products are given in the RHP attached below.
In 2016, the company entered a new segment by launching the Pigeon brand of LED products. Presently, the products sold under the Pigeon LED brand include LED bulbs, battens, and downlights.
Product portfolio
Pressure cookers, mixers & small appliances and non-stick cookware such as frying pans constitute the main sources of revenues for the company. For the half year ended 30-Sep-2022, the revenue of Rs.577 crores was distributed as follows:
Pigeon – targeted at the value / mass market segment - is the flagship brand of the company, comprising around 80% of its total revenue. Product portfolio under the Pigeon brand is given below:
Gilma focuses on the semi-premium customer segment, and is sold exclusively through Gilma branded stores. Gilma portfolio comprises of chimneys, hobs, kitchen sinks and cooktops across price ranges and design offerings. It constitutes around 3% of the company revenues. BLACK + DECKER is a renowned name internationally in the field of, inter alia, kitchen appliances and constitutes another 3 % of the revenues.
Distribution Network
The company sells Pigeon and Black & Decker products through network of distributors and dealers whereas the Gilma products are sold through its own franchisees. The number of retail outlets as on 30-Sep-2020 where the products are available are given below: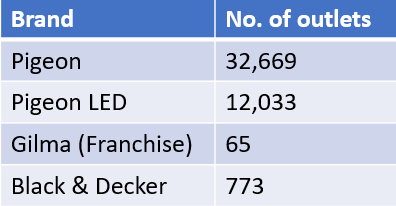 As of 30-Sep-2021, the number of outlets has increased from 45,540 as on 30-Sep-2020 to 63,428.
Almost 30% of the company's sales come from online ecommerce channels.
The company also has a dedicated service team and service franchisees to address service calls.
Further, the Pigeon products are also sold in over 10 countries internationally, including the U.S., U.K. and Mexico. Around 9 % of the company's revenues come from exports.
Management & Promoter Group
The founder of the Company, Rajendra Gandhi, is a first-generation entrepreneur with over 21 years of experience in the kitchen appliances and home appliances industry. Wholetime director and CEO, Rajiv Mehta was the managing director of Puma Sports India Private Limited and has previously worked with Arvind Limited.
As on March 31, 2021, the Company had 3,312 employees on its payroll.
Financial Information
The company showed losses till 2018 but has staged a smart turnaround thereafter. Brief financials of the business are given below:
EBIDTA margins for H1 FY22 were 11.4% but the company has been maintaining that around 13-14% margins are achievable in the long run.
Due to the past history of accumulated losses, company had a tax shield till Q1 FY22. For the full year FY22, company states profits above Rs.40 crores will become taxable, giving an effective tax rate of around 14% for the year (estimated). From FY23 onwards, the company will be liable for the full corporate tax rate of 25%.
Operating efficiency has been good, and consistently improving. Working capital days have reduced to just 23 days as of end-Sep 22, and outstanding debt is just a little over Rs.50 crore from more than Rs.300 crore a year or two earlier. Part of the debt reduction was on account of conversion of CCDs into equity, however. Company will soon become debt free. Company uses channel funding programme to manage its working capital, without recourse to the company.
The company claims a ROCE of 33.6 % and an ROE of 21.6 %.
Deloitte Haskins & Sells are the statutory auditors.
Risk Factors
In general, kitchen appliances is a very competitive field since the products are low on technological sophistication and does not require heavy capital investment. Hence margins are low and companies need to constantly innovate and bring out newer and newer products into the market. Companies also need to spend a lot on advertising, promotions and brand building.
The primary raw materials for the company are steel and aluminium, and is to that extent exposed to commodity price risk. Cost of Goods Sold comprises of around 65% of revenues for the last 12 months.
Besides the usual business risk factors, we find that the company has an ongoing dispute with Pigeon Appliances Pvt Ltd (PAPL), an associate company where the promoter Mr. Rajendra Gandhi is a Director. PAPL is a defunct company which has not filed its financials with the RoC for several years, and is facing the risk of being struck off the government's company database. It has one more director besides Mr. Gandhi, who is not co-operating due to which there is an impasse. If the matter is eventually decided against Mr. Gandhi, he runs the risk of becoming ineligible to occupy the post of Director in any company, which will adversely affect Stove Kraft. The matter is currently deadlocked and stuck in litigation. Details of the case are given in the RHP.
Under its brand license agreement with Black & Decker, the company is required to achieve a certain minimum number of sales, failing which B & D may terminate the agreement. However, details of how much these sales are is not clear.
New initiatives
Recently, company has announced an entry into electric switches and accessories segment through acquisition of business of Bengaluru-based Skava Electric Pvt Limited through slump sale for a consideration of Rs.4 crores. This will help the company foray into the business of manufacturing low voltage switchgear solutions like electrical switches, sockets, distribution boxes, switch boards, M.C.B, bulb holders, etc. For FY21, Skava recorded revenues of Rs.10 crores.
Company has also announced foray into Branded Modular Kitchen Segment. In a press release, the company said a Pigeon Ready-to-assemble (RTA) kitchen with plywood kitchen cabinets, granite top, kitchen sink, chimney, cooktop & accessories shall be available to the customer from April 2022 at an all delivered starting price of Rs.69,990/-.
Listing and thereafter
In Jan 2021, the company made IPO of 1.07 crore equity Shares at Rs.385 per Equity Share of the face value of Rs. 10 each which includes a fresh issue of 24.68 lac shares and an Offer For Sale of 82.50 lac shares. The stock listed on 5-Feb-2021 at Rs.498 on the NSE and is currently trading at Rs.980.05 as on date of writing 13-Jan-2021.
Valuation
Due to the tax shield available to the company (as explained earlier) in the current year, profits are presently overstated. I have therefore ignored the P/E ratio and done comparative valuation based on Price to Sales and EV / EBIDTA which is given below:
Based on the above, stock is trading at less than 3 X Price to Sales and 25 X EV / EBIDTA which is middle of the range compared to peers.
Sources of information: RHP, Annual Reports, Company Presentation, Quarterly results, Analyst Concalls
Links:
Red Herring Prospectus
Annual Report for FY2021
Company Website
Skava Business Acquisition
Foray into branded Modular Kitchen segment
Disclosure: Analyzing, no positions at the moment.