Most of the stock investors on this forum never think about investing in bonds. Investigating companies and looking for next 100 bagger is much more exciting than parking your money in a bond fund and watch it crawl like a snail. But does this efforts good for your wallet? The data does not think so.
Here is a chart I prepared using the 10 year returns on Nifty 50 and S&P BSE India Bond Index as proxies for stocks and bonds respectively.
Source: NSE. BSE
You can download the data from respective exchanges
Nifty 50 Total Return Index
https://www1.nseindia.com/products/content/equities/indices/historical_total_return.htm
Bond Index
Both indices are total return indices. i.e. Nifty index includes dividends & bond index includes coupon payments. Both are a good proxy of what a passive investor would receive. As the chart above shows, over last 10 years, stocks have returned as much as bonds (actually little bit less after recent sell-off) with plenty of volatility. Risk adjusted returns on stocks would be much lower. Unless you re someone who can benefit from volatility or beat the indices by a wide margin, investing in stocks hasn't been rewarding even when average GDP growth during this period was more than 6% per year.
Midcaps though have done much better.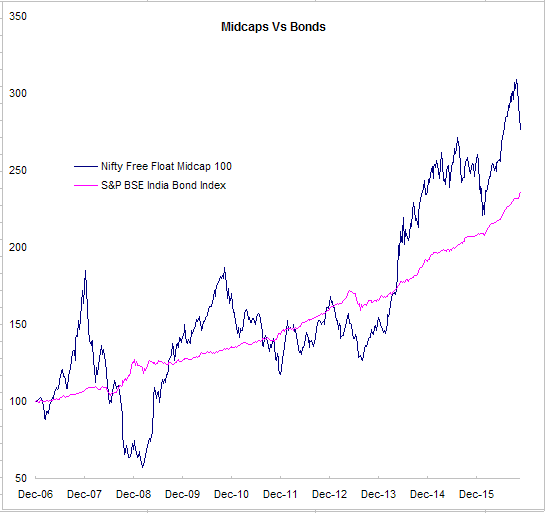 Source NSE, BSE
Most of the mid cap out-performance is a result of rally in last 3 years which appears to be ending. Midcaps are much more volatile than large caps.
Any comments on how the stocks would do relative to bonds over the next 10 years?