This was a new IPO that came in the 1st half of FY20. As all would be knowing it has gone through a rough patch from day 1. I have tried to compile the important points about the business and the events that have taken place.
Company Background:
SW Solar, part of the Shapoorji Pallonji Group (SP Group) is a global pure-play, end-to-end solar engineering, procurement and construction ("EPC") solutions provider. It is the world's largest Solar EPC solutions provider by % of MW installed. It provides its customers which are mainly IPPs, developers & equity funds with solutions encompassing Conceptualizing to Commissioning.
About the Business
a. Largest EPC solutions provider with ~4.6% market share. It provides End-to-End EPC solutions right from Conceptualizing to Commissioning.
b. Below Picture gives the Project Life Cycle where SW Solar is involved & how.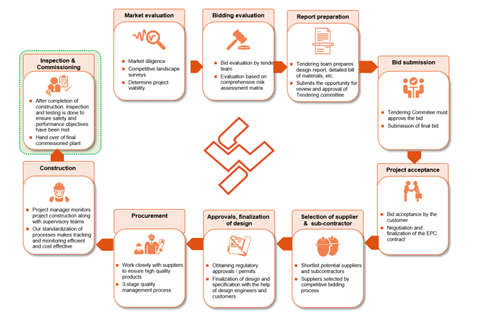 c. Company's operations are operations are supported by a competent and sizable design and engineering team that are responsible for designing innovative and cost-effective solutions with an aim to increase the performance ratio of solar power projects. This team operates from India giving the company a 'Cost Advantage'.
d. The company has an 'Asset-Light' business model. Real Estate is to be acquired by customer. Many of the execution tasks are outsourced to sub-contractors. And considering the average time frame of a particular contract is ~8-12 months and that advances are taken from the customers, the working capital requirements are low.
e. In terms of geographical presence, the company has presence in >25 countries across the globe. The current order book of INR ~12,900 crs is broken as follows: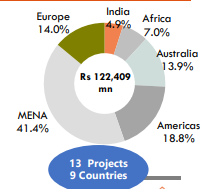 f. Company also undertakes O&M activities. Currently it has active contracts for 7.4 GW of which 40% is 3rd Party.
g. Solar EPC is a highly competitive & fragmented market. There are a lot of regional EPC players. But as per the DRHP in recent years there is a trend towards consolidation in the Industry.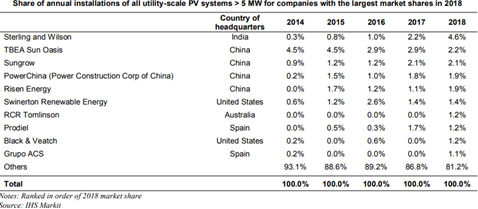 Rationale:
a. Solar Energy Industry itself is poised for a steady multi-year growth. As stated below and in many other articles & primary research on the web.
b. Cost of Solar power generation has reduced and is constantly reducing. In India its below the cost of coal based power. Similar trends are being seen worldwide too.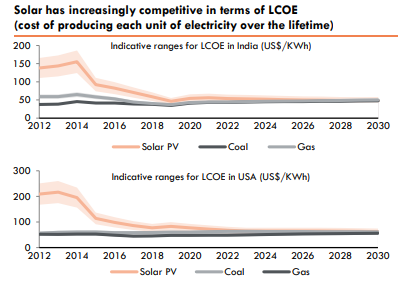 c. S&W Group and SP Group have a legacy that goes 100 years in the EPC business. This will help SW Solar in many ways to leverage critical Know-How, applying for Bids, etc.
d. Asset-Light Models. So in a down cycle the hit is not as much.
e. Company seems to have some specialized know-how, design capability & automation which helped them win a major project. (Pg120 of DRHP)
''For example we believe one of the factors that helped us win the bid for the 1,177 MWp solar power project in Abu Dhabi was our customized, innovative design solutions of placing PV solar modules in an east-west orientation instead of the standard south facing orientation, to maximize electricity generation on limited available land that we submitted as part of our bid.''
f. Company has the resources & skills to manage & execute large (1GW+) projects as the one they did in Abu Dhabi.
g. Expanding the high margin O&M business which is currently only 3-4% of topline
Inter Company Loan Payment Issue
a. Company had ~INR 2600crs of ICDs which were given to Group Companies and a back to back Loan on its books of approx. the same amount. This entry was to be knocked off with the proceeds of the IPO received by the Promoter/Promoter Entities. But, just a few days prior to the repayment date the company said that they would be unable to pay the amount. This has since caused a lot of damage to the company & its stock price. It has fallen from INR 700 levels to INR 60-70. Post this issue, the company has given a repayment schedule to receive the amount and the promoters have so far adhered to the time lines. Two more instalments are remaining. Company received INR 500 crs from the promoters in March 2020. So it seems that the intent to pay the amount is there. By September the company will be a debt free company after all these transactions have been done.
Risks
a. The promoters cannot pay the balance payment of the ICDs. But I personally feel that they will pay and stand by their commitment. I get the confidence from the recent payment made in Mar 2020
b. Exposure to MENA region (Major Oil Producing Countries). Since there has been a major fall in Crude prices many MENA countries are pretty vulnerable. This can cause delays & reduction in Order inflow and also Order execution
c. Effects of Corona Virus. Due to the current Pandemic the execution of & inflow of orders has virtually come to a stand-still. This is more on a short term nature. The supply of PV cells from China has stalled.
d. What happens to Solar Power's cost in a high inflationary environment? Will it be as competitive as other forms? (Because IPPs currently Lever up their Balance Sheet to generate a decent IRR). High inflation can come in the future years due to excessive supply of money in the world and countries running wide deficits.
Conclusion
The value erosion that has occurred due to the misjudgement of the promoters is massive. Considering that they have given a commitment and are abiding by it gives comfort now. While I believe that there is absolutely no visibility in putting a guesstimate to FY21&22 numbers, even if one assumes to be a cyclical issue and that we will come out of the current Pandemic and gradually recover then PAT of ~INR 400-450 crs that it did in FY18 can come in FY24. This gives a PE of (Mcap -1500/ PAT -400) = 3.75x. I feel that such a business (High ROCE, Headroom for growth, Asset-Light, Debt-Free) should atleast command a 10x PE in a good market. Which takes the potential upside to INR 4000 crs of Mcap on a conservative estimate. That comes to a CAGR of 22%.
What I am worried about in my projection is Risk Factor d. stated above and the whole Solar theme dying down due to that. Would appreciate if seniors on this forum can help. @Donald, @hitesh2710, @ayushmit, @dd1474, @desaidhwanil.
Also, this is the 1st time I have posted a company analysis on the forum. So please let me know if I have missed out. Thank You
Disclosure: Tracking Position @ 138.
Source: DRHP, Company Presentation & ConCall Transcripts.