Sterling Tools : MCap : 1200 Cr
Promoter Holding : 65% (70% last year) : Reduction due to some preferential Share allotment to Meidoh Co. and around 2% Stake Sale in open market by one of the Promoter.
No equity Dilution except Last Year Preferential allotment
D/E Around 0.14 ( It was above 1 few years back)
Established in 1979, STL is engaged in the manufacturing and marketing of high tensile cold forged
fasteners for the automobile industry. STL has three manufacturing plants located at Faridabad, Ballabhgarh and Palwal in Haryana and is in the process of setting up its fourth manufacturing plant, in Karnataka at an investment of Rs. 90 crore. The company has a total installed capacity of close to 45,000 MT per annum and is one the largest fastener manufacturers in India (After Sundaram Fasteners), catering to leading automotive companies in India and Tier-1 auto-component manufacturers in Europe. STL's product portfolio includes fasteners, which find application in both automotive and non-automotive segments. In FY2018, STL entered into a business collaboration with the Japan-based fastener manufacturer, Meidoh Co. Ltd, which would enhance its design and development capabilities in the automotive fastener segment. Majority of the fasteners manufactured by the company are developed based on designs provided by the customers
Clients : Maruti , M&M , Tafe , Honda Motors , Ashok Leyland , Tata Motors etc
Financials :
Sales Growth 10 Yr = 11% , Profit Growth 10 Yr = 20%
Sales Growth 5 Yr = 10% , Profit Growth 5 Yr = 35%
Sales Growth 3 Yr =10% , Profit Growth 3 Yr = 30%
OPM Levels improved from 12-13% to around 19-20%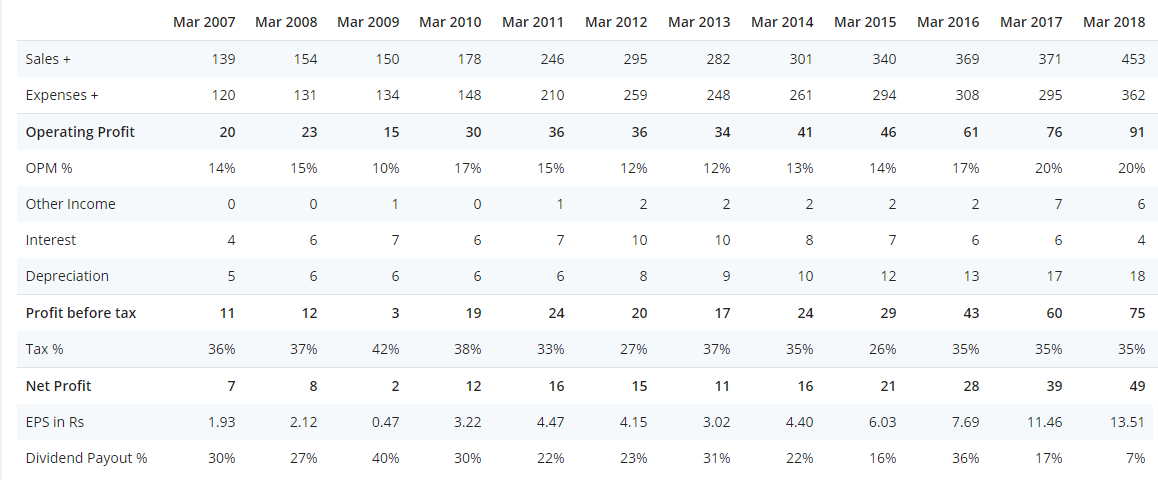 Pros :
Second largest player with a healthy share of business with leading OEMs across automotive segments

Recent business collaboration with Meidoh likely to strengthen STL's product development capabilities and business expansion initiatives

Well-diversified presence across automotive segments including CV, PV, 2W and tractors, with only 35% of its revenues in FY2018 derived from CVs, which is its largest segment.
Cons :
High dependence on domestic market for revenues. deriving approximately 90% of its sales from the Indian market. Any downside in Auto Markets may impact the performance.

Limited product diversification with entire revenues derived from the sale of fasteners . It is a highly fragmented and competitive product segment, with presence of a large number of unorganised players.
Disc : I have no holdings as of writing the post. I came across this company and found No thread on forum so have created this. Have few questions too which i have posted below. I am currently understanding the Fastener Market. This post has most of the information taken from ICRA Reports.
This is a 1200 Cr Company. Another company where i initiated a thread some days back is a 100 Cr Company. Biggest Company Sundaram Fastener is a 10000 Cr Company. There are some well known investors who have investment in this company but have reduced some stakes recently.
Key Questions i am trying to figure out are :
What can be the possible market for Fasteners ? How long it can grow ?
There are lot of unorganised players despite that this company and other organised listed players have grown at 20% in last 10 Years.

What are the threats to these companies from transition to EVs ?
As per 2018 AR Management Discussion, "Internal combustion engines (ICE), which are used in most cars, have more than 2,000 moving parts, while an electric vehicle has about 20 resulting in fewer breakdowns".
Possibly it may result into lower requirement of fasteners. There is still no clear policy in EV and whether it will affect PV , CV or 2W or the entire industry in medium term.
Views Invited @hitesh2710 @ayushmit @suru27 @phreakv6 @deevee @dd1474 @basumallick and others !