Hi,
Would like to know views about Steel Strips and Wheels Limited. Why it is traded at 11 PE, Market Capitalization is 50% of Annual sales when other 2 peers trading, Wheels India @42 PE, Enkai Wheels @57 PE accordingly.
Some Inputs …
Stock Price - 370,
Trading PE 11 Vs Industry PE 45,
EPS is increasing with margin expansion: 34 rs
2015H1 earnings 18 crores Vs 2016H1 earnings 27 crores
First Interim dividend declaration,
Higher Operating margins than peers
New allotment @640 rs, premium of 270 rs from current market price.
Tata Steel, Sumitomo(Japan), GSSC (South Korea) holds nearly 17% stake in this company.
Promoter regular purchase from Open Market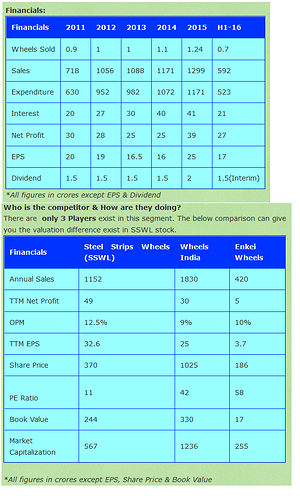 Reference: http://smallcapvaluefind.blogspot.in/
Request our VP intellectuals to share the negatives, to understand the business from my side.