For raising the capital, yes the shares are sold at a price of 8.48 / share to the insurance companies…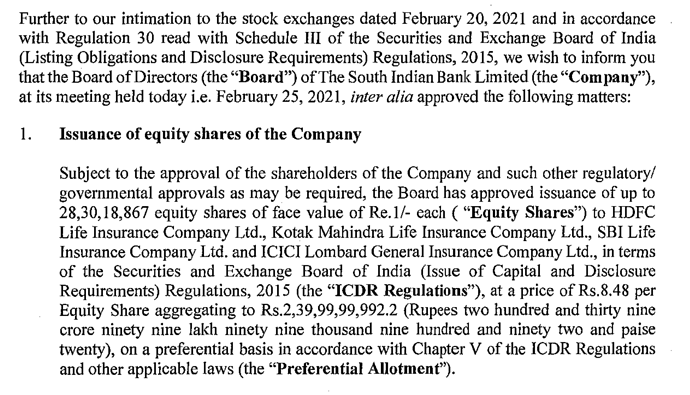 The positive changes what I have observed is the bank is in the process of image building. With the induction of Salim Gangadharan (ex-RBI) as the Chairman and Murali Ramakrishnan (ex-ICICI Bank) as the MD, one can except the bank in next 5 years will be a turn around story.
Hi everyone, I wanted to know what are your thoughts on South Indian Bank currently? I am looking for High Risk and Reward stocks in the BFSI space
Any due diligence will be helpful!
Market cap of 2100 cr. : it's cost for banking license only.
Slowly moving…Very slowly.
+Ve
1.Better rated corporates exposure improves replacing lower rated ones
2.CRAR improvement every quater
3. Slight improvement in CASA,GNPA,NNPA
-Ve
Advance / deposit growth well below better managed large private banks
Advance growth mostly driven by corporate and gold loan
1st Quater result is out:
Spike in corporate provisions
Other things showing gradual improvement…
Advance growth 5% is ok…
Dep almost flat…
Want to see new book growth and asset quality updates
YoY gross advances are up 17 pc. Which is descent… IMO. Deposit growth is a drag. However share of CASA going up is a positive.
Proof of the pudding shall be in the asset quality trend which shall be out with the Qtly results.
Lets hope for the best.
Disc: holding a tracking position. Will add if asset quality keeps improving.
Deposit flat, advance ,gnpa,nnpa,casa improved…
New book is half of the total advance… Improvement in slow pace
The new book has very low slippages.
With completely new management team at the top, the change in mindset is getting reflected in the high recoveries and good quality loan book.
With P/BV of 0.4 and given the tailwinds in banking sector, SIB may surprise.
Invested small quantity in IDFC first… Its almost turned around… If similar thing happens shall we expect p/b by 1… ?? .