It is the latest transcript . See Page 9.
Thanks @preposturous . Reading through the whole thing I'd put it as a yellow flag and not a red flag yet. Will wait and see whether the money is back on the books in June in the quarter results and will read the next concall transcript . I'm glad that their concalls go so in depth too so i don't think they'll be able to make a similar move again without it getting flagged. Cheers. So basically, Solara stays in my portfolio for now but I'm going to have to watch it a bit more closely. Thanks again
Very good study on solara
Thank you for sharing.
10 years would be a big horizon presently since the API play has just started to gain traction in India. In terms of Risk it could pretty well end up like a story of Pet coke (HEG, Graphite, PCB etc.) but given the nature of the business where your customers have a tendency to stick, we can see upside being brighter.

ICD was one thing, but I guess the same has been extensively covered in the thread. Pledge - But the same has come down and I guess presently stands at 0.

Arun Kumar is in a completely different league and does not come to me as someone who would try to defraud - + compared to Sun Pharma, here there are no inorganic paths taken, it is more on the lines of carve outs from existing businesses.
Hii
The june quarter end share holding statement shows a plege of 51.12%.
Any one has any idea on what account has this been done ?
Disc: not invested, tracking
Sold today due to this. Will wait for the AGM where hopefully it's explained properly. Once explained I may buy again. One of the reasons I entered was the pledged shares went down to zero. It suddenly appearing as 50 percent scared me. I'm sure there's a rational explanation and I may have overreacted but Im extra careful with small caps. If there's already a reason for the pledge that we've missed do let us know @saketmehrotra Thanks
Note: I can understand upto 20 percent pledged shares but 50 percent just led to alarm bells. Could be nothing but I prefer being cautious.
Edit: I'm writing this edit post the record rise of 36 percent in 2 days since I posted this. Never has a decision I've made in the stock market hurt so badly. I hope people learnt a valuable lesson from this. Do not overthink and worry about the smallest things. Cheers.
A little old - but it appears to be difficult to trace impact of news like below.
"For Mylan's part, it's the second drug recall this year. In early January, the drugmaker issued a recall on three lots of nizatidine capsules—used to treat duodenal ulcers—after trace amounts of a likely carcinogen, N-Nitrosodimethylamine (NDMA), were discovered in the active pharmaceutical ingredient (API) in tested batches of the drug. Those ingredients were manufactured by Indian drugmaker Solara Active Pharma Sciences."
Q1 Results Declared. Decent Performance.
(Announcement to Exchange)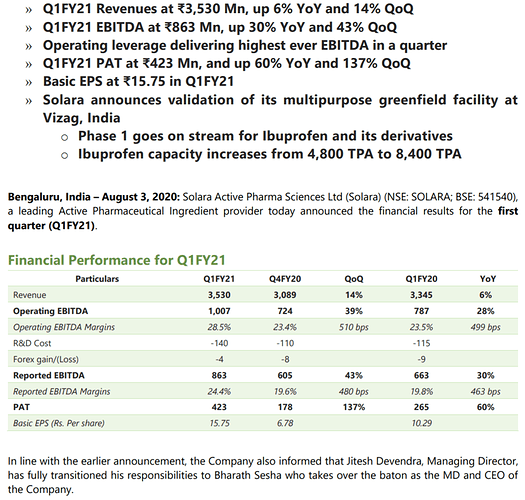 From presentation
"As of June 30th, 2020, the Company has no outstanding Inter-Company Deposit(ICDs)"
Growth in Reported EBITDA margins Quarter on Quarter with Q4 FY'20 being an exception due to COVID-19
Wanted to invest around 630 640 but went to 700 levels and then corrected again around 630 levels.
At that time i saw the high pledge created and did not invest, has moved 300 points since then.
Don't know if a good decision or not.
For API & CRAMS company - the way we see is different API & CRAMS are new market frontiers who are making a late entry as China being the highest contributor.
Now since due to COVID the government are trying hard to make pharma companies of India be self sufficient and buy only Indian API products (Atma Nirbhar)
Why API companies are pledging and are into more levels of debt can be clearly understood from the video
In short they are widening their API space in order to do that the companies need to take loans or keep something as a collateral to expand their business - the fruits of this will be in next 5 years.
API sectors usually focus on demand & also sometimes contract if given by pharma companies to make set of API's then they will move ahead in capacity expansion
Plus government to boost a lot of capital to API & PHARMA gives a sense of security.
Risks - USFDA, Fire in the plant, Change in government regulations on Indian API/Pharma's
2Q2020EXCEL.xls (4.6 MB) - TRY FILTERING SOLARA - YOU CAN SEE THERE ARE 80 active API

It is 86. 2 are inactive (Ranitidine). I got in on the Q1FY21 management call. Do find answers to my questions from 56:30. Will share the transcript once it's up.
All I can say is keep taking small positions and build on them if your conviction still remains strong. I have tracked HUL from 800 levels in 2014 only to invest at 2000 in 2020.
Solara is trying to reach our all branches of API industry
Reason for capex being was one from extending ibuprofen which clearly the management has given updates in result presentation - not sure if company plans to add other more product expansions
Now from a point of view ibuprofen - IOLCP has a greater market share
BASF - in capex
Solara - in capex
Now this doesn't qualify for niche majority of ibuprofen
What are the other factors driving the growth?
Who are their clients?
What are some of the niche products that only solara has greater control in terms of market and pricing?
Ibuprofen supply will be short-lived what are the next set of story/order line up for next set of growth?
Any long term contract?
Request any forum members to share the details if you have insight across this…
@saketmehrotra can you share insights what are factors for price movement of solara?
Notes :
They completely avoid to answer the question regarding the pledging of share by promoter group . it is strange that as share holder view point of view one is expecting they are representing the company and the promoter group .
They are saying they are having long term contracts with the clients . but this is double edged sword .
They are financing working capital from debt around 30% .
They are optimising the product mix .
269 cr last year capex done .out of phase1 165 cr is made in vizag and 100 cr for other facilities.
Capex will be on regular basis in order for maintenance
Capex guidance 250 cr for vizag facility 165 cr is already done and rest is done in this year . Additional 100 cr for other units 40% for maintenance and 60% on capacity building
Driving factor is supply chain disliking from more reliable suppliers and they are expecting to be continued .
Current utilisation is 70 % 1st Q
Total down time is three weeks due to covid lost days is 20days
They have additional land for expansion at Maysur , manglore vizag .
The rise on raw material price is not uprising.
Phase 1 validation comes in the second half of year and phase 2 they are expecting the contribution comes in FY22 .
Inorganic growth they are looking at science and scale mainly in CRAM business .
Growth they are guiding 25% .
FDA observation at kudllore facility . they are not quality or process based but communication and reporting process . Ranitidine is mainly made here . this facility is catering to not only Us but to other export countries as well .
Filing 10 DMS this year .Focused on right market and quality of product .
32% is import from other source and we are dirisking our supply chain . Using ranitidine facility at kudlore for other products
Good hear @saketmehrotra in concall
disc : sold out last week currently no holding this is not any recommendation for buy sell or hold
Can you guys share the Q1FY21 earnings transcript?
Well, while Aditya Khemka left DSP but while he was FM, he never bought it…
That's a red flag for me