SKM egg company has posted result in Q4 and they shown a exceptional growth on YOY basis. Is this growth is one time story because of multiple order in the recent time ?
SKM continued a good performance in Q1'FY24 with decent margin for past 3 quarters(21-24%). I end up reading a section about business updates in their annual report. They seem to be expanding in different geographies and coming up with new products. To my understanding, its trading at quite a low valuations given the performance. ROCE for FY 2023, spiked to ~46%, Also, significant improvement in cash conversion cycle. Decent free cash flow of Rs. 39Cr. @RajeevJ Sir, @nirvana_laha Will be very insightful to understand your views in case you are still tracking this counter?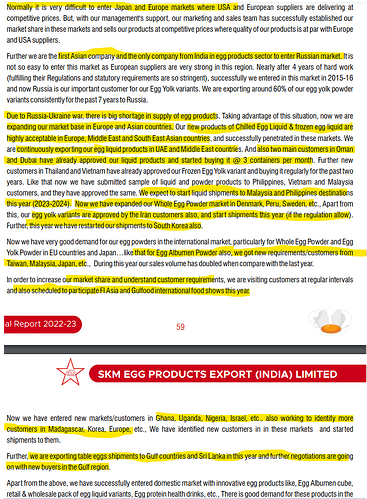 Remarkable decline in its PE. One year back it was more than 25. It has more than halved.
EPS has multiplied from 3.98 to more than 39 during this period. Any surprise its price has climbed about 5 times during this period.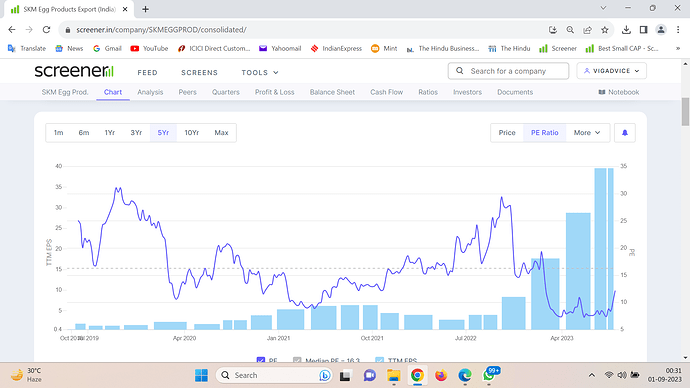 Disclaimer: Have a small holding.
Any one attended the agm? Please mention what was discussed
SKM Promoter SHIVA KUMAR sold 100000 shares in the open market on 15/09/2023(BSE Disclosoure). Is this the indication for the end of upward curve? This is raising concerns on promoter quality. Any comments?
The stock has done 3X in last 6-7 months. Such run up will tempt everyone to cash out some amount. No one on this forum will be able to speak on behalf of Mr. Shiva Kumar. I am trying to give my perspective. The 100,000 shares Mr Shiva Kumar have sold are out of ~ 12,578,246 which is approx. which is about 0.79%. As a investor - We have an option whether to focus on 100,000 shares he sold or 12,478,246 which he still holds.
Disc - I am invested
Same type of selling is also happening in Ovobel it's peer company. One promoter had also sold <4% recently. May be its time to check egg prices globally for few weeks to get idea about the trend.
Disc: Not invested in both just tracking.
Little surprised with the recent selling activity by the promoter however i am very optimistic about its future plans.Have gone through the recent credit report and annual report,the outlook of the company appears to be very strong.it is focusing on new products and new markets.valuation seems to be in the comfort zone.May be the promoter is trying to encash little portion of his holding as the company has given superb returns so far.
Disclaimer:i am invested in this co.
I wrote an email to the company CFO(SKM Egg Products) asking for a reason on the recent promoter sale. The response receied saying that 'The recent sale was to meet excusively his (SKM SHIVA KUMAR) personal needs and kind of one off trasaction. He won't be selling any more shares in the public in the near future.
Disclaimer:i am invested in this co.
So basically they did well in FY23 due to Russia-Ukrain war which created shortage in egg supply. I dont think this growth is sustainable. Please share your thoughts on this.
During the first quarter of the FY24, there is 12% QoQ growth & 57% YoY growth with slightly better margins than those in FY23. Apart from pointing to Russia Ukraine war, the annual report points to penetration in quite a few geographies as well as launch of new products.
That being said, I am not in position to comment if FY23 or Q1'24 performance is sustainable as I am not proficient enough in understanding the global market dynamics of eggs and its derived products. If you have got hold of some information/knowledge which can point towards the probability of non-sustenance of company's performance, that will help the investors in this community.
Some of the interesting snippets from Care rating report. Also, adding the whole report at the end
[From the information on Annual report, the contribution of sales asia, africa and gulf countries likely to increase going forward]
Market cap ~ 1,000 Cr.
Link to the rating report from Care - https://www.careratings.com/upload/CompanyFiles/PR/202307140711_SKM_Egg_Products_Export_(India)_Limited.pdf
Cooling of Eggs prices in global market might mean higher competition for the company in its market. That may impact the margin. But at this point this is just my speculation. There is no word from management or any experts that I know of.
The data is little dated but from Ministry of Commerce website - it seems that dried egg powder volumes in April-Jul 2023 period have declined by -21% YoY in volume terms ('000 kgs) and in INR lakh terms declined by around 2% YoY.
I have pasted the data below.
Secondly, the prices in US retail / wholesale level - although directly cannot be extrapolated to our market - but it highlights that shell egg prices have dropped drastically from around >$5 per dozen to around $1 per dozen in Jan-Sept'23 period - indicating that the pricing pressure is downwards for eggs.
| Dated: 24/9/2023 | | | | | | | | | |
| --- | --- | --- | --- | --- | --- | --- | --- | --- | --- |
| Quantity in Thousands | | | | | | | | | |
| (F) Final | | | | | | | | | |
| (R) Revised Final | | | | | | | | | |
| | | | | | | | | | |
| * ITC HS Code of the Commodity is either dropped or re-allocated and the unit of the commodity may be changed from April 2023. | | | | | | | | | |
| S.No. | HSCode | Commodity | Unit | Jul 2022 (R) | Jul 2023 (F) | %Growth | Apr-Jul 2022 (R) | Apr-Jul 2023 (F) | %Growth |
| 1 | 4089100 | BIRDS EGGS NOT IN SHELL DRIED | KGS | 422.3 | 279.21 | -33.88 | 1,871.01 | 1,473.34 | -21.25 |
| * ITC HS Code of the Commodity is either dropped or re-allocated and the unit of the commodity may be changed from April 2023. | | | | | | | | | |
| — | — | — | — | — | — | — | — | — | |
| S.No. | HSCode | Commodity | Jul 2022 (R) | Jul 2023 (F) | %Growth | Apr-Jul 2022 (R) | Apr-Jul 2023 (F) | %Growth | |
| 1 | 4089100 | BIRDS EGGS NOT IN SHELL DRIED | 2,039.64 | 1,461.51 | -28.34 | 8,622.19 | 8,396.29 | -2.62 | |
The data is very confusing, especially in the absence of any guidance by the company. If egg prices in US has come down from 5$ to 1$ a dozen from Jan to June, then it is surprising to note that Q4 of last year and q1 of this year is showing highest ever profit by the company. May be this is due to contract pricing, which was executed later. In such a scenario, whether company is not duty bound to inform exchanges/ shareholders such drastic fall in prices? When SEBI is doing so many things, they should look into transparency and shareholder information as well. Shareholders, as part owners, have a right to know the business position of company.