Sigachi Industries Ltd. (SIL) is one of the largest manufacturers of chlorinated paraffin, hydrochloric acid Microcrystalline Cellulose worldwide and has three Multi locational Facilities in Telangana and Gujarat SIL is one of the leading manufacturers of the cellulose-based excipient industry in India with over 30 years of experience. The company has a comprehensive product portfolio that enables it to serve diverse end-use applications across diverse industry verticals. Sigachi sells its Cellulose-based products under the following brands - HiCelTM, AceCel, CoatCel, GloCel
The inert non-reactive, free flowing and versatile nature of MCC has varied applications in the pharmaceutical, food, nutraceuticals and the cosmetic industries. It manufactures MCC of various grades ranging from 15 microns to 250 microns. The major grades of MCC manufactured are HiCel and AceCel. These products are distinguished with the help of different drying techniques employed by the company during the manufacturing process. HiCel is a spray dried product and is considered premium in quality due to the physical properties of the product such as particle size, density, flow, tableting properties, etc. AceCel on the other hand is manufactured through bulk drying process. It also manufactures various grades of this product in combination with various chemicals like colloidal silicon dioxide, carboxy cellulose sodium, mannitol etc. to cater to the growing market of the co-processed excipients.
Manufacturing facilities
The company has three manufacturing facilities situated in Hyderabad and Gujarat. Presently, they manufacture 50 different grades of MCC with an aggregate installed capacity of 11,880 MTPY and premium grade microcrystalline cellulose 1,080 MTPY. Their facilities are EXCiPACT GMP, SGMP, HACCP, EDQM CEP, and ISO 9001:2015 certified.
International Footprints
Sigachi exports approximately 60% of its products to global regulated markets in 40+ countries worldwide.
High Dependence on Pharma Sector
Though the product of the company is used across several sectors, however, the company derives 75% f its revenue only from its Pharmaceutical clients. The food and nutraceuticals industry contributed 10% each and the remaining 5% from the Cosmetic Industry
Diversification Efforts
In the year 2000, with an aim to diversify its business activities, the Company started manufacturing premium grade microcrystalline cellulose by successfully commissioning a spray drier and a multi-fuel furnace and later increased its manufacturing capacity from 720 metric tonnes per annum to 1080 metric tonnes per annum.
Contract Manufacturing
The company also entered into operations and management agreements with Gujarat Alkalies and Chemicals Limited ("GACL") for operating and managing the manufacturing units owned by GACL and for contract manufacturing of sodium chlorate, stable bleaching powder, and poly aluminum chloride in the said units.
Supplier Concentration
The major raw material of the manufacture of MCC is wood pulp sheet and the company imports the same from Canada, South Africa, Thailand, Indonesia, and America. Its top 5 suppliers accounted for 66% of the total purchase and the company hasn't entered into any long-term agreement with any of its suppliers.
Sigachi announced today that it is venturing into the human nutritional segment, with a prime focus on B2B markets, in India and across the globe.
Alongside pharma, Sigachi will be now expanding its horizon by
exploring nutritional markets in India and across 45 countries, where it currently exports.
The product portfolio will widely incorporate spray-dried ingredients, micronutrient
premixes, encapsulated ingredients, granulated ingredients, and triturates. With these
ingredients, Sigachi is looking to deepen its relationship with its current customers in
Nutraceuticals, Bakery, Dairy, Infant and Medical Nutrition, Confectionery, Savoury and
Snacks, and Beverages sectors.
Update from CEO:
Commenting on the launch of the new segment, Mr. Amit Raj Sinha, MD & CEO,
Sigachi Industries Limited said, "We see this expansion as a natural step in accelerating
our growthtowards our vision of being a market leader in the manufacturing and supplying
of multi-facet ingredients and offering tailored solutions that meet customer requirements
across the Pharmaceutical, Nutraceutical, Food Ingredients & Nutrition industries."
"With our strong manufacturing background and excellent technical capabilities,
coupledwith deep understanding in the nutrition segment, I am confident that we will
delight and serve top customers across the globe with our nutritional ingredients
henceforth," furthersaid Mr. Sinha.
According to Market Study Report 2020, the worldwide human nutrition market was worth
USD 252 Billion and is expected to grow substantially. The markets can be broken
down into various application segments namely Dietary Supplements, Functional
Nutrient, Early life Nutrition, and Packaged food & beverages.
Industry Forecast
Microcrystalline Cellulose Market size is forecast to reach $1.4 billion by 2027, after growing at a CAGR of 6.8% during 2022-2027. The growth of the microcrystalline cellulose market is mainly driven by the rising demand for packaged food and the growing production of pharmaceutical and cosmetic and personal care products. It is used as a substitute for unhealthy fat and adds texture to baked food products. The product contains a significant amount of fibers that helps to enhance digestion, it also acts as an outstanding nutrient source to a variety of nutrients. A rapidly growing population, increasing obesity diseases and shifting consumer expectations of healthy food would drive product consumption.
Microcrystalline Cellulose Market Challenges
Availability of substitutes
Microcrystalline cellulose, as such, has no replacements available. But there are a variety of goods that are better than MCC and have very particular applications. Carboxymethyl cellulose (CMC), kappa-carrageenan, and croscarmellose sodium are only some of the products available (CCS). To stabilize emulsions in food products such as ice creams and baking products, CMC is used in food & beverages. CMC is also used as a disintegrant, stabilizer, binder, and suspension agent in pharmaceutical applications. Plant-based Guar gum can also be used in ice creams and other dairy products in the food & beverage industry. The current high market prices of guar gum, however may to some degree suppress its demand. In the long run, if the price of guar gum decreases, the growth of the microcrystalline cellulose market would have a negative effect. Therefore, the availability of a possible replacement for microcrystalline cellulose may have a significant effect on the market growth.
Market Landscape
Technology launches, acquisitions and R&D activities are key strategies adopted by players in the Microcrystalline Cellulose Market. In 2019, the market of Microcrystalline Cellulose Market has been consolidated by the top five players accounting for xx% of the share. Major players in the Microcrystalline Cellulose market includes DowDuPont, Asahi Kasei Chemicals Corporation, Rayonier Advanced Materials, Roquette, DFE Pharma GmbH & Co.KG, JRS Pharma GmbH & Co.KG, Avantor Performance Materials Inc., among others.
On the Quantitative front, below are the numbers.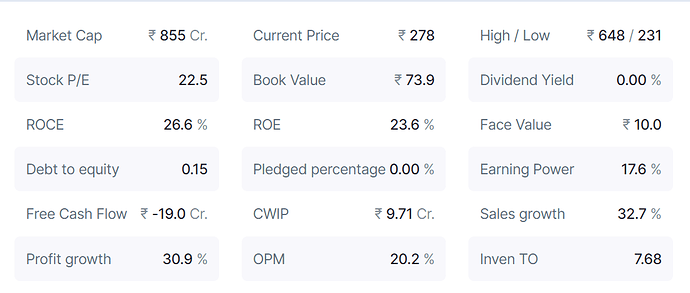 Overall, this company looks good to me as of now because of its good numbers last few years and its competitive advantage on this space. I haven't done detailed analysis on this yet. But still creating this thread to see different views from VP members. This is my first topic creation in VP and these are my early days in business analysis.
Disc: Tracking, Not invested.