Siddhika Coating Limited
Listed on NSE Emerge, lot size 2000
Siddhika Coating Limited is India's largest texture paint contract company in single brand segment. Siddhika is marketing & application partner for SK Kaken Ltd. Japan, having its headquarter based in New Delhi and more than 10 branches all over India including Mumbai, Bengaluru, Hyderabad & Kolkata. Its association with SKK is for more than 18 years. SKK is reputed name worldwide in the business of Architectural Coatings, Supplies & Applications.
The company is managing more than 5 million sq. ft. of contract work annually with SKK Products. Their clientele includes most of the prominent architects & developers along with many major institutions, IT Companies, Business Park Developers, and Hospitality Leaders. They provide their services to almost all segments- commercial, residential, institution, factory and even individual houses. They claim that almost 70% of our business comes only from repeat clients year on year. They target to double the quantum of work in the next 3 years with expansions on territorial grounds and product portfolio.
Product portfolio is available in this brochure:-
Siddhika Brochure.pdf (2.9 MB)
Financials: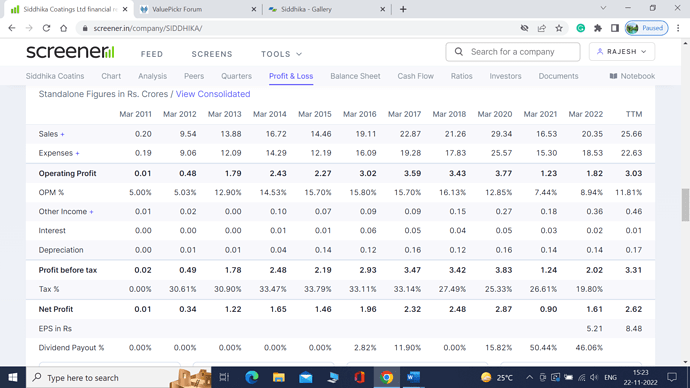 Key Takeaway from Financials:
The company has been profitable throughout, in good and bad times.

The company touches a topline of almost 30 crores and profit of 3.8 crores in 2020, before covid.

The operations were disturbed in covid times, leading to drop in topline; nevertheless the company remained profitable.

In normal times, the company is showing a profit before tax margin, upward of 10%.

The company has been paying dividends. In 2021, it paid Rs. 2 per share, and in 2022 it paid Rs. 2.4 per share dividend.

In H1, 2023 the company has declared a topline of 14 crores and net profit of 1.35 crores and eps of Rs. 4.37. Thus, with slightly better H2, we can expect an annualised eps of Rs. 10 in FY 2023.
Valuation:
The company has an equity base of 3.1 crores. Thus, at Rs. 135 current market price, the market cap is around 40 crores. Taking current year sales at 30 crores, and eps of Rs. 10; the valuation looks very attractive- merely 1.3 times sales and at a p/e of 13.5. Based on past dividend payouts, we can expect Rs. 4 dividend, leading to a more than 3% yield.
Combined with the management goal of doubling sales in 3 years, we have a very attractive growth share at a very reasonable price.
Basis of Investment:
There is only one basis of investment in the company- it is fast growing small company, which is growing without much debt infusion and with decent profitability. If such growth continues for a few more years, it can prove to be a decent investment.
Risk:
-Investment in nano caps can lead to 100% capital loss.
-We dont know the SKK plans for India going into future.
Disclosure- Invested