The Top performing sectors now also includes the top performing stock for that sector. Just click/hover on the sector.


Dropped the Relative/Absolute switch under Historical sector charts. Guess it was confusing. The only control now is for customizing sectors.
Added top stocks (market cap > 1000 Crores) for the trailing year under Stock & Sector Trends The start of the trend is identified using machine learning. It's a bit experimental - please let me know if you see any issues.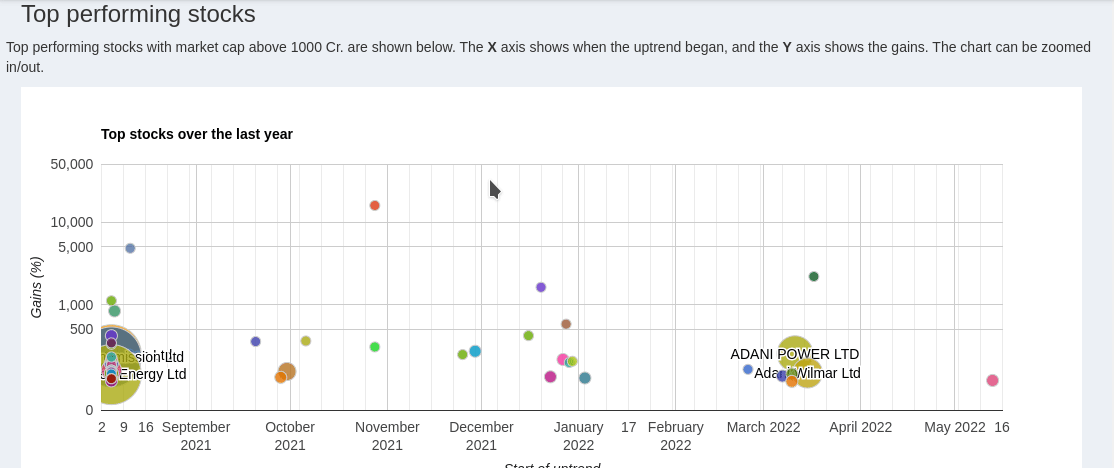 The Top performing sectors now only shows stocks with market cap > 200 Crores. A lot of microcaps were showing up earlier.
Added Recent trending stocks & sectors to the Trends page. Trending stocks are found using a combination of technical indicators (200 vs 60 day crossovers and RSI) and machine-learning indicators (gradient). Clicking on any of the sectors will filter out the stocks from that sector.
The Historical sector charts has been shifted to its own page.

Fixed an issue (calculation error) with the Trends page, it will show up tomorrow morning. The Trends page updates every Monday morning. The Market Health and Historical sector charts updates on Sunday mornings.
Under Stocks, the Shareholding and Pledge charts no longer show zero/empty values. So the charts should be more readable now.
Recent trending stocks has been restricted to 100 stocks. Sectors with low number of trending stocks are removed to fit the limit.
Recent trending stocks now shows upto 200 stocks. The chart may be a little crowded, but upcoming sectors will show up.
Last week saw a broader upmove compared to the week before.
I have tweaked the algorithm for recent trending stocks.
With the rally getting more broad based, 200 stocks just can't summarize it all. I have added a second level filter based on their most-recent 60-day RSI. Hopefully these 200 stocks will be more relevant, but a lot of sector outliers will show up.
New feature added : Announcements
Corporate announcements from BSE tagged into categories.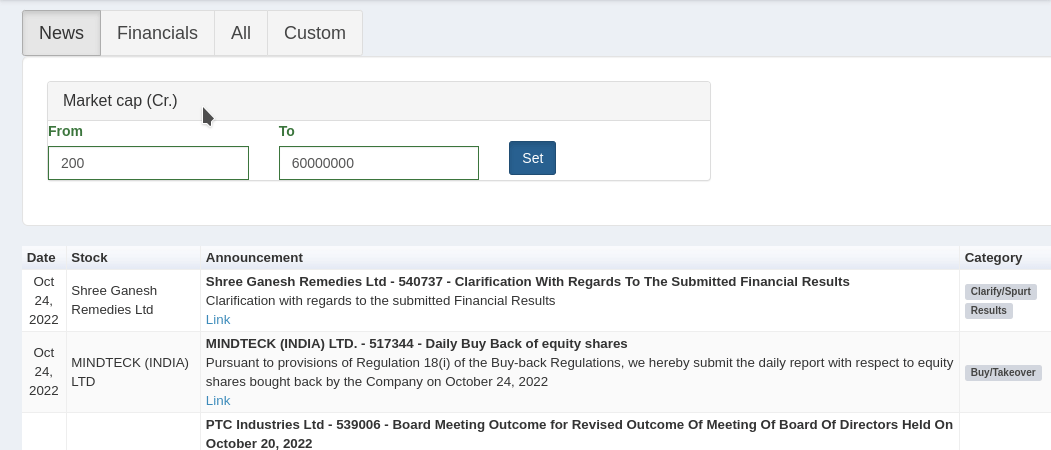 Now announcements also on a per-stock basis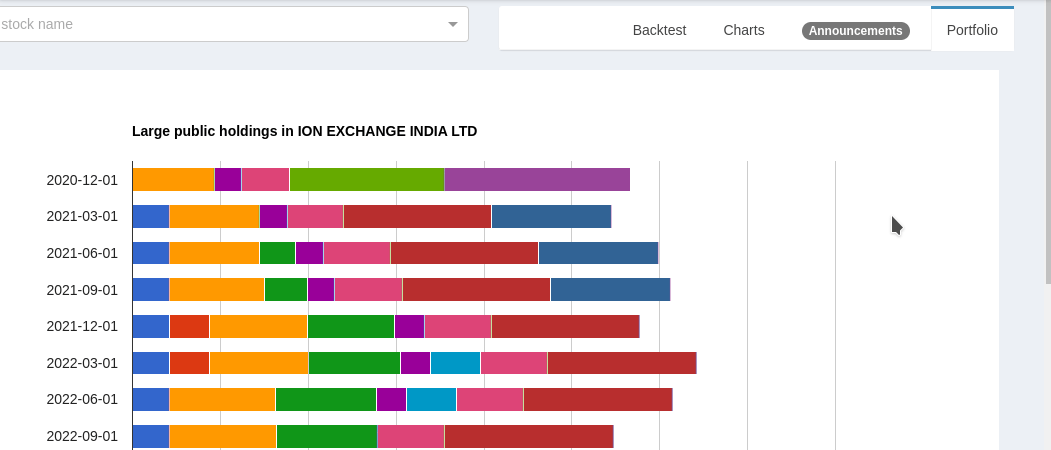 1 - Are you looking up keywords only in Announcement text or also in the attached PDF/PPT Documents?
2- You should also add a Search Box so user can search for Specific keywords for a Specific Company.
3- Are you also going to add Email Alerts if any new entry comes in a particular category for a Particular stock?
Only announcement text for now. Document analysis is in the works.

I am on the fence on this - whether to add search functionality. I feel tagging is better because it covers a lot of ground, and works like a curated search. Would you have a use case for searching within a specific company?

Alerts will come, maybe by mid next year. I have a lot of features planned before that.