20k audio …how you comepare with saregama?
Shemaroo Q1FY22 earnings call notes
For Q1 FY22 expenses on the new initiatives net of revenues were at Rs. 16.6 crores. If you were to adjust for these investments in new initiatives, the adjusted EBITDA from the existing operations would have been approximately Rs. 24 crores for Q1 FY22, representing a margin of 32%.

Digital media revenue stood at around Rs. 40 crores, which were up 19% year-on-year. Traditional media revenues stood at Rs. 34 crores, which were down 34% year-on-year.

Due to the advent of the second wave of COVID-19 and the resultant lockdown, advertising subscription and syndication revenues continue to remain under pressure for this quarter, and this impact was felt more in traditional media than in the digital media.

Further, on the digital media front, I am happy to report that the digital media revenues are back on the growth track, despite the impact of the loss of revenue from the Telco business over the last few quarters. This has been driven by the strength of our content library, newer revenue streams that we have been able to build, and of course the sector's underlying growth

we crossed 53 million subscribers on our YouTube channel FilmiGaane, and the channel continues to be the 21st most subscribed channel in the world.

Shemaroo was also the distribution partner for a docuseries titled Alma Matters: Inside the IIT Dream released on Netflix.

We also rolled out ShemarooMe B2C strategy this quarter on the back of ShemarooMe Gujarati with an impressive line up of direct to digital movie releases and original web series with leading star cast. This was aided by an extensive marketing campaign, both on television and digital media. Through this we intend to make ShemarooMe the most prominent OTT video destination for the Gujarati audience.

ShemarooMe also partnered with Zain STC and Mobily in Saudi Arabia, and Etisalat in UAE.

Further, for the global distribution of ShemarooMe on Android TV devices, we have partnered with ZESAN, a smart TV solutions provider.

On the broadcasting venture front, we continued investing into our broadcasting channels Shemraoo MarathiBana and Shemaroo TV. While both the channel witnessed an uptick in monetization through advertisements, the second wave of COVID-19 affected the advertising spends by brands in this quarter.

Shemaroo MarathiBana maintain consistent ratings throughout the quarter and has built a strong connect of the brand in a very short period of time.

Though Shemaroo TV started in a challenging economic and competitive scenario, but the company is strengthening its proposition through a focused approach towards building programming, marketing and distribution

18 to 19% IRR on inventory is something what we will be able to maintain for even this year.

from the digital media business, YouTube would be now at about between 50 to 60% of the revenue, Telco would be roughly in the range of about 10 odd percent and the rest would be combination of syndication and ShemarooMe.

We had some carry forward deals of previous year, which were kind of booked in the Q1 of FY21, if we take that effect off, we probably would have a marginal growth on a year-on-year basis.

Debt on June 30th, that is Rs. 257 crores. March was Rs. 268 crores. So, it is about Rs. 11 crores lesser. Based on everything we are seeing right now, we believe that the debt has peaked off probably in the Jan to March quarter. We think that there is definitely over the next few quarters as some of the businesses say, at least even if the economy comes back, I think there is good room for unwinding of debt.

core business margins are actually between 25-27%, although this quarter we did even more than that. But still what we have been talking of, it is the new investments which have weighed down the overall profitability itself. Since we have treated all these expenses as revenue expenditure none of them have been capitalized. So, that's one of the reasons why the margin picture is looking lower than what the core business has been kind of generating.

Broadcasting business originally we were looking at a much shorter break even path. But obviously COVID and the whole ad spend scenario, thanks to COVID, has changed that and in fact, last quarter also there was a discussion on this, and someone had asked this question and I had said that because of the wave two something that were probably looking for a breakeven as early as Q1 or Q2 in one of the channels of FY22 maybe shifted by a three to maybe even six months, somewhere in that range. So**, both the breakeven have in a way moved three to maybe six months**.
Let's hope for the best.
A lot of subjectivity in the accounting so not much confidence in their reporting. A better way to judge this company is by the cash flow.
Good set of results, business seems to be coming back. Here are my notes from their concall.
FY22Q2
Expenditure on new ventures was 16cr. in this quarter
Digital revenue breakup (47.1 cr.):
o Youtube: 50-60% (~24 cr.)
o Telco ~ 10% (~4.7 cr.)
o remaining is from Synidcation and ShemarooMe
Will not give a timeline to break-even operations of the TV channels
MarathiBana has gained considerable mindshare among Marathi movie watchers, have invested a lot on disruptive programming
Earlier business model involved lot of trading of acquired content (i.e. syndication) which is now being shifted to using more of the content for own B2C initiatives
Hindi TV channel doesn't consume movie inventory
Disclosure: Not invested
Average set of numbers, digital revenues doing well but traditional revenues again hit. Here are my notes from their concall.
Expenditure on new ventures was ~20cr. in this quarter (up from earlier levels of 16cr.). Expenditure will depend on cash being generated from core business rather than borrowings
Digital revenue breakup (47.6 cr.):
o Youtube: ~66% (~31 cr.)
o Telco <10% (~4 cr.)
o Syndication & ShemarooMe: remainder
o Got into a strategic tieup with spotify for Bhagvad Gita podcast
Confident of breaking even in the two TV channels in FY23
Debt is 248 cr., inventory has come down to 700 cr.
Ranking and ratings of MarathiBana has remained stagnant due to launch of new peer (Sun Marathi). 4 marathi channels in the free domain
Shemaroo TV has got more traction
9MFY22: Advertising led business has grown faster than industry (35%+) but subscription based business has degrown significantly. Syndication business has shown minor growth
ESOP approval has been taken to attract new talent
Continuously invests into new initiatives, like launched dubbed Korean content on TV
Disclosure: Invested (position size here)
What's impressive that are able fund their OTT business through internal accruals. Other business are firing all cylinders to fund such consistent investment.
What's stops Shemaroo from producing series for Netflix and all (similar to Tips industry). I just don't get why management wants to compete with all biggies (OTT)
Why don't just produce content publish it every where.
Still find it to be very undervalued company
4 channels (sony pal ,star parvah etc) has withdrawn from dd free dish , as per some articles on internet they were getting around 1000 crore of revenue from advertisement , (can some pie shifts to Shemaroo tv?) , Also some news of new Shemaroo channel soon to be on air on dd free dish
Average set of numbers again, key highlight was launch of new TV channel in Hindi GEC space to take advantage of withdrawal of 4 channels from FTA space. Notes below.
Expenditure on new ventures was 14.1 cr. in this quarter and 67.3 cr. in FY22. Expect this to be ~50 cr. in FY23. Although, in Q1 this will be higher due to launch of Shemaroo Umang
Digital revenue breakup (47.1 cr.):
o Youtube: 50-60% (24-28 cr.)
o Telco <10% (5 cr.)
o Syndication & ShemarooMe (remainder): 14-18 cr.
Confident of breaking even in the two TV channels in FY23
Debt is 248 cr., inventory has gone up to 715 cr. (from 700 cr. in last quarter)
Shemaroo TV viewership has doubled in last 9-10 months, this generally leads to revenue traction with a certain lag. Shemaroo TV is positioned towards male target audience (crime shows, etc.)
Launched third satellite Free-to-Air channel (FTC) named 'Shemaroo Umang' in April 2022 in Hindi GEC space (slightly different from Shemaroo TV as Shemaroo Umang is positioned towards female audience, drama shows). This was on back of exit of 4 major GEC channels from FTA space. In FTA space, there is 2'500-3'000 cr. advertising pie (the 4 GEC channels were accounting for 1/3rd of this). Tactically, it made sense to launch at this point of time as DD free dish auctions happen only once a year
Competitive market dynamics in MarathiBana? Currently there are 5 Marathi movie channels (3 from Zee) and 6th one will be launched soon. In free-to-air, there are 4 Marathi channels out of which Shemaroo is one (1 is GEC rest 3 are movie channels). Of the total advertising pie, management thinks that 20% of this would be going to FTA channels
Currently, Shemaroo TV (Hindi GEC channel) is doing better than MarathiBana
Expecting challenging quarters from advertisers in FMCG and auto industries in next 2-3 quarters
Traditional Syndication: Back to 60-70% of FY20 levels. It will not go back to earlier levels because of management's focus away from this business line. A lot of content which was earlier syndicated is now used exclusively for own B2C initiatives
Expect ROEs to come back to 15%+ levels in 2-years
Disclosure: Invested (position size here, no transactions in last-30 days)
Another average set of numbers from the company, company is finding it hard to go beyond 100 cr. of quarterly revenues. Key highlight for me was that their broadcasting business will breakeven this quarter.
Expenditure on new ventures was 14.4 cr. (vs 14.1 cr. in FY22Q4) in this quarter. Expect this to be ~50 cr. in FY23. Will break even on TV broadcasting business (Marathi Bana, Shemaroo TV) by end of current quarter
Digital revenue breakup (48.1 cr.):
o Youtube: >60% (29 cr.+ vs 24-28 cr. in Q4FY22)
o Telco <10% (4.8 cr. vs 5 cr. in Q4FY22)
o Syndication & ShemarooMe (remainder): 14 cr. (vs 14-18 cr. in Q4FY22)
o Confident of growing this business line by 20% CAGR in next 2-3 years
Debt is 268 cr. (vs 248 cr.), inventory has gone up to 719 cr. (vs 715 cr.)
Shemaroo Umang started at

#2

ratings and monetization has started in July 2022
Shemaroo TV ratings have increased by 70% from bottom reached 10-11 months back, advertising revenue comes with a 6-8 weeks lag
Shemaroo Marathi Bana: channel number was changed due to technical changes and Shemaroo lost 70-75% reach because of that + Star launched a Marathi movie channel. Shemaroo brought in episodic content to increase viewership. Surpassed earlier viewership numbers because of that (revenue should follow with a 6-8 week lag). Experimented with devotion content which delivered very good nos, then followed it with devotional serials (Ramayan dubbed in Marathi), and now trying general serials
ShemarooMe Gujarati has played out very well and company has captured a very large mindshare
Advertising pie: GEC (7'000 - 8'000 cr.), Marathi (900 - 1'100 cr.). From the three TV channels, combined revenue potential of 300+ cr. is possible in next 2-3 years
Launched telugu services in USA; tied up with a large telugu partner in India, used own marketing team in USA, currently free for trial until 15th August
In traditional media, syndication was a smaller contributor and most contribution came from broadcasting business
Performance linked incentive is paid in Q3, so that quarter will always have higher employee costs
Have not written off any inventory excluding the normal charging of inventory. Working on a new inventory policy as they now have newer revenue streams, nothing is finalized yet
Receivables are around 60 days
Disclosure: Invested (position size here, no transactions in last-30 days)
Have been going through the thread and unable to understand why the stock declined after 2018 peak so dramatically and in a way fashion.If someone could help me understand, seems like content can be made more freely with covid restrictions gone and with B2C pivot can be good for the long haul.
Not invested studying for now.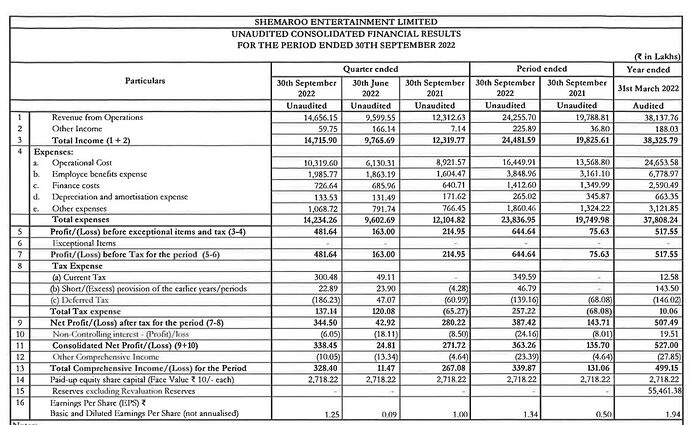 Big jump in the revenue both YoY & QoQ. Operating profit also increased considerably in percentage terms.
Can't able to make as to why the sudden jumps in exependitures in 2nd quarter of this financial and last financial year. Is it because of company charging capital expenditure in P&L to avoid taxes? If so, then it seems to be bumper results.
There are 2 major conerns. Inventory continues to the tune of Rs 700 Cr. Although, management gievs explanation in every concall, but still it is not clear to me. Second is hugh increase in receivables.
Disclosure: Invested, No transaction in last 30 days.
Reasonable set of nos, growth seems to be coming back which has increased working capital (thus short term debt). Concall notes below.
Expenditure on new ventures was 16 cr. in this quarter (H1 expense ~ 31 cr.)
Contribution of B2C revenues in total revenues has doubled in H1FY23 (vs H1FY22)
Shemaroo TV delivered higher rating versus previous quarter. Shemaroo TV and Shemaroo Umang have consistently being amongst top 5 channels in the FTA GEC genre
On track to operationally breakeven in H2FY23 for TV channel portfolio
Launched free ad supported streaming TV channel called fast channel on Plex platform in USA, had music licensing partnership with Resso in India and partnered with Seracle web 3.0 to build own NFT market place
Increase in receivables is due to higher broadcast revenues (follows 90 days receivable). Broadcasting receivables are much lower vs syndication
Due to increase in working capital, debt has increased. Additionally, there was debt taken for purchasing a property. Interest cost will be 7.5-8 cr. per quarter
TV ad rates follow ratings and since ratings are improving, ad rates are also improving
Digital revenue breakup (64 cr.):
o Youtube: >60% (38 cr.+). Global slowdown has caused some slowdown in YouTube revenue pay.
o Telco <10% (<6 cr.)
o Syndication & ShemarooMe (remainder): 20 cr.
Disclosure: Invested (position size here, no transactions in last-30 days)
There was a good ramp up in revenues, but higher expenditure on business development meant bad profitability. It was interesting to notice that their Hindi GEC viewership share rose to 10%, given they had only started the broadcasting business in 2020. Notes from call below.
FY23Q3
Expenditure on new ventures was 22 cr. in this quarter (9M expense ~ 53 cr.). This is higher than projected 50 cr. for the entire year because they got the opportunity to ramp up market share in Hindi GEC channels from 6-7% to 10%. Additionally, advertisement was muted which resulted in shortfall of revenues corresponding to costs incurred. Advertisement is expected to be muted in the near term
Contribution of B2C revenues in total revenues has doubled in 9M FY23 (vs 9M FY22)
Shemaroo GEC channels have 10% of Hindi GEC viewership with Shemaroo TV and Umang being amongst the top 3 in FTA GEC channels
Borrowings stayed same as H1FY23, higher finance cost is due to higher interest rate
Inventory has come down to 697 cr. (from 701 cr. in H1FY23)
Disclosure: Invested (position size here, no transactions in last-30 days)
sometimes they sell just because the price is going down. However the underlying fundamental reason was quite obvious before the downmove.
Very good rampup in sales, with co reporting highest quarterly sales. Profitability is still elusive, and will likely remain elusive in the foreseeable future. Concall notes below
FY23Q4
Expenditure on new ventures was 1.1 cr. in this quarter (FY23 expense ~ 54 cr.). This is slightly higher than projected 50 cr. for the entire year. This will increase to 75 cr. in FY24 (will be front ended like in FY23) and will be funded via internal accruals
Focus for FY24 will be on free cashflow generation to reduce debt. Idea is to operate at a much larger scale with same inventory
Contribution of B2C revenues in total revenues has doubled in FY23 (FY22)
Higher revenues this quarter is partly due to ramp up of advertising in TV channels + syndication deals
Advertising demand will remain muted in Q1FY24, this coupled with continued investments in B2C initiatives will keep margins under pressure
Shemaroo GEC channels have 9% of Hindi GEC viewership (reduced from 10%) with Shemaroo TV and Umang being amongst the top 5 in FTA GEC channels (was earlier in top 3)
Broadcasting business is lower margin vs syndication but more capital efficient. Receivable cycle is around 90 days in broadcasting
Planning to launch more TV channels
Inventory has increased to 735 cr. (from 701 cr. in H1FY23 and 715 cr. in FY22). Inventory is near peak
ShemarooME has taken a poll position in Gujarati segment
In last 3 years, have invested 175 cr. in new initiatives out of which 143 cr. was invested from internal accruals. This internal accrual was generated out of the 700 cr. inventory, so inventory is getting monetized
PPE increased from 21.5 cr. to 35 cr.
Have hired a number of industry people across profiles
| - | Digital revenue breakup (53.3 cr.): |
| --- | --- |
| o | Ad rates have been impacted by lower spends from newer companies due to funding winter |
| o | Youtube + Facebook: 50-60% (26-32 cr.). Views and monetization has been impacted recently |
| o | Telco: 10% (5 cr.) |
| o | Syndication & ShemarooMe (remainder): 16-22 cr. |
Disclosure: Invested (position size, no transactions in last-30 days)