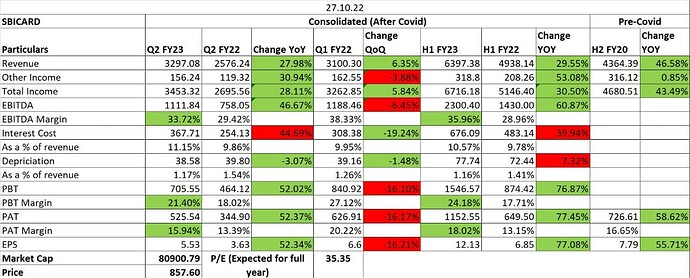 The management is hopeful of seeing increasing discretionary spends in the coming quarters.
Cost of fund is likely to go up by 40-50 bps and margins to be affected +/- 10 bps
Cost to Income will remain on an elevated level due to increased focus on new customer acquisition.
Healthy growth in electronics, hotel, restaurant, entertainment and furnishing segment
Credit Card base is expected to reach 750 million in 5 years.
Lower revolver, increase in CoF and regulatory restrictions on fees and penalties to act as near term overhang
Investments in marketing & distribution to aid improving trends in travel, hotel, leisure and entertainment spends
Steady market share, product launches and pick up in spends to gradually convert into revolvers, thereby aiding valuation ahead.
Revolver meaning that more customers started paying off their bills in the same month rather than rolling over it to the next month. Better cash flow.
likes of Cred making money or not but killing money-making chances of companies like SBI cards.
| - | No. 1 position in net card additions in FY23 |
| --- | --- |
| - | GNPA: 2.22%, NNPA: 0.8% |
| - | 1 million net card addition in Q3FY23. |
| - | 33% yoy growth in receivables. |
| - | 8% growth in retail card spends. Online spend increasing. |
| - | New accounts & corporate spends have also increased. |
| - | Average receivable per card has reduced. |
| - | SBI Card has partnered with Punjab & Sind Back to expand portfolio and is looking at other opportunities. |
| - | It is expected that cost of funds would increase by ~30-40 bps, in Q4 FY23. This would be largely off-set with the judicial pricing of new loan disbursals. |
| - | With the festive season behind, the company is expecting the cost to income ratio to decline, going forward. Credit cost will be below 6%. |
| - | They expect net interest margin to expand, going forward, with higher focus on the EMI lending as it yields a better margin. |
| - | Revenue growth/Earnings Growth: 20% growth in revenue for the next few quarters. |
| - | Expect revolver rate to expand. This is a good thing which means that customers will start paying more which will reduce receivables. |
| - | Want to maintain net additions of card 300,000 per month which they have maintained for the last few months and are planning to maintain for next quarters. Quarterly 1 million they want to maintain for net additions |
It's result time. Being a credit card enthusiast, I had bought the second best company SBI Cards in August 2022. Had it been possible, I would have bought HDFC cards since they are the best in their category. Let's deep dive into their business:
Starting with basics, a credit card is a financial instrument which gives you the power to purchase upto required credit limit even if you do not have money in your bank account
So consumers tend to use credit card to buy their latest laptops, iPhones etc. by swiping their credit cards and converting their purchase to either EMI or paying them full after bill is generated
How do credit cards make money? Majorly through 2 ways: firstly its via interest income and secondly via interchange and membership fee
Interest Income: Some intelligent folks pay their full month due at the onset of the billing period and hence do not incur any interest payment. They are known as transactor.
On the other hand, some folks with tight liquidity only pay the minimum amount due. Hence these folks shell out interest payments. They are known as revolver.
On the top of it, consumers who purchase via EMI, also pay interest payments. They come under the bucket of EMI. So revolvers and EMI are interest earning receivables
Apart from interest income, there is a subscription based income which is membership fee and annual fee. Thirdly there is interchange income
Interchange income is basically the share which SBI cards get every time you swipe your credit card on some retail counter. This turns out to be roughly ~0.8%-1% of the swiped value. Here is how the backend looks:
Interest payment is 46% of total income of 3656 cr in Q3 FY23. Subscription based is 26% and interchange is 28% of the total income
Amongst the interest income, there has been a decline of 35% in revolver portfolio. Hence the management is taking two pronged approach: improving the EMI portfolio so that the loss at revolver makes up in EMI & increasing sourcing for <30 years of age and self employed who will contribute to revolver.
Total receivables stand at 38626 crores out of which 61% is revolver and EMI and remaining 39% is transactor (which do not earn any interest)
Spends per average card is 179000 annually which includes both retail and corporate spending. Cards in force stand at 1.59 crores up from 1.48 cr in previous quarter
Total retail spends stand at 54000 cr and total corporate spends stand at 14000 cr. Here is how it looks:
Regarding the health of the credit, stage 2 and stage 3 receivables are 6.1% and 2.2% of the total receivables. Out of the total stage 2 and 3 receivables, 4.9% and 64.2% are kept as provisions.
Stage 2 used to be in 8%-9% range pre covid. Since it has been bought down to 6%, there would be lower credit costs in the coming quarter. The same has been voiced by the management in the concall
GNPA is at 2.2% of the book and NNPA is at 0.8% which is at quite an acceptable level. Regarding the NIM profile, it is at 11.6% which is down by 0.7% due to increase in cost of funding. Similarly cost to income ratio is at 62% which is up from 59.5%
The cost of funds has risen from 5.4% to 6.3%. This is mainly due to the fact that 65% of the funding happens via short term commercial papers. Hence the increase in repo rate is almost instantaneous in such cases
SBI cards added the net of 1.63 million cards in Q3 FY23. Of this 1.63 million, 49% came from banking channel which is up from 37% QoQ. In terms of sourcing, more focus is given on <30 years and self employed since self employed contributes highly towards revolver category
Given the high growth in receivables and cards in force, the credit card story is the long term consumption driven narrative which needs to be watched in greater detail to unlock the benefits. Given the huge difference between debit and credit cards, there is a lot of steam remaining to be exploited for credit cards
Here is the thread: https://twitter.com/manujindal2803/status/1622232871049240577
How revenue/cost model differ incase of cobranded credit cards. Do they share interchange fee with the partner?