I could not find discussion for Sakar Healthcare ltd so I am starting discussion for this tiny pharma company.
Sakar Healthcare Ltd established in the year 2004, Sakar is engaged in manufacturing of Pharmaceutical products providing Liquid Orals, Cephalosporin Tablet, Capsule, Dry Powder Syrup, Dry Powder Injections, Liquid Injectables (SVP) in Ampoules and Vials & Lyophilized Injections. Current portfolio of 123 product registrations(28 in pipeline) comprises mainly of 58 antibiotics, 10 analgesics, 6 anti-histamines, 5 anthelmintic and 5 anti Malarial drugs

It is Microcap company , having Mcap of nearly 85 crore at CMP of 65. Presenty listed on NSE emerge and Company planning to move it to NSE main Board.

Sakar Healthcare an ISO 9001:2008 BVQI certified company. Total four state of art manufacturing units which are certified by WHO-GMP, cGMP, in addition to the approvals by 'National Drug Authority, Uganda, Kenya, Yemen, Ethiopia, Congo, Ghana, MCAZ (Zimbabwe), Namibia, Nigeria & Cote D'Ivoire.

It also cater to Srilanka, Philippines, Vietnam, Cambodia, Sudan, Myanmar, Mauritius, and Costa Rica, Panama, El-salvador, Paraguay, etc. in Latin America.

Company increased Operating & net margin by Increasing share of Direct Sales and Export( 62% to 78%) compared to contract manufacturing(38% to 22%) in last 3 years.

Products :-
a. ORAL - LIQUID SYRUP & SUSPENSION
b. LIQUID INJECTABLE (SVP) - VIALS & AMPOULES
c. CEPHALOSPORIN - DRY POWDER INJECTIONS
d. CEPHALOSPORIN – ORAL SOLID
e. LYOPHILISED INJECTIONS (IN VIALS)

Following are clients of Sakar Healthcare for contract manufacturing
Zydus Cadila, Torrent Pharma, Intas, Claris, Merk
Indoco Remedies, Cipla, Stride Arcolab Ltd
Abott, IPCA, Biochem, Wockart
Manufacturing plant
Total Four Plant Plant-1, Plant-2, PLant-3, Plant 4 in Changodar, Ahmedabad.GUJARAT
Total area -10022 Sq M2
Plant-1 ORAL - LIQUID SYRUP & SUSPENSION
Plant-2 LIQUID INJECTABLE (SVP) - VIALS & AMPOULES, LYOPHILISED INJECTIONS (IN VIALS)
Plant-3 CEPHALOSPORIN - DRY POWDER INJECTIONS
Plant-4 CEPHALOSPORIN – ORAL SOLID
Overall Utilization around 57%.
Company willing to Venture in Oncology Generic Drugs with New Plant , Company has bought recently Land adjacent to Existing building for this new plant.

Promoter Increased Stake on capital infusion by buying 27.5 lac Share recently by Preferential offer @65 ( 55 Premium on FV10). Promoter are willing to spend this amount for Oncology Project.

Promotor has high stake of 71.82% in company & 10% stake are with big HNI/Institution investor so share is tightly held.

Promoters :-
Mr Sanjay Shah Managing Director Holds a degree of Master of Business Administration from Vikram University, Ujjain, Madhya Pradesh. Apart from that, he is also qualified in plastic technology.
Mr Aarsh Shah Jt Managing Director He is a Pharmacist and holds a degree of Master of Business Administration from University of Cardiff, UK.

Financial.
Good Revenue Growth with EPS growth.
-Debt is reducing.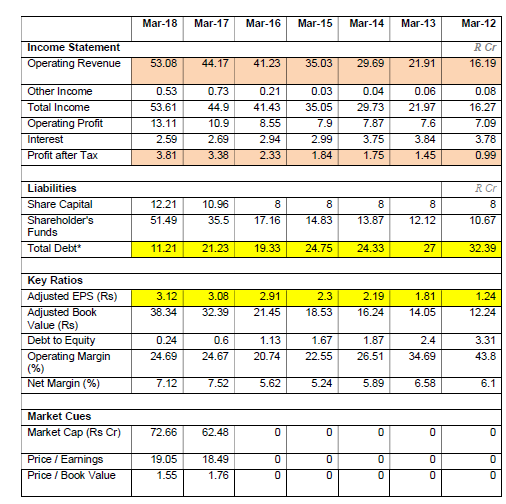 Risk Analysis :-
EU GMP registration still pending.
Tough competition in Domestic Market for local Brand.
Disclosure :- Have in Portfolio (5%) bought during IPO.