A bit of back ground to start with :
Starting in Stock market (year 2015-2018)
I have bought my first share ICICI bank on 23Mar2015 followed by Infosys. At that time both the stocks moving very slow and when you have entered the market your expectations were quite unrealistic as well. So, then I had bought the stocks based on tips from my uncle, friends, CNBC. As during this period midcap and small cap were doing well, I usually buy the stock and sell it once I have profit around 30%. I did not care to look into balance sheet, management or anything else. I wasn't aware about the market cap of the stock at that time.
Stocks traded during this time : Motherson sumi, Sona koyo, Texmaco rail, Sical logistic, Upper ganges, Aksh optifibre, Bhansali enginnering, VIP Industries, Minda corp, Rico Auto, Capacite, Jamna Auto, Meghmani etc
Midcap correction period (Year 2018-2020)
Initially I have booked profit in the stock from above list but then after Jan 2018 , there were few stocks left in the portfolio and I kept averaging down in the hope that these were the prices to good to ignore. Stocks in the portfolio : Meghmani, Tata motors DVR, Capacite, Hikal, HUDCO, Motherson Sumi, Srikalahasthi pipes, Gabriel etc. Most of these stocks were down more than 50%
Covid time (2020-Present)
From around 2019, I have started reading books One up wall street, common stocks uncommon profits, The little book of behavioural investing, Fooled by randomness, Dhandho, Value investing – Parag Parikh. Though I did not have an immediate impact of reading these books but somehow, it helped me to get the direction in investing. "5 rules of successful investing"(Thanks to @hitesh2710 sir) , "The most important thing" have the most impact on me.
Though midcaps have returned back in favor after 2020, but I had decided to sell them even in loss and enter in stocks where I have the maximum conviction. Because during this journey I did have some good stocks as well but I sold them with 20-30% movement because I did not have the conviction in them.
My Investing style:
Over years, I have realized what suits me. The market works in cycle, before 2018 small/midcap were firing then we had a period where quality stocks took over and in last 2 years again small/mid cap rallies. So, it is important that you stick to your style of investing. Investing is all about probability, it is very difficult for me to spot the winners early, identify the turn around story.
I would like to focus on my career and family at the moment after marriage, so it will be difficult for me now to go through every concall, Annual reports of all the companies. So I would like to keep investing simple where I will keep investing in Index funds and in well known companies when they are out of favor. My expectation is to earn ~15% but with minimum volatility.
TCS/Reliance has market cap of more than 10 lakh crore and many will join them in the list going forward, so I would like to buy established companies in the industry where it can keep growing. My preference is mostly companies in B2C segment, so I can judge the company as a customer as well. Few things I look while buying business :
Decent growth in sales/profit
Low debt
Consistent ROCE/ROE>=15
Consistent high Margin
Positive Cash flow
Current Portfolio :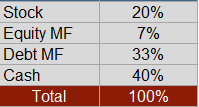 Apart from above I have significant stake in CSK through unlisted market, I have bought it during Covid times where it was available at around 2.5K crore market cap and I feel IPL can be really big similarly what we see in UK/US sports league.
Note : I know still the portfolio is not balanced, but I have started to build it from last year and I am not finding enough opportunity to add at the moment and that's why as can be seen in above table, still 73% of the money is either in cash or Debt mutual fund. Equity mutual fund is my monthly SIP in Nifty 50 Index fund, Nifty next 50 index fund, Parag Parikh fund.
I would like this forum to keep building my portfolio over time.
And lastly thanks Valuepickr forum, @hitesh2710 sir, @pratyushmittal sir for Screener (the best ever tool), @ranvir (really like your thought process), @Worldlywiseinvestors (for all your content) , @basumallick, @zygo23554