RM Drip & Sprinklers Systems Ltd. - The 'Micro' Irrigation Player
            **"When the well is dry, we learn the worth of water."**
                           **– Benjamin Franklin**

CMP – 57
MCap – Rs. 38 Cr.
NSE-SME Listed Company
Shareholding:
Promoters → 40,79,077 (60.97%)
Public → 26,10,923 (39.03%)
About the Company & Management:
The Birth - Established in 2004, headquartered in Sinnar (Nashik), RM Drip is promoted by Vijay Kshirsagar, Nivrutti Kedar and Arjun Makani.

Moving up the Value Chain - RM Drip has moved up the ladder steadily from doing Job Work for various micro irrigation companies to becoming OEM for larger micro irrigation companies like EPC Industries to finally becoming a full-fledged manufacturer of wide range of micro irrigation products.

Plant Details & Network - Company's manufacturing unit is located in Sinnar, Nashik in an area of 10,200 sqm. Company has presence in Maharashtra, Madhya Pradesh, Karnataka and Gujarat.

Products - The company's product range include variety of products viz HDPE Pipes, Pipes Fittings & Irrigation Equipments including Drip Irrigation Systems, Sprinkler Irrigation Systems, Disc Filters, Screen Filters, Hydro-Cyclone Filters, Sand (Gravel) Filters, Compression Fittings, Valves (Electrical & Mechanical), Fertilizer Tanks, etc.

A Fanatic at Helm -

In 2016, Mr. Shyam Sundar Dash (Age: 53 years), a Professional with 22+ years of experience in Micro Irrigation Industry and specialization in Flat Line Drip Irrigation, was appointed as MD of the company. His last assignment was as Head - Operations for Micro Irrigation Division in Nagarjuna Fertilizers & Chemicals Ltd. He has developed key contacts with numerous MNCs in the Industry viz MetzerPlas, Lego, Plasim of Israel, Maillefer of Switzerland, Crussmaffei of Germany and Davis Standard of USA over the years. He is truly a fanatic who knows a lot about the Industry and has left a fat salary to make the best use of his knowledge, acumen and contacts while satisfying his entrepreneurial hunger to elevate a small company & make it into one of the formidable forces in the Industry. He himself has a 10% stake in the company which shows his confidence and dedication to take the company to new heights in the coming years.

Post his appointment, company has also appointed Mr. Nikhil Kulkarni as Vice President- International Business to look after company's global business operations. Nikhil has 15 years of experience in business and management consulting. His last assignment was with E&Y and is highly passionate about agriculture. His contribution shall be immense in making RM Drip a global organization in times to come.
Sector Outlook - An Area with mammoth growth potential
India accounts for about 17% of the world's population but only 4% of the world fresh water resources. India is already declared as water- stressed country by international norms. With agriculture taking up majority of the water resources, it is essential to promote the judicious use of the water.

Cross country comparison of water use efficiency shows that India uses 2-3 times water to produce one unit of major food crops as compared to other major agricultural countries like China, Brazil, and USA.

Recognizing the importance of water as a critical input to agriculture, Government of India has taken many initiatives, one of which is Pradhan Mantri Krishi Sinchayee Yojna (PMKSY), to promote the concept of water use efficiency and realizing the goal of "Per drop more crop" and "Har Khet Ko Paani". The outlay for the five-year period starting 2015-16 has been slated at Rs. 50,000 Cr for the same.

With the need to increase productivity while saving water, Micro Irrigation will play a key role in agriculture in the future to meet the demand of the increasing population.

Nodal Agencies viz Gujarat Green Revolution Company (GGRC) and Andhra Pradesh Micro Irrigation Project (APMIP), have been created by states to promote Micro Irrigation by providing an Interface to the Micro-Irrigation companies and the farmers through use of strong Information Technology (IT) backed operations. Many other states are also starting to follow the model to promote Micro Irrigation in their states.

Benefits of Micro Irrigation include Increase in water efficiency, savings in consumption of Energy & Fertilisers, increase in Productivity, savings on Labour cost and Increase in Farmers' income (which is also one of the main agendas of the present Government)

Penetration of MIS is still very low in India. With half the cultivable land in the country still being rain-fed, there is mammoth potential for Micro Irrigation in India.

The Global MIS market is projected to grow at a CAGR of 18.3% from 2016 to 2021, to USD 6.81 Bn by 2021. Due to under-penetration of Micro Irrigation in India, growth in India is expected to be much higher. The medium-term potential of MIS in India is pegged at ~17MH (~Rs. 11,000 Cr) with long term potential at ~70MH. Out of the 70MH of opportunity, sprinkler share is envisaged at ~60% (42.5MH) & drip share at ~40% (27MH).
The more you read about this sector, the more you will like it!
Business Model:
The sales of the company are through Project Market Model (Subsidy Model) and Open Market Sales (Dealer Sales).

Open Market- Company sells its products to dealers who in turn sell it to farmers. Here, company gets the payment upfront / with a minimum credit period and the dealer is partly paid by farmer and remaining by the government subsidy.

Project Market- Company gets orders from farmers through Nodal Agencies of various states. Company installs Micro Irrigation Systems (MIS) for the farmers and gets part-payment from farmers. Remaining amount (subsidy portion) is paid by Nodal Agencies to the company in 4-6 months post compliance of terms & conditions of the scheme.

Since, a huge amount (50%-70%) of the cost of MIS accounts for the subsidy portion, a lot of working capital is required by the company for the business. Considering the delay in release of subsidies by the Government, it is normal for businesses in this industry to have high receivables. Since it is a working capital intensive industry, a growing company, in this sector, is required to constantly pump in equity or take debt.
Investment Rationale:
There are many positive tailwinds for the Micro Irrigation sector and the opportunity is huge. GST rate on irrigation equipment is 12% and an input credit of 6% is available making effective rate equivalent to the pre-GST VAT rate of 6%. Post implementation of GST, unorganized players will find it very difficult to survive the competition from organized players which will be very beneficial for the likes of RM Drip in the long term.

RM Drip is based out of Maharashtra where the State Government has made drip irrigation mandatory for sugar cane cultivation. Currently, sugar cane is grown over 9.42 lakh hectares in Maharashtra (2017-18) and only 2.25 lakh hectares is covered by drip irrigation. It will be hugely positive for the company.

Company has started operations in Gujarat last year where there are ample avenues to scale up revenues. Further, company has plans to expand its domestic presence in other states as well as increase the customer base in the states it operates in. Further, they are also exploring avenues to export their products. In future, company may also form JVs or do tie-ups with large companies (including MNCs) to scale to new heights.

Company is expected to maintain its growth and record H1FY18 sales of Rs. 22 Cr & full year sales of Rs. 55-60 Cr (Rs. 28 Cr in FY17) in FY18 with an EBITDA of Rs. 7.5-8 Cr & PAT of Rs. 4 Cr. It may be pertinent to note that interest rate on loans taken by the company may be reduced by banks which will reduce the finance cost & increase PAT margins.

With an expected EPS (FY18) of Rs. 6, the company is currently available at P/E of 9.5 vis-à-vis its peers which are trading at P/E of 30+.

In FY19, company can record sales of Rs. 90-100 Cr. With operating leverage kicking in, the EBITDA margins should keep increasing. Considering a modest PAT of Rs. 6 Cr. in FY19, the company is available at a P/E of 6.5 currently.

Company's current capacity is sufficient to generate sales of Rs. 120 Cr, post which the company shall have to go for capex.
It's a low hanging fruit which is waiting to be picked by Intelligent Investors.
Key Financial Indicators:
(Rs. in Cr.)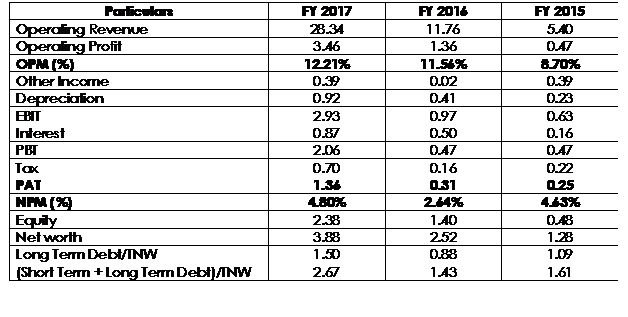 Risks & Mitigants:
High amount of Receivables as compared to the total sales of the company
Huge amount (50%-70%) of the cost of MIS accounts for the subsidy portion which is released by Government in 4-6 months. This is the reason for high receivables in the company. It is also the trend in this industry. Going forward, company is planning to further strengthen its dealer network & increase its open market sales which shall bring down the receivables to comfortable levels. This year, company expects the receivables to reduce to 20% of sales from last year levels of 24-25% of sales.
Delay in release of subsidies to Companies by Govt.
Micro Irrigation is government's thrust area and they are interacting with nodal agencies to resolve impending issues and also for early disbursement of subsidies to companies.
Company may face risk of erosion of EBITDA margins in case of increase in Raw Material (RM) prices
Major RMs of the company are LLDPE, HDPE & Master-batch. These are derivatives of crude (whose prices are expected to remain range-bound). Generally, there is not much volatility in prices of RMs. However in case of adverse increase in price, it shall affect all the players and the same shall be passed to end-consumers. Domestically RM is supplied by IOC, RIL, GAIL & Haldia and is also imported from Saudi Arabia.
Promoters have another company called KPR Drip & Sprinkler Systems Pvt Ltd which is in the same line of business
Company has confirmed that currently there are no operations in KPR Drip & Sprinkler Systems Pvt Ltd. Further, as per publicly available records, KPR Drip & Sprinkler Systems Pvt Ltd had its last AGM in 2015.
                              **"Don't let the future blow, Save H2O"**

Disclaimer: This note is not a research report but assimilation of information available on public domain and it should not be treated as a research report, investment advice or Buy/Hold/Sell recommendation. I am not registered with SEBI under the (Research Analyst) regulations 2014 and as per clarifications provided by SEBI: "Any person who makes recommendation or offers an opinion concerning securities or public offers only through public media is not required to obtain registration as research analyst under RA Regulations". It is safe to assume that I might have the company in my portfolio and hence my point of view can be biased. Investors are advised to do their due diligence and consult a qualified financial advisor prior to taking any actual investment or trading decisions.
Disclosure: Invested