**Background: **
Most of the listed PSUs have so many problems – Debt, no growth, stressed assets, issues in cash flow & RoE, Government interference, no pricing power or steady margins, employee cost drags, Plagued by cyclical commodity cycles…
What if there is a PSU, which has none of above issues, growing in revenue & PAT at a increasingly high rate and offers high dividends and guided by a transparent management improving productivity year on year….Welcome Rites ltd.
Rites Ltd is a Miniratna PSU, is consulting & engineering services company, specializing in Railways & transport infrastructure.
Rites Ltd got listed in May 2018, so information available on company is very limited from a historical sense. Information collated by me are from IPO RHP , annual reports, management concalls , interviews etc…
Highlights of RITES ltd :
Signs MoU agreement with Ministry of Railways for every year & takes advantage of market being a PSU (how refreshing for a PSU !)
Zero Debt, Cash rich (currently 1100 crores)
High Margins & ROCE -30%, ROE-20%
No impact from commodity or Impacts in BFSI area or global factors. Only & one thing that matters – Government vision in improving Railways; More the budget & project work in Railways & related sectors, more the growth & profitability
Business Services & Model
MoU Agreement: RITES ltd every year signs a MoU with Ministry of Railways with a revenue target set. So there is clear trajectory set for investors to evaluate yearly progress. MoU signed is only a minimum revenue target. In addition to MoU, they do win other projects domestic/foreign and also in non-Railways sector.
MoU Target for 2018/19 – 1760 crores
RITES achieved 2018/19 -1969 crores (11.9% more)
MoU Target for 2019/20 – 2300 crores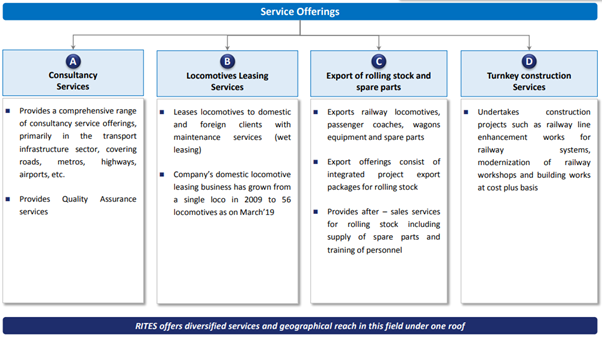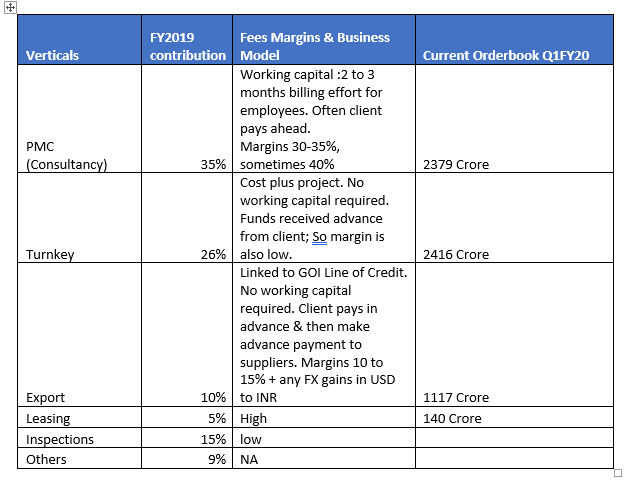 Governance:
Except for a handful of PSUs, in rest Governance usually is seen to be slack. It's also a parameter that's hard to gauge especially in a recently listed entity like RITES. Given this PSU is very similar to a IT company (only in Engineering services), there seems less bureaucracy & more transparency. I request fellow investors to look at conference call transcripts over last few quarters. Current CMD has been very forthcoming in answering all sorts of questions and answers at times go above & beyond expectations (in my opinion).
Productivity
Company has been improving their technology& becoming more digital in their operations including company-wide SAP based Enterprise Resource Planning (ERP); e-procurement for works, goods and services; mobile app for third party inspection services etc. Given most of the work is Project management consultancy, PMP training & certification aid are also given & encouraged along with host of other trainings.
Number of employees have not increased/decreased not even by 1% over the last 9 years. Yet, productivity per employee is only increasing year on year.
In FY19, income per employee was a incredible 67Lakhs.
My Opinion : Though its not apple to apple comparison…Likes of TCS or Infy being consulting companies have this number in USD but pound for pound, this stat for RITES is arguably better than them.
| | FY10 | FY11 | FY12 | FY13 | FY14 | FY15 | FY16 | FY17 | FY18 | FY19 | CAGR |
| --- | --- | --- | --- | --- | --- | --- | --- | --- | --- | --- | --- |
| E mp loyee | 3002 | 3134 | 3294 | 3247 | 3226 | 3227 | 3153 | 3200 | 3267 | 3223 | 0.79% |
| Income per Employee | 21L | 28L | 28L | 33L | 39L | 36L | 41L | 47L | 49L | 67L | 13.7% |
Opportunity
Opportunity size is humongous.
Slide from RITES corporate presentation: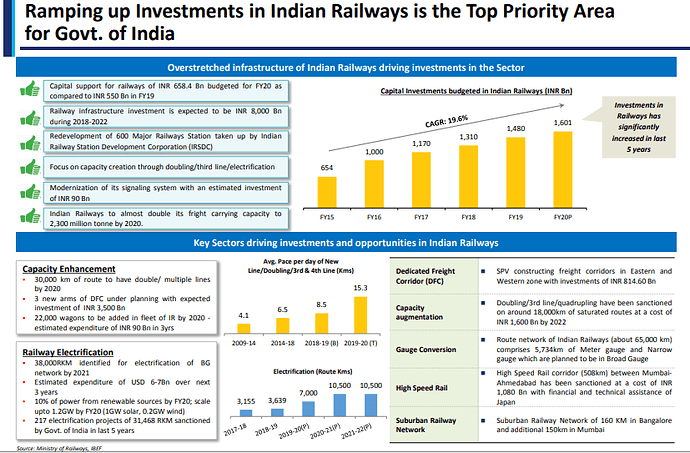 Best part about RITES is , given it does PMC work for Railways – Once a PMC work is done, as per mgmt, they are most likely to get a sizable pie from the actual project implementation.
Just couple of examples & opportunities:
Every Tier 2 or even Tier 3 are getting Metro lines. Rites almost does all PMC work for them. First they submit feasibility study & project report to Government. Then, Government takes the call to implement the project. Then bidding happens for end to end work. Now, Rites could get end to end from design to implementation or they could get just quality assurance or oversight work.
Japan based JICA has won the Mumbai-Ahmadabad high speed rail implementation. But to supplement this, RITES is doing turnkey project in Sabarmati for NHSRCL to convert legacy infrastructure of sheds & workshops. In concall mgmt also indicated other corridors are already in discussion phase like Delhi-Chandigarh-Amritsar, Delhi-Mumbai, Vijayawada-Hyderabad-Bangalore-Chennai. RITES will compete & bid for whatever work they could get in these huge scale projects.
DFC projects in other sectors & Electrification projects.
Non Rail - Interest in HAM road projects, Ports, waterways & airports - domestic or international
Station Redevelopment Opportunity:
This is a very interesting opportunity for RITES. RITES since IPO has been involved in buying a stake in IRSDC (Indian Railway Stations Development Corporation) SPV founded in 2012. As per latest call, worth of their investment will be 50crore in IRSDC (most likely 20% equity). Business plan is awaited from IRSDC. This deal seems very close to happen
Basically, IRSDC is a SPV to develop new stations & upgrade existing stations & monetise the real estate of a station in a PPP model. This SPV has been granted special power to develop stations without seeking local authorities approval.
Opportunity size is nearly 800 stations to develop.
RITES already got 80 crore of engineering solutions work from IRSDC for the 8 station project they got recently. They are also doing PMC work for Ayodhya & Varnasi stations which are at construction stage.
Whats in it for RITES : RITES mandate in these projects includes assessment of real estate potential, develop station scheme, engineering detailing, bid process management and Engineering project management.
Stock Performance :
RITES was 11 PE at time of IPO. Now, at 13PE.
Stock has appreciated 70%+ in last 1.5 years.
They have been paying dividends on every quarter
In addition, Government disinvested further 15% in market by offering bonus shares 1:4
Investment Thesis
Unlike Road projects, Rail based projects don't have major issues in terms of land ownership etc. Hence their implementation time frame of any rail/metro projects is reasonably quicker.
Government budget in railways has been increasing for the last 5 years & Government has the will to implement station redevelopment, high speed rail & bullet rail etc in coming years.
Ministry of Railways has given RITES, the job of developing a 'National Rail Plan' (NRP-2030) for India. Proposed NRP-2030 shall suggest Railway infrastructure to be created by 2030 with a horizon year of 2050. There is clearly a agenda to improve & upgrade railways in every aspect.
So for me, Railways as a sector is a major investment theme
In this, RITES is on top of the list, given their engineering & consulting moat, track record, negligible working capital, asset light, great financials etc etc…
Risks
Inherent risk of being a PSU , open to govt policy changes or possible lack of will with certain projects
Coach factories like ICF have said in past that they want to do the export sales themselves instead of being through RITES. Latest news reports also says that it is looking to integrate all coach factories and hive off its locomotive and rolling stock manufacturing units into a single entity called "Indian Railway Rolling Stock Company". There is not much information if RITES would be affected in such scenario.
References :
RITES Corporate presentation :
RITES_Corporate_Presentation_July_2019.pdf (2.2 MB)
Annual report 2018/19:
DISC : Invested since IPO & been buying on Dips (views biased)
Note : This is my first topic here. So feedbacks/comments appreciated