Instead of looking at historical metrics (PE, RoE, etc.), I am trying to look at this business from future perspective.
Raymond has an overall sales of ~ Rs 5600 Crores while the company is value at about ~Rs 2400 crores currently.
All the Raymonds brand have high recall - Raymond, ColorPlus, Park Avenue, Parx
This group also owns Kamasutra through a Joint Venture
It has been renovating its stores. Renovated stores are growing at ~25% to 40% when compared to single digit growth of other stores. Made to Measure (MTM) is at initial stage - positioned as highly luxurious (1.5 times of branded apparel) is at initial stage and could be an interesting driver.
I read the transcript of recent Analyst Call. Apart from the strength of core business, one thing that caught my attention was commentary by Mr. Bahl on the fact that the Management Team for Real Estate Business (starting with development of Thane Land). If you google for Abhishek Kapoor - CEO Raymond Real Estate, you will be able to locate his linkedin profile. His profile mentions - "Setting up the Real Estate business for the Group, starting with 146 Acre mixed use project in Thane.
Phase I is Residential Development with total construction area of over 3 million sq ft to be launched in 2016. With projected revenues of over $ 4 billion from the over all development this will be one the landmark projects in MMR region".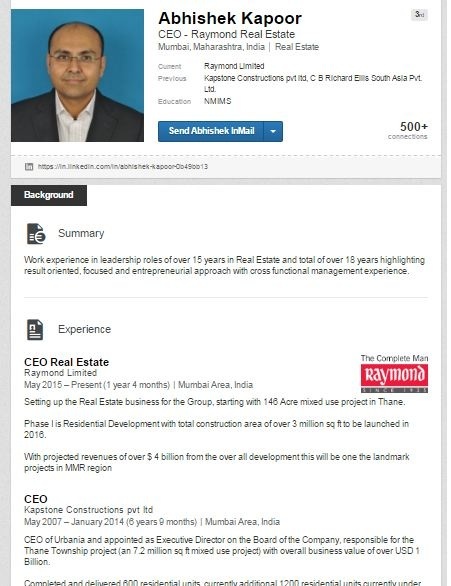 It comes out ~Rs 27000 crores (approx 185 crores per acre which seems very very reasonable in Mumbai (each apartments cost more than 1.5 to 2 crores)). A good portion of the cost in a Real Estate project is the land cost, which is nil in this case. The whole company is valued at Rs 2400 crores. Revenue from current business itself is 5600 crores. The renovated stores are generating 25% growth when compared to single digit growth of others. Plus add the revenues from the Real Estate development. Is one therefore looking at a multibagger in making here?
Disclosure: Own Raymond in the portfolio.