Hi
I worked on Ratnamani last year and I thought I would share the note I prepared on the forum.
I have not invested in the company. I am sharing it so that it may help anybody looking at the company.
Ratnamani_Valuepickr.pdf (462.3 KB)
Latest update on Capacity and Capex of Ratnamani from Investor Presentation.Anybody still tracking this company?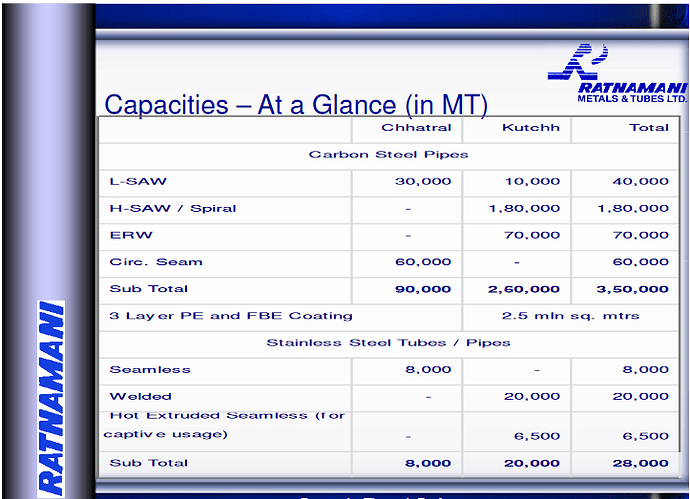 Q2 FY 20 Result
Total Revenue fell 14.7% YoY.
PAT grew 10.3% YoY mainly driven by lesser cost of materials.
This was a good stock operationally but promoters made some bad choices recently. They took 138 Cr loan when cash in hand was ample . Further the rate of interest is 10 percent while they invested 200 Cr in mutual funds daily dividend plan which gives only 4-5 percent return. This seems contrary to financial wisdom. Also the salary of promoters is 12 to 13 percent of npm which is very high and unnecessary
While I agree to your point on debt taken vis a via Mutual fund investment is not prudent decision, I disagree to point of salary. The managment has put really great efforts to bring company to scale and hence, in my pesonal view, I am not so much concern, particualrly when large portion of amount is accruing as commission. Since the resolution is approved by members in AGM (I know that promoter also vote than with their shareholding can easily manage to pass such resolution), I find that being a major factor for worry. Further, I get concern when management does not declare appropriate dividend and take large salary from business. In case of Rantnamani, the management has been reasonable while declaring dividend.

Above is FY19 salary details of management. Total Director Remuneration is around Rs 29.4 Cr of which Rs 25 Cr is by way of commission. Hence, nearly 75% being variable. In case profit decline, we would see drop in commission as well in my opinion. Further, even for management, when they take salary and commission, they pay nearly 30%+ plus as income tax.
There are various other ways by which management can remunerate themselves, which would mean very low income tax outflow and also limited knowlege to minority shareholders. For instance, having sole selling agent which is not a related party in company law definition but practically controlled by the managment or procurement agents. When management take large remuneration, I feel the tempatation to take money out of business thorugh other avenues get lower. This is my subjective assessment and it may be wrong.
Discl: Ratnamani is among my top 10 holdings for me. My view may be biased. Not a SEBI registered advisor, Not recommeding investment action in the company.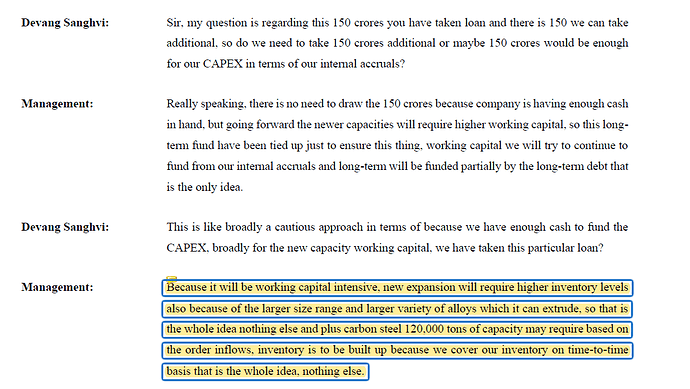 Ref : concall Q2 FY 20
i feel that is valid explanation given the high working capital requirement of the company …
@lifetrix … i have Flagged the same to observer the story unfold
Disc :: Invested
ref :: concall q4 2019
adding some more info on your point @dd1474 , this is a proactive step and much appreciated about the management…
there would be no one questioning them had they not take a cut…
Disc : invested
@dd1474
Since you are invested, have you computed Ratnamani's XIRR since IPO, like what you've done for other companies?
@sujay85
Find enclosed my working for calculation of XIRR for Ratnamani Metal. Key summary:
| Period-wise Performance | XIRR during period | Average PE | Average Div Yield | Average ROE | Net Profit CAGR |
| --- | --- | --- | --- | --- | --- |
| 1993-2000 | 23.0% | 5.41 | 6.3% | 12.7% | 10.8% |
| 2000-2010 | 47.1% | 9.02 | 3.8% | 21.6% | 44.1% |
| 2010-2019 | 28.7% | 16.35 | 1.4% | 17.7% | 13.4% |
| 1993-2019 | 33.4% | 10.91 | 3.6% | 18.5% | 23.6% |
Over 26 years, the company reported 33% XIRR, with average P/E ratio of ~11 times and Average dividend yield of 3.6%. ROE over 26 years are around 18.5% p.a., while net profit growth has grown at CAGR of 23.6%.
When we compare, these over various decades, we find consistent performance on ROE which has remained consistently over 15%, since 2000 with relatively consitent growth of the company whose performance is dependent on economy and oil sector. As a result, market has rewarded shareholder with consistent improvement in PE despite working Steel pipe sector.
I am enclosing my working for everyone reference.
Ratnamani Past return 1993-2019.xlsx (28.0 KB)
Hi @dd1474,
Started researching this co. recently. Can u provide sm insight as to how this co. is different vis-a-vis its competitors e.g. Maharashtra Seamless.
Wat is it that results in good ratios\performance of this co. against its competitors. My understanding so far is the diversified product-mix, bt wd like to know ur insights on if thr's smthng else that they do to create a moat over others
Another issue I see is that the inventory levels over last 5 years has risen far more rapidly than Sales growth. The co. takes some hit on P&L - 9 crs. this yr and 5 crs last year.
Not able to make out if this is genuinely a preparation for anticipated growth which doesn't materialize or some way of inflating assets…
Thr latest results again show rising inventory cost charged to P&L. My assessment maybe wrong as others wid understanding of business\industry might be able to clarify this. Bt from an accounting perspective - The inventories have been rising at a much faster rate than the revenues and that is a red flag!!!
Ratnamani is Asset heavy business and major business in oil and gas and major infra project. We could not see 1qtr alone and Q1 negligible . If I see last few qtr high inventory level need some concern …
Dis invested
It has been a concern for last 5 yrs if u notice. Now, I understand that thr was slow capex in oil and gas sector and all, but the co. was showing decent.revenue growth rate. That makes it more fishy
Hi,
Does this company also provide pipes for city gas distribution system.
Does anyone has its list of clients.
IGL, MGL, Adanigas, Gujarat gas are any of there clients of Ratnamani
Few Moats/competitive advantages
1…LARGE SCALE PRODUCTION
A…The largest manufacturer of Stainless Steel Seamless and
Welded Pipes & Tubes in India
B…The Country's largest manufacturer of Nickel Alloy Pipes &
Tubes and Titanium Welded Tubes
C…One of the major manufacturers of Carbon Steel Welded
Pipes (ERW, L-SAW & H-SAW)
=Considering its leadership
position in the domestic stainless steel pipe segment, we believe Ratnamani is best suited to benefit
from the impending revival in the domestic capex cycle in oil refinery, petrochemicals, power and fertilizer sectors
2…High quality and premium products
=Ratnamani metals and tubes ltd. as a company always adhere to high quality and specialized products for niche market which helps to maintain market dominance and higher margins
=The Company
has able to make difference through delivering premium products, offering wide product portfolio and
becoming preferred supplier. A decade of expansion and diversification later, company is at a very important juncture of record high order book as well as international orders.
3…R AND D
.But, what distinguishes us are robust R&D setups and testing cycles. Our battery of tests are rigorous enough to examine every aspect of the production cycle; they are sensitive enough to pick up the
smallest of variations from the norm.
We are so conscious of quality that we don't commit to orders if we are not absolutely sure
we can deliver to the highest standards. Of course, business volumes are important, but they
cannot happen at the expense of quality. It is this uncompromising attitude to excellence
that has won us hearts and smiles over the years, across the country and overseas.
.4…Diversified and customised products
=It offers product portfolio
in diverse grades with lots of customisation.
…RMTL's products portfolio
distinguishes itself from its peers both in stainless steel and carbon steel categories
=We have the reputation of being a one-stop shop; we can
deliver the most comprehensive range of products – be
it in size, or thickness or grade. Our production facilities
are also equipped to handle both small and large orders,
making us the most versatile producer around. An
ongoing L-SAW capacity replacement and addition
initiative will help us clinch larger orders in an expanding
market.
5…Niche products
It is a matter of great pride that we are the preferred supplier
in high-end niches like nickel, titanium and exotic steel
alloy products. We are also making a name for ourselves
with our ability to turn out products that rival the quality
of costly imported items, only at cheaper rates. Our
ongoing Stainless Steel capacity augmentation will add
further depth to that capability, enabling us to create
newer market niches. We are also engaging in capacity
conversion to take advantage of emerging opportunities.
With some modifications, Stainless Steel capacities can
be converted to manufacture Titanium Tubes, the
market for which is on the ascendant now. Being import
substitutes, Titanium products are considered higher
end compared to standard Stainless Steel Tubes.
5…Hot excrusion press
…The company has also chalked out plans to set up a hot extrusion facility for large diameter (dia) seamless stainless steel pipes and matching cold finishing capacity
…The new facility will be funded through internal accruals. This facility will make Ratnamani Metals the only player in India with the capability to extrude mother hollow pipes of up to 8" in diameter against the company's current capability of extruding tubes up to only 2" diameter.
… After commissioning the new facility, the company will be able to manufacture large dia pipes, which will ensure import substitution as well as further penetration of the export market," ICICI Securities said
6… Location
connectivity from Kandla and Mundra ports gives our
company the advantage of logistics and low transportation costs to keep prices competitive
7 …Low cost production in india
Disc…invested
Do we know if Ratnamani is able to pass on the rise in RM prices to its customers? Given the cyclical amd commodity nature of raw materials this is key for company in this industry.
They simply don't need to. As per management and their policy, as soon as the order is received Raw Materials are bought (or booked) immediately. This is the reason why their inventory is so high. They are almost immune to RM Price Fluctuations.
The GP varies not due to the RM Price effect, but instead due to the product-mix between Carbon Steel and Stainless Steel.
Disc…Not Holding