About the company
Rajshree PolyPack Ltd. is one of the leaders in manufacturing of Plastic rigid sheets and Thermoformed packaging products ranging from Yoghurt containers to coffee cups, Daily containers, trays, lids etc. The company caters to diverse industries like Dairy, Beverages, FMCG, QSR, Retail, Pharmaceuticals & Electronics etc.
The company has a good presence in thermoformed packaging (explained below). Almost every packaged curd container sold today, is developed by Rajshree. The clients of the Rajshree include several regional and national established names like Nestle, Gowardhan, Hatsun, Cream Bell etc.
The company also supplies to QSR and food delivery companies like Swiggy and Zomato. More on their clients later in this post.
The company has only two product segments
Plastic Rigid Sheets
Thermoformed Packaging
Let me explain both in detail.
The company manufactures plastic rigid sheets that it then supplies to various industries to be used further. This is the B2B and industrial side of the business.

The main growth area and sales for the company comes from its Thermoformed Packaging segment.
Thermoformed packaging, as the name suggests, is the process where rigid plastic is transformed into various custom thermoformed solutions such as trays, cups and other container shapes. If you have ever bought a packaged Nestle curd packet, the container that it comes in is basically thermoformed packaging. The product labelling is printed on the container itself and is not added separately. The technology to do this is not easily available only a few players possess this capability.
Rajshree got this technology via a Swiss firm that is invested in the company and sits on the board of the company.
Here are some of the products of Rajshree in the thermoformed segment.
Branded
For QSR and Food Delivery
Here are a few clients of the company (this is not an exhaustive list)
The company has great set of clients for its size (~100cr Market Cap). Also, every Kinder Joy sold is sold in a packaging developed by Rajshree.
The company has worked hard to build its clients and has shown its ability to sign up even the tough ones.
In one of their earlier conference calls (2018), management alluded how hard it was sign to Hatsun as a client. The company persisted and finally Hatsun was a client of the company in 2020.
History of the company
The company has a practice to keep upgrading its technology which has helped them lower its costs down.
The company's factories are based in Daman and an important point to note is that some of these factories are rented. The machinery is all imported and there was a case in recent history where one of the main machines faced a breakdown and the company had to depend on engineers flying into India to fix it. The company since then has employed more engineers, kept a stock of further spare parts and trained its mechanics to ensure such an incident doesn't take place again.
Areas I like
The company is one of its kind in India. Due to their technology tie up with Swiss firm and reliance on outside machinery they are able to onboard and retain premium clients which keep increasing the business with them.
The company has forayed into multiple segments including QSR and food delivery business which are sticky in nature. Here is the management alluding to the same in one of their conference calls.
The company has been increasing its sales rapidly and guiding for a above ~20% EBITDA margins (they currently range above 17%)
The company is leveraging its rigid plastic sheet business captively and foraying into multiple other sectors.
Further growth plans of the company
Marquee Investors
The mutual fund house y Prabhudas Lilladher and Sunil Singhania from Abakkus hold sizeable positions in the company. Abakkus increased its holding in the company last quarter and now owns 8.8% of the entire company.
Financials
The company is selling for ~1x sales and PE of about 13x yearly earnings.
Sales for the company has grown at a healthy pace, though have become stagnant for the last few years. 2019 was the machinery breakdown and 2020 was Covid.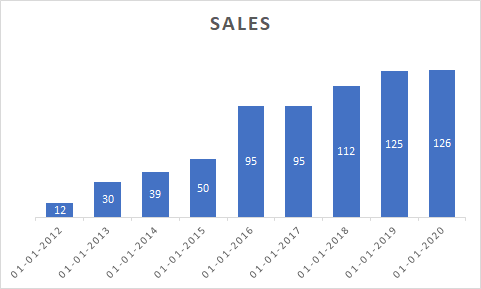 88% sales are in India and rest in export.
Borrowing are low at 8cr and reserves are high at 89cr. Assets on balance sheet itself comes to about Rs 72 per share. The Current Market Price of the share is ~120 (Good margin of safety).
About the Management
I will let the jockey talk about his company, here is a great video of him explaining the business in detail.
https://www.youtube.com/watch?v=xSKC6Nt-Ym4
The company has a habit of good disclosures and is conducting conference calls etc. even though its a microcap.
All details, conference calls, etc. available here Financial Results - Rajshree Polypack
Risks
Environmental impact of plastic remains and any government litigation against it can impact the prospects of the company.
Disclosure: Invested
---