Disclaimer: I am new to the investment and have only 1 year of experience. I have compiled most of the below information from DRHP of the company. I am not invested in the company but closely tracking it.
About
Dr. Ramesh Kancharla, a Pediatrician is the Founder of the Hospital. He went to UK for 8 years. He did specialty in the City of London in Pediatric, Gastroenterology, liver disease and liver transplantation. He worked in one of the world's best children's hospitals called Great Ormond Street Children's Hospital and the King's College Hospital, London. So, that's where he developed a deep understanding of children's healthcare and also how bigger it could be. With that deep understanding and he came back to Hyderabad and saw an opportunity to do a Children's hospital.
In 2013, UK Government fund CDC and Dubai's Abraaj Group have co-invested Rs 100 crore in Rainbow Hospital, which started as a 60-bed hospital in 1999 at Hyderabad, is currently having 1500 beds with 14 hospitals in 6 cities of India.
Why Children Hospital?
Treating a heart of the Child is like repairing engine of the flight when it is in the Air. - Dr. Devi Shetty
Children differ from adults anatomically, physiologically, immunologically, psychologically, developmentally, and metabolically. Hence, different treatment is required to cure ailments in children. The children's hospital is a very differentiated healthcare model because it requires a theme concept. And also, it's a child focus environment and also different infrastructure is required.
The children's healthcare requires some multidisciplinary approach. This is how it's been built, 100 years ago first hospital in Paris that recognized the child centric approach is the essence of children's hospitals. Worldwide children's hospitals were built on multidisciplinary approach and Company have taken a similar approach and built with teamwork and working together to have better outcomes for sicker children.
Hub and Spoke Model
They have successfully developed this model in Hyderabad. They have started a Hub Hospital of 250 bed in Banjarahills of Hederabad. As hub matures they have started spokes of 50-75 beds around fast growing areas of the City.
There are 4 levels of medical care services are available.
Primary Care

Secondary Care

Tertiary Care

Quaternary Care
Tertiary and Quaternary Care require high Capex.
The hub hospitals will have the large Intensive Care services, Pediatric multi-specialty services and Quaternary care services. Where in spoke have only secondary care services. They have a transport service from the hub hospital.
So, whereas the spokes provides emergency services dominantly both from Maternal and Pediatrics and a very large out-patient services, level 2 Pediatric Intensive care and level 3 in NICU care and the complete spectrum of Obstetrics care. Any complexity arises from the spokes will get referred to the hub, from the hubs our specialist doctors like Neurologists and Nephrologists go over to the spokes on a weekly basis to do the outreach clinics.
They will implement this Hub and Spoke model in other existing network cities like Bangalore, Chennai, Vijayawada, Vishakhapatnam and NCR.
Medical Care from Fertility to Child Care:
They offer comprehensive healthcare services with greater synergies across fertility to child care.
(i) Child Care: pediatrics, including newborn and pediatric intensive care, pediatric multi-specialty care services and pediatric quaternary care, where we also perform multi-organ transplants in children, and
(ii) Women Care: obstetrics and gynecology, including normal and complex obstetric care, multi-disciplinary fetal care and perinatal genetic care, as well as fertility treatment, where we offer a wide range of assisted reproduction treatments.
(iii) Fertility care
Management believed in is that Obstetrics is a very synergistic to Pediatrics and childbirth is always safer in children's hospital because, when you have a such a strong of Pediatric forte of level 3-level 4 Neonatal intensive care services and also of Pediatric multi-specialty program, we can address the problems much better during the pregnancy, at the time of birth, even post-delivery any problems of newborns will get addressed. . The whole system is very synergistic, complimentary and seamless.
Asset Light Expansion
Company operates hospital on lease basis, where the landowner develops building as per specifications of the company, which takes it on a long-term lease. Capital intensity in a leased model is approximately 50% lower than that of an owned model. Only 1 hospital in Vishakhapatnam out of 14 is owned. Company avoid doing land acquisition and construction as far as possible.
Market Size
In 2020 it's about $18.5 billion for the overall pediatric and obstetric market and private healthcare market was about $10.4 billion for Pediatric and Obstetrics which is growing by 2026 to $36 billion of which a private market is doubling to $22.3 billion with the Pediatrics segment growing at 14% and obstetrics segment is growing at 12%. This provides huge opportunity for a well bult out model like Rainbow across the 6 cities.
Tailwinds
Increasing health awareness to boost hospitalization rate

Rising income to make quality pediatric healthcare more affordable

Growing health insurance penetration to propel demand for the healthcare market, including pediatrics and neonatal care

Rise in maternity age

Rise in pregnancy complication

Rise in awareness and penetration of healthcare service in India

Rise in working women population in urban areas.

Changing consumer behavior away from traditional maternity practices.

Experiential Value-added services

Rise in demand for healthcare chains.
Comparative Analysis of Players in the Maternity and Pediatric Healthcare Delivery Sector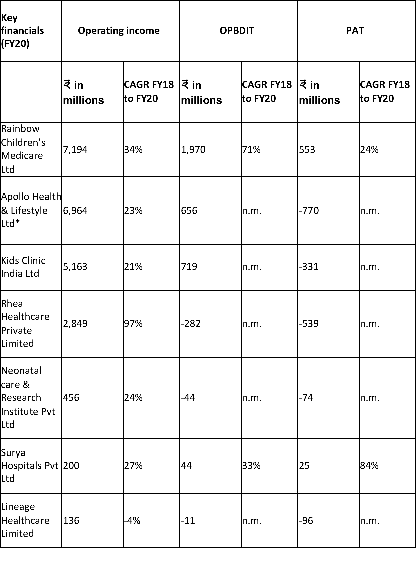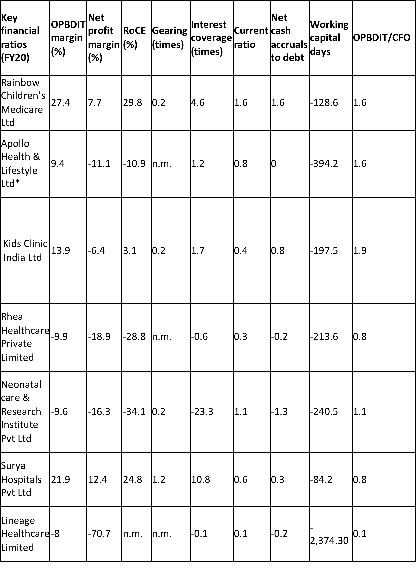 Rainbow Hospitals has the highest OPBDIT margin as of FY21 and FY20 among the peers considered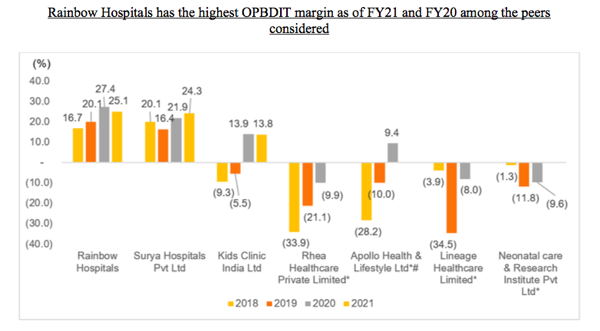 Rainbow hospitals rank 1st in terms of RoCE in the financial year 2020, among the peers considered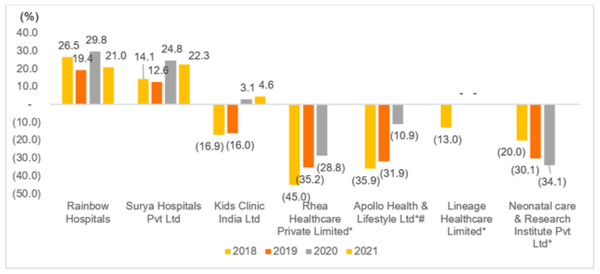 Comparative Analysis of Key Single-Specialty and Multi-Specialty Hospital Chains
Key financial ratios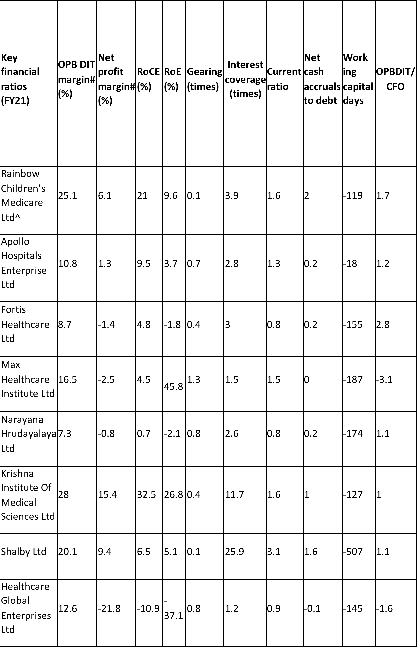 Investment Thesis
•Management stated that they will add 150-200 beds every year in to their existing network cities. So breakeven time will be around 12-18 months for new capex.
•The size of industry is growing @ 14% and Rainbow as a niche player has enough opportunities to expand in other cities.
•Management has delivered 20% YoY growth and is guiding similar growth in future.
•Established and proven Hub and Spoke model for optimum utilization of capex which can be implemented in other new cities. This reflects in their EBIDTA margins and ROCE.
•Conservative and experienced management which has developed business very organically with good capital allocation decisions.
Risk
•If management turns aggressive in expansion and takes Greenfield route in newer cities which will take longer time to breakeven and might hit profitability for midterm.
•Govt. capping in charges of the medical services delivered by the hospital.
•Reputation of the hospital. Any adverse act may deteriorate image and occupancy levels of the hospital.
Valuation
A: Bear Case
Assumptions:
Revenue growth of 15% vs Management Guidance of 20%
EBITDA margins Contracting to 20% vs Management Guidance of 25%
Valuation of Mcap/EBITDA of 15 times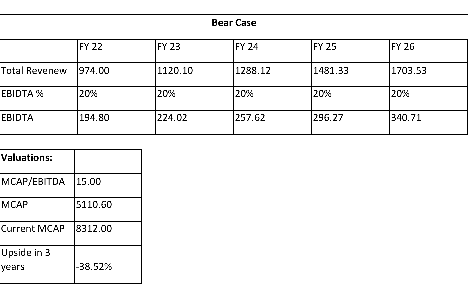 B: Base Case
Assumptions:
Revenue growth of 20% as per Management Guidance
EBITDA margins of 25% as per Management Guidance
Valuation of Mcap/EBITDA of 22 times (Kims Trades @ 22)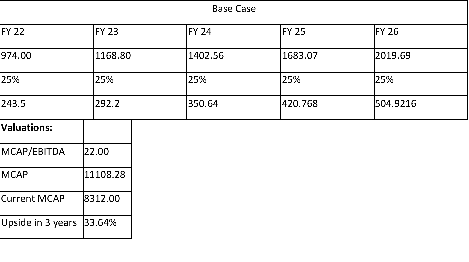 C: Bull Case
Assumptions:
Revenue growth of 20% as per Management Guidance
EBITDA margins of 28% because of Op Leverage
Valuation of Mcap/EBITDA of 30 times (Max Trades @ 40)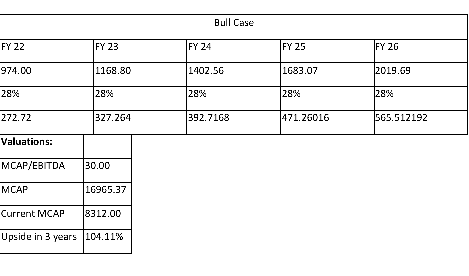 Conclusion
I have 4 year old child and my experience are that Children Hospital is very sticky and profitable business. Children have to visit frequently for vaccination and immunity of child is weak and falls sick frequently than adults. And bill per visit is significantly higher than bills of an adult.
Rainbow is created on the western world's model of True Children Hospital. Founder himself is a pediatrician and worked in the world's best Children's Hospital. He has been successful in creating Children Hospital with innovative Hub and Spoke model. Their EBIDTA margin and ROCE profile indicates the optimized utilization of their network. My tiny knowledge about investment suggest that they can generate high ROIIC (Return on Incremental Invested Capital) and have long runway for growth.
Company mainly focusing expanding most of the new beds in existing network cities where Brand is established. They will replicate successful Hub and Soke Model of Hyderabad to other existing cities. They will expand by way of Spoke Hospital and very less in existing Hub hospital as they have already established Hubs. So, they will continue to generate at least 25% EBIDTA and higher ROCE on their incremental Capex.
I have only 1 year of experience in the investment. I have given my Bear, Base and Bull Valuation above. As per my understanding about the company and valuations, there is no margin of safety as of now and may be Bull Case will pan out in coming 2-3 years from now.
Disc: I have not invested and tracking it closely. I request guidance from Senior Member @hitesh2710 @desaidhwanil @Worldlywiseinvestors @Donald of VP to refine my above investment thesis and thinking abt valuation.