Can anyone help with the link of the audio. unable to locate on the website
Concall notice for 3rd Sept (Jun end results). You will need to pre register by 31st Aug to get an invite.
Q1FY22 concall highlights :
Challenges in terms of margins due to global players?
Global players will not work on lower margins.
Competition is always opportunity and never a threat. It keeps u on your toes.
We are competing against best in class.
Debt to equity?
They are very healthy. We are less than industry norms.
Our finance cost has been reducing. We are borrowing judiciously. We have got good interest rates.
Ours is capital intensive business. As a company, future growth can it be funded through internal accruals?
The capital expenditure always has been with borrowing. Leverage is not a bad word. If we are borrowing, means we have confidence in repaying back usually.
We 1st get customers, then do capital investment (except for brief gestation period).
Asset turn ideal should be 2 for us minimum.
Fungibility of capex for ICE and EV customers?
Gears of ICE and EV look similar, but precision is more in case of EV.
All our new investments are happening on EV ready OEMS.
We are not present in low end bikes and cars. Our utility for capex will sustain for 10-15 years, our customers are less susceptible to EV.
EV customer Scooter capacity added?
Our capex can be used for ICE
Our free cash flow has been on weaker side because we are doing capex. WC is on higher side.
For manufacturing, why keep free cash, invest in capex. Keeping money in banks not healthy for shareholders.
At some stage, need to invest keeps reducing. Today Asset turn is 1.4x, in future, it will move up. % of capex at some stage will go down.
Since we are making mechanical components. Our inputs are not chips. For our OEMs, they are big brands and they have good forecast systems and hence we are not impacted much.
Mass customers will give us opportunity, then why not we would manufacture provided if it gives us long term business continuance.
We are always hungry for new customers. When I work for BMW, KTM, for us there is not attraction for brand, we need good stable business even if it is Tesla.
What is our arrangement with clients in case of Recall ? And in past what what has been the error rate if we can quantify?
No recall ever. If any recall, we are hedged with appropriate insurance policy. Some customer allow 100 in 1 million. We did 25 for 8 years.
Samples from new facility, are in advanced stage and validation is in process.
We will always stick to core competence and move only in allied parts which require critical machining. Since we have capital intensive, we have to grow in systematic way.
We are 30 year old organization, we have to take care of obsolesce of our equipment, hence we have to do maintenance capex also.
EV gears, high value but produce less. As long as tradeoff is better, what is the harm.
Capacity in terms of SKUs : We do around 5-7 million parts a year (all products, SKUs).
500 crores target. Nothing drastically change on customer profile.
% of vehicle cost our proportion is very less.
How easy is it to penetrate supply in new brands?
Getting business is tough, since there are gestation periods, sometimes geographical border clients have, can Indians do?. Clients want a strong player for entire project life (at-least 10-15 years), size of team, strength of team. We get lot of business word of mouth and since we have big brands and they refer us.
European customers are also focussed on environment, EE care, beyond our quality. They want to work with responsible company.
Customers are demanding too much and hence we have to fully ready. Once u are ready, customer will come to you. You give whatever he wants.
Advance for machine procurement in Annual report.
Lead times of machine are 6-8 months, we will get machines in this year. Capex this year will also be 50 crores (backed on new customer wins and existing customer demand)
Others please add, if I have missed any point.
Thanks.
Competition
Getting a new client is tough. There's a gestation period involved.
Country specific hesitation. Question in a potential customer's mind - Can an Indian co make quality gears?
Word of mouth from other key customers has worked well (This bodes well for RACL's future)
European customers are particular about environment & employee relations.
Scalability
Will grow in a planned & systematic way
Sometimes rush to grow takes a co. backward
At some point we may say 500-1000 Crs top line in 3 years (This was more of a hypothetical comment, but you never know)
Debt
First get customers > Then borrow & do capex
Finance cost is always reducing as a %
Borrowing judiciously - Getting better rates from banks
Debt to Equity is healthy
Interest cost down from 10-10.5% to 6.9%
Asset turns
Asset turns have potential to go from 1.4x to 2x
2x is a benchmark
Potential to increase asset turns/better operating leverage with scale
EV
Can ICE capacities can be used for EV as well?
All new equipment is EV compatible
Others
Nil/minimal impact due to chip shortage
Open to acquisitions in the future (couldn't catch this well)
High precision - 25 PPM (Parts Per Million failure) track record vs 100 PPM specific customer requirement
2019 plant was shut down for some time - Still paid employees/vendors
Make 5-7 million parts a year (gears, shafts)
Next year's growth in line with 2025 target of 500 Crs top line
Capex
50 Crs this year for new customers added
Here are my notes.
• 20-25% of CAPEX are funded through internal accruals and rest are funded by bank borrowings
• Ideal asset turns ~ 2, currently its 1.4x. Excluding land, useful equipment contribute ~140 cr.
• The gear capacities are fungible for ICE and EV customers, EVs require higher precision
• Instead of generating free cash, management believes to use cash to fund growth. With growth, reinvestment needs (in percentage terms) will come down
• Capex in 3 buckets: creating capacity for new customers, creating capacity for existing customers and modernization of equipment
• Capacity for gears, shafts and other equipment: Provide 5-7 mn parts in a year
• About 5-7% of vehicle cost is from gears
• 50 cr. CAPEX in FY21, plan another 50 cr. in FY22. Industry norm is to pay 20-25% as advances for procurement of machines
Disclosure: Invested (position size here)
Further to @harsh.beria93's notes -
Growth: do not want to destabilize the boat by growing very fast as co is still small. Once a certain threshold is achieved and thus the ability to absorb losses goes up, one can accelerate further; grew from 100 crs. in F10 to 200 crs. in 10-12y, now intend to scale from 200 to 500 crs. in 4y, and maybe will do 500 to 1k crs. in 3y

Debt to Equity is very healthy and comfortable until 1.5x as the business is capital intensive; RACL gets customers first and then spends. Hence, the capacity is not lying idle & so is comfortable with the leverage levels. Also, interest expense as % of sales is trending lower
Hi All,
Sharing my notes from RACL's latest credit rating report.
It has good data points around break-up of sales and customers.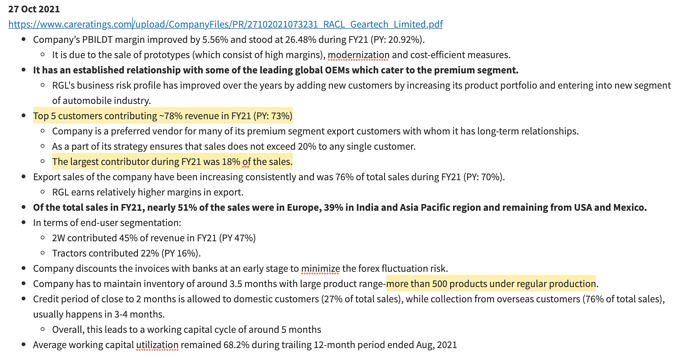 Hope this helps!
Regards,
Yogansh Jeswani
Disclosure: Invested
Racl qtr 2 2122 .pdf (7.4 MB)
very good topline growth ,moderate bottom line growth
quick observation -opm is ok …cash flow impacted because of debtors (the magnitude is large may be because of quarter end billing ) …borrowing increased for funding P&M … Inventory increase is in line with sales increase…lets wait for investor concal
Discl -Views may be biased because of my holding
Not happy with the reult.
RACL was a company which could get advance money even for expansion from client.
Now from results it seems they could not get get cash even for sold items.
Will wait for clarity or May be end an email to enquiry about it .
Invested
Did you get a chance to ask your queries to the management. That can also help everybody else.
Does anyone know if Sona BLW is a direct competitor of RACL?
Concall is next friday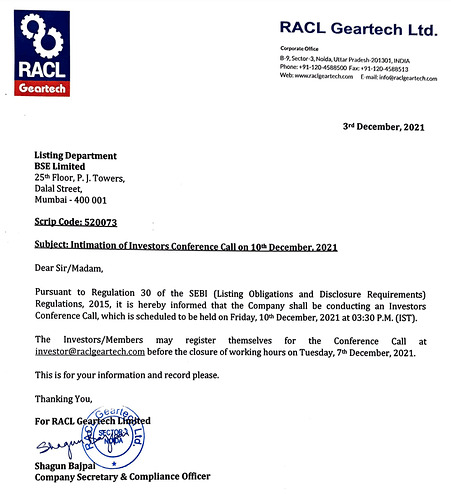 Please register for, attend, ask good questions if you are interested in the company.
Some questions I am hoping to ask if i get a chance:
One of the biggest reasons clients prefer RACL is the quality of gears that we make. When a client asks for 100 PPM errors, we ensure quality is maintained under 25 PPM. Can you please share some details on how we are able to accomplish this? How do we build & maintain a culture of quality?
In previous interactions, company has said that gears for EV bikes will require higher precision & thus be higher gross margin. Since we are already working with some OEM EV programs, do we have any estimates for whether the increase in gross margin will compensate for the fall in volume due to EV requiring fewer gears?
Each company generally thinks about how to capture a higher & higher share of wallet from their existing clients. What are some of the measures we are taking in this regard? Is there scope for us to capture a higher share of clients' wallet?
How is the capacity expenditure program going on? Have we started doing testing for our newly built capacity? When do we plan to start utilising our new capacities ? Are we on track for when we want to reach 100% capacity utilisation?
Disc: invested, biased.
Answers from a prior interaction
Invested heavily in their laboratory

3-4 percent revenue comes from EV currently

Don't like to have any customer concentration risk. So increasing wallet share needs to be balanced against that. Also for one of of the programs for BMW they are the only supplier of certain gears and assemblies. (This was quite a revelation)
That much is clear, but would be nice to know exactly what they are doing.
Which interaction?
Question is a bit different. Question is whether increase in gross margin due to requirement for higher precision gear can compensate reduction in volumes.
Trend for Kubota exports seems to be going well in Oct and Nov months, going by weight and qty( just to observe trend as this is limited set of data only for NA)
Earlier month snapshots here
Qs that would be interesting to get answers to ( sent as well in mail to IR)
As expressed in previous calls - a new customer incubation which was in works and was to be announced - updates on same as well as pipeline view.
Quality of growth and scalability - will RACL play with same playbook as last decade or leverage EV/Gear skills and capabilities to play for a meaningful aggressive scale in this decade EV opportunity and participate in mass equation as well.
2X asset turns - what levers will enable us to reach there and when? Given we will always need to invest for growth, is it practical to assume 2X at consol? Does current capacities suffice with some brownfield( gross block at 170 cr) for 500cr rev ambitions broadly or need significant new greenfield Capex?
Another important point to check is - Will Kubota's stake increase in Escorts have any positive impact on RACLs' business in India? Not sure how much business Escorts do with RACL, if any?