History and Corporate Action in FY 17
The company was incorporated as Public Ltd Company on 11th April, 1980 under the Companies Act, 1956 and obtained Certificate for Commencement of Business on 25th April, 1980 from the Registrar of Companies, Mumbai, Maharashtra.
The name of the company has been changed from Shivkrupa Machineries and Engineering Services Ltd. to Pritika Auto Industries Limited w.e.f. 16th March, 2017. The main object of the company which are fully set out in its memorandum are, inter alia "To carry on the business as manufacturers, buyers, sellers, assembling or distributing processors, founders, forgers, converters, fabricators, assemblers, importers, exporters, agents, buyers, and sellers of all types of metal, alloys, castings, automobile parts, machine tools, tractor parts, all types of machinery, plant equipment, component, spares, tools, engineering goods and accessories including zigs and fixtures, bolts and nuts, screws of any size and design for motor vehicles, or components parts thereof, chassis motors, buses lorries, omnibuses, engines, locomotives; scooters, tracks, tractors and other vehicle and component or motor vehicle parts, Tools, implements, spare parts, accessories, materials and allied products of automobiles industry for use as original equipment or otherwise and processing, assembling, jobbing, fabricating, manufacturing and marketing and dealers of automobile accessories and spares, automotive parts connect therewith."
The company was promoted by Shri G. R. Agrawal and his associates. Shri Agrawal is leading industrialist in the central area region. The management of the company rest with the Board of Directors compost of industrials and technically qualified professionals. The Board of Directors pursuant to Share Sale & Subscription Agreement dated 25th January, 2017 entered into with the members of Pritika Autocast Ltd. and Nibber Castings Pvt. Ltd.(selling companies) and after getting approval of shareholders and other regulatory authorities allotted and issued equity shares on preferential allotment to the members of Selling Companies ( including Pritika Industries Ltd., Mr. Raminder Singh Nibber and Mr. Harpreet Singh Nibber, the Acquirers) and Other non-promoter –public category persons. Mandatory Offer under Regulation 3(1) and (4) of the Takeover Regulations was made by M/s Pritika Industries Ltd., Mr. Raminder Singh Nibber and Mr. Harpreet Singh Nibber, the Acquirers and Mrs. Rishi Mangat & Mr. Gurkaran Singh Nibber, PACs for acquisition of 36,93,820 fully paid equity shares of the company representing 27.28% of Diluted Share and Voting Capital of the company. After successful completion of Open Offer, the Board of Directors was reconstituted by resignation of existing directors and appointment of Mr. Raminder Singh Nibber, Mr. Harpreet Singh Nibber and Mr. Neeraj Bajaj on the Board. Mr. Raminder Singh Nibber and Mr. Harpreet Singh Nibber are promoter of Pritika Group of industries.
In short- Pritika become the holding company by acquiring 100% stake in following companies. So trading company become the full fledged auto ancillary company.
1. Pritika Autocast Limited
2 Nibber Castings Private Limited
Both companies were in the business from long time so current trading company become an auto-ancillary company. Company is mainly catering to Tractor & Automotive industry providing products in the field of precision machined components out of casting, forging & bar stock.
Products:
Recently company participated in Agritechnica trade fair for Agriculture Machinery, Equipments, Parts held in Hannover, Germany from 12th – 18th November 2017. This was the first year of the Company's participation in the trade fair and as per exchange filing they stated that theyhave been able to generate significant interest in their products.
The Company also displayed their new products at the show, that include –
• Sub Assembly for Rear Axle Housings
• Sub Assembly for Differential Cases
• Sub Assembly for Brake Housings
• Sub Assembly for Carrier Planetary
• Cam Shafts
Besides these, the Company also showcased its existing products which are –
• Axle Housings
• Wheel Hubs
• Hydraulic Lift Housings
• End Cover
• Plate Differential Carrier
• Cylinder Blocks
• Crank Cases
http://www.bseindia.com/xml-data/corpfiling/AttachHis/1fb5ed8b-3072-4dcf-aedb-1f9214f5cbfb.pdf
Customers:
M&M is the major customers as of now and contribute around 30% of Pritika total revenue. Top 5 customers contributes almost 85% revenue. The Company is the component supplier in the tractor segment of the automobile industry in India and supply to OEMs like M&M, Swaraj, TMTL, TAFE, Escorts, SML Isuzu, Brakes India, Eicher, Ashok Leyland, New Holland Tractors India Ltd. etc.
Financials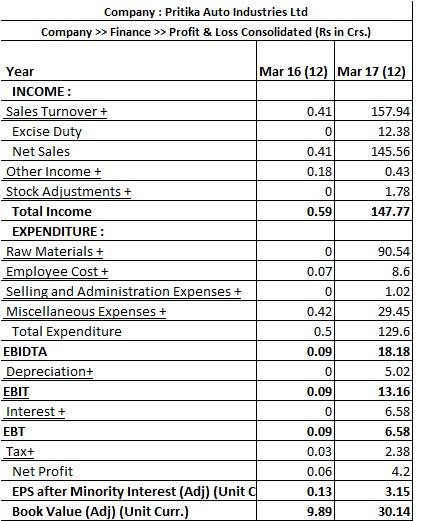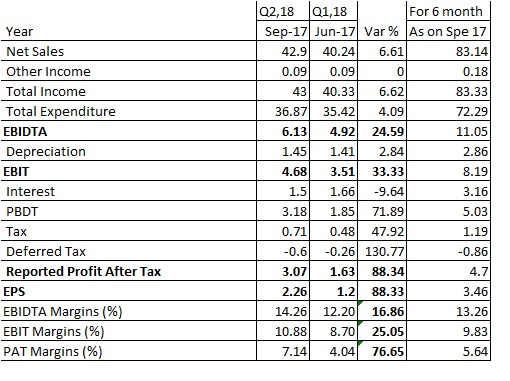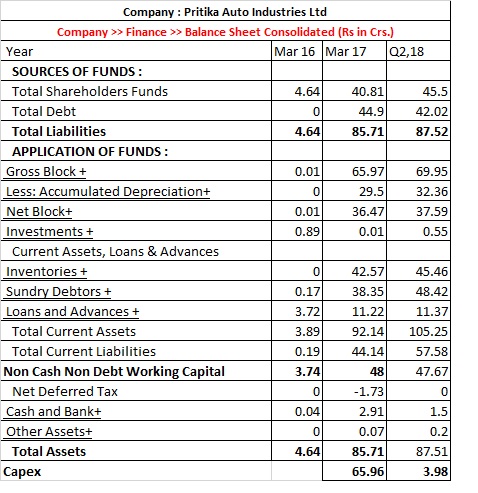 On a consolidated level company posted around Rs. 11 Crore EBIDTA on a revenue of 83.3 Crore revenue…Margins seems to be improving.
Recent Developments and Promoters holding
Promoters has issued subscribed to fresh equity shares 40.17 lakhs shares @ 74.10.
http://www.bseindia.com/xml-data/corpfiling/AttachLive/1f49af56-209f-40c6-8879-bf0268d084c6.pdf
Further, as per the announcement, promoter is planning to subscribe 3.50 lakhs preference shares to conversion of loan.
IT seems promoters are concern with high cost of debt hence infusing capital to replace the debt.

Post infusion of equity promoter holding has increased to 67.29% from current 57.62%.
As on Sep,17 Shareholding
Total No. of Equity = 1.35 Cr.
Promoter holding = 0.78 Cr.
Current Holding= 57.62%
Dec 17 Shareholding Pattern:
Total No. of Equity = 1.35 Cr.
Fresh Equity Shares issued = 0.401 Cr
Total Equity share post new issue = 1.76 Cr
Promoters' no of shares post fresh issue = 1.18 Cr.
Promoter new shareholding = 67.32%
Promoters are infusing around 30 Cr. in the business, it means either they are using for capex purpose (forseeing growth) or to retire high cost debt.
Things will be more cleared by March 2018 once we have the full financial year result and Balance sheet.
Valuation ( ignoring fresh equity):
Current MCap of Company is around 150 Cr. + Debt is around 40 Cr. =190 Cr.
EBIDTA for 6 month is 11 Cr.
I expect full year basis they will do EBIDTA of 20-22 Cr.( generally ancillary companies which cater to tractors companies follow 55:45 ratio i.e. 55% revenue in first half and 45% in second half. with this logic I expect full year EBIDTA of 20-22 Cr…
With this kind of nos. Company is quoting 8x EV/EBIDTA for FY18 basis which does not seems very expensive. The activity which is visible as outsider reflects that company is making an effort to grow the business. With the small base double digit growth is very much possible.
Risk: 1. Since the fortune of this business is dependence on agriculture so earning may be lumpy.
2. M&M constitutes 30% of sales so it is too much dependent on M&M. Business is too Concentrated.
3. Did not find any history of promoter so we have to see whether new promoter is able to scale the business or not.
Disclaimer: I bought the stock around 100-102 based on my assumptions. Will add more may be post Q3 result.
Company website:
http://www.pritikagroup.com/
Product Profile:
http://www.pritikagroup.com/pdf/pritika.pdf